Daniel Scioli Leads in Argentina Election; Opposition Expects Runoff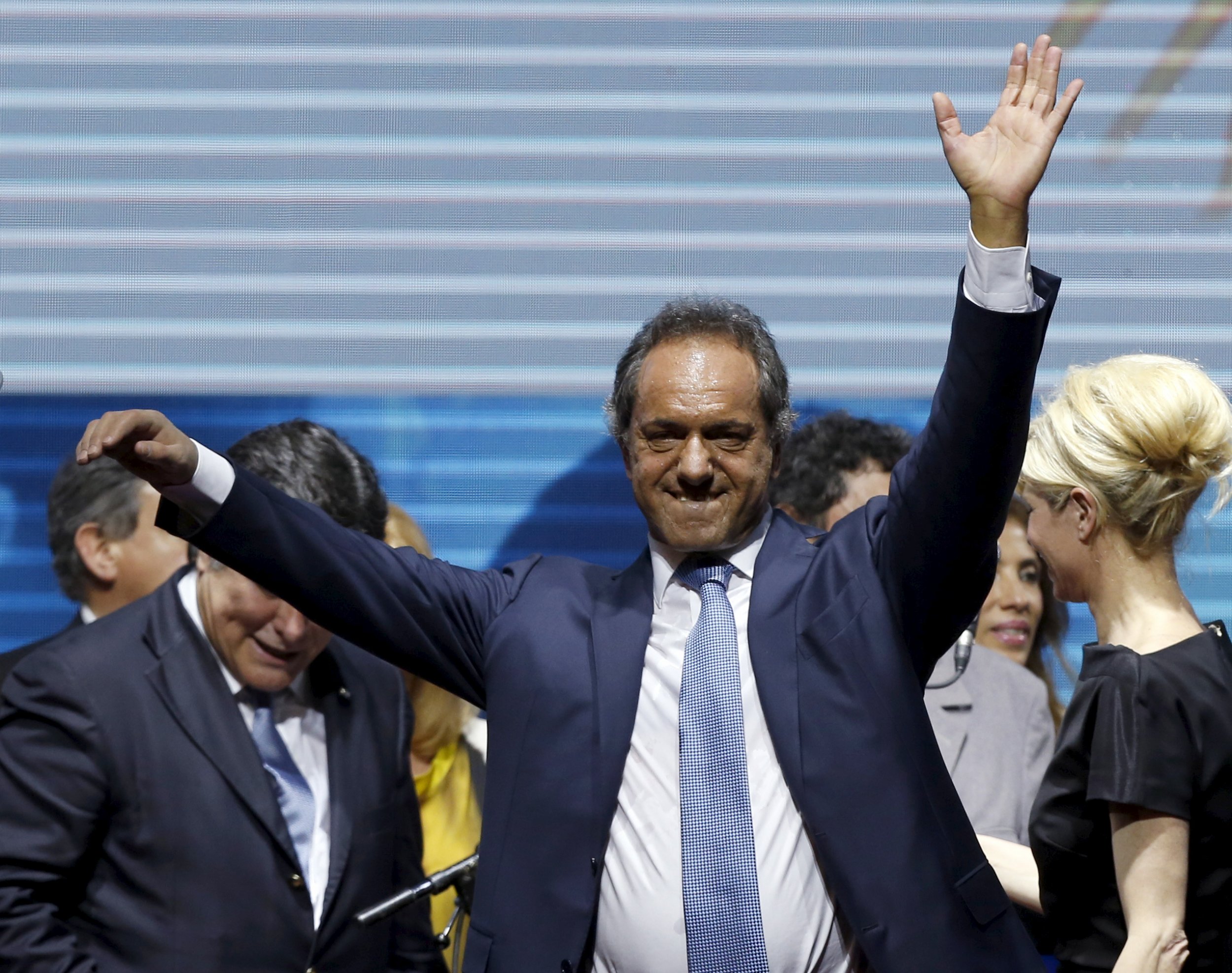 Updated | BUENOS AIRES (Reuters) - Argentina's ruling party candidate Daniel Scioli had a wide lead in Sunday's presidential election, TV exit polls showed, but his main rival's party said it was sure Scioli would fall short of an outright win and have to face a run-off.
"There will be a run-off according to our data based on exit polls," said Marcos Pena, the chief campaign strategist for pro-business opposition candidate Mauricio Macri.
Argentines faced a tense wait as the electoral authority said early provisional results might not be known until 11 p.m. (2200 ET).
To win outright in the first round, a candidate needs 45 percent of votes or 40 percent and a 10 percentage point lead over the nearest rival. If they fall short of that, the two leading candidates will face off in a second round next month.
Alberto Perez, a central figure in Scioli's inner circle, told reporters that unofficial numbers showed the candidate won a "resounding victory" but he did not say if it was big enough to avoid a second round.
Scioli is backed by outgoing President Cristina Fernandez and draws support from poorer Argentines who credit her and her late husband and predecessor Nestor Kirchner with an expansive welfare system and hauling the economy out of a devastating 2001-2002 depression.
Pre-election polls showed that Macri, the conservative mayor of Buenos Aires, has stronger support among the middle-class.
Macri is also favored by foreign investors who are interested in Argentina's vast energy and metal reserves but are deterred by the stifling controls that Fernandez has placed on the economy.
Fernandez is adored by many poor and working class voters for generous welfare handouts and protectionist policies but reviled by others for heavy handed currency controls and other interventionist moves after a commodities-fueled boom ended.
Argentina's next leader will face near-empty liquid reserves in the central bank, a gaping fiscal deficit and high inflation.
The main candidates all propose policy reforms to put growth on a more sustainable footing, but differ on the pace and depth of reform. Scioli has said he will make "gradual" changes.
None of the candidates has called for the sharp fiscal adjustment that some Wall Street investors say is necessary to keep the country from going bust.
A close political ally of centrist candidate Sergio Massa, who was running in third place in pre-election polls, said the candidate's camp would not comment on the vote's outcome ahead of reliable results.
This article has been updated with exit poll election results.