'Ink Master's' Daniel Silva Apologizes for Car Accident Death of YouTuber Corey La Barrie
Tattoo artist and former Ink Master star Daniel Silva has broken his silence over the death of his friend, YouTuber Corey La Barrie.
On Tuesday, Silva shared an Instagram photo of a leopard he tattooed on La Barrie, who died in a car crash on his 25th birthday in Los Angeles in May 2020. Silva was operating the vehicle at the time of the accident, and in July he pleaded no contest to one felony count of gross vehicular manslaughter, according to reports. Then, in August, he was given a sentence including 364 days in jail, five years of formal probation, 250 hours of community service and a suspended four-year prison sentence. (According to CBS in Los Angeles, Silva was released from jail in October.)
"I had the honor of tattooing this leopard on Corey before the accident," the Instagram post reads. "I'm grateful for the time we spent together and I will cherish those memories every day. I have so much that I want to say but unfortunately, I'm limited at this time. I just posted a video on YouTube with everything that I could. This still doesn't feel real, but your love and support for Corey and I means so much to me. Love you Corey."
As he wrote in that post, Silva also shared a YouTube video on Tuesday, in which he apologizes "for all the pain that everybody's going through." At the start of the nearly 10-minute video, which is dubbed "I Love You Corey," Silva says, "I'm sorry to Corey, I'm sorry to Corey's friends and family, and I'm really sorry to Corey's fans."
As the video goes on, Silva says that La Barrie's family requested for the charges against him to be reduced from second-degree murder to manslaughter. He then reads a letter that the La Barrie family apparently had their lawyer send to the judge in the case, asking for the reduction in charges. According to the letter, Silva's blood-alcohol level was lower than originally thought, and he may have been driving only slightly above the mandated speed limit.
When reading from the letter, Silva says that the factors about his blood-alcohol level and speed, among others, "'have had a profound impact on the hearts and minds of the La Barrie family. Most important, making their decision to request the dismissal of the second-degree murder charges and the fact that the family thought long and hard about what Corey would have wanted in this case.'"
He continues reading, adding, "'The La Barrie family believes that Corey would not want to see Mr. Silva in prison for what now appears to be a tragic accident. The La Barrie family feels the same way. While they know that what happened was a crime under the California law, they ask your consideration in seeking a minimal sentence, yet just sentence.'"
Silva, who says he broke his hip in three places in the accident (and also suffered four broken ribs, bleeding and swelling in the brain and a severe concussion), then thanks the La Barrie family.
"It's hard to put into words how truly grateful I am for the family to send a letter like this at such a difficult time. The fact that they even showed me an ounce of empathy and were able to look past the misinformation, instead of seeking vengeance, shows how compassionate, understanding they really are," he says near the end of the video.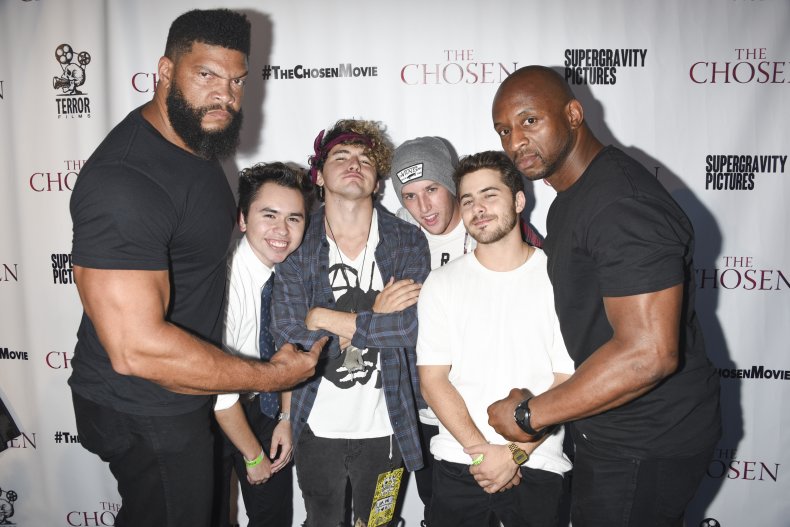 In the wake of the accident, the La Barrie family reportedly filed a wrongful death lawsuit against Silva. The suit alleged that he was driving at an "extremely high speed unreasonable for the conditions" and that he was negligent while operating a 2020 McLaren 600LT, according to a People magazine article published in August 2020. TMZ reported in January 2021 that legal documents were filed on Silva's behalf in court, responding to the wrongful death suit and arguing that La Barrie bore some responsibility for getting into the car with Silva. After that filing made headlines, Silva shared a statement saying that an insurance company filed those documents and that he did not get to review them himself.
Before his death, La Barrie had become an internet sensation, amassing a following of 330,000 subscribers on YouTube and 200,000 followers on Instagram.
For many of La Barrie's fans, Silva's video message and Instagram post wasn't satisfying. The tattoo artist's video was met with some serious backlash on social media.
"Daniel Silva can go to hell, disrespectfully," one person wrote.
Another added: "This mf had the audacity to come out with a video with the title I love you Corey La Barrie. I'm absolutely sick to my stomach. does he not understand the pain he's put Corey's family, friends and fans through?? Nah cause I'm sick."
Others continued to blame Silva for La Barrie's death and alleged that Silva tried to flee the scene of the accident after it happened. (Police said that Silva did attempt to leave the area of the crash, but was stopped by witnesses attempting to help.)
In the final minute of Tuesday's video, Silva addresses accusations that he tried to run away from the scene of the accident. He admits that while he has no recollection of what happened immediately after the event, he says that, had he been in the right state of mind, he never would have abandoned a friend.
"I know I'm not the type of person that would leave a friend in a situation like that," Silva says. "And if I was not [disoriented] I would have done everything in my power to help Corey."