Stormy Daniels Wants to Depose Trump for Defaming Her With 'Con Job' Tweet, Michael Avenatti Says
Adult film star Stormy Daniels filed a lawsuit against President Donald Trump in federal court Monday afternoon, claiming he made a defamatory statement when commenting on her description of a man she alleged threatened her in 2011.
Trump knowingly made a false statement against Daniels, whose legal name is Stephanie Clifford, when he challenged the veracity of the sketch of a man she claimed threatened her and her child seven years ago, according to the suit filed in the Southern District of New York.
"A sketch years later about a nonexistent man. A total con job, playing the Fake News Media for Fools (but they know it)!" the president tweeted April 18.
"We look forward to quickly proceeding to discovery and deposing the president," Daniels's attorney, Michael Avenatti, told Newsweek shortly after the suit was filed. He added that he believed it was highly unlikely a judge would dismiss such a "rock-solid" case.
The suit also alleges that when Daniels was threatened very few people knew of her contact with In Touch Weekly about her allegations about an affair with Trump in 2006. In turn, "it is reasonable to infer that the person who threatened Ms. Clifford could have only been acting directly or indirectly on behalf of Mr. Trump and or [Trump's personal lawyer, Michael] Cohen. Thus Mr. Trump may have actual knowledge of the incident and of the falsity of his statement," the suit reads.
Daniels has claimed that Trump knew he was referring to her and that he was stating she is a "liar, someone who should not be trusted, that her claims about the threatening encounter are false and that she was falsely accusing the individual depicted in the sketch of committing a crime, where no crime had been committed."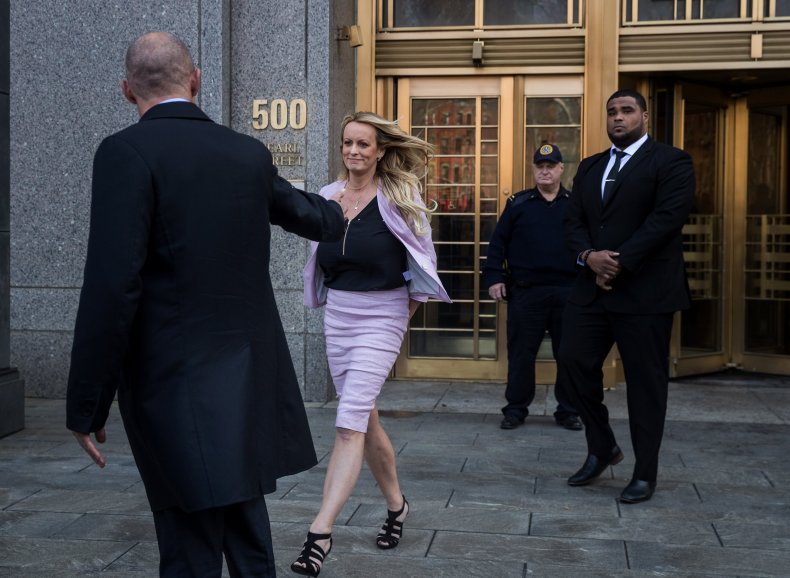 Daniels has publicly claimed she was approached and threatened by an unknown man who told her not speak about her interactions with Trump around the time she had agreed to an interview with In Touch Weekly seven years ago.
During the interview, Daniels detailed how she met Trump during a charity golf event in Lake Tahoe, Nevada. The interview was never published, but in October 2016 Clifford again began speaking to the media about the alleged sexual encounter. Cohen has admitted to paying Clifford $130,000 for her silence just days before the 2016 election.
Daniels has filed a lawsuit in a federal court in Los Angeles claiming that the agreement with Cohen is invalid because Trump never signed it. The judge in the case issued a 90-day stay last Friday, citing a separate investigation following the FBI's raid on Cohen's office earlier this month. Officials were reportedly seeking documents and records pertaining to payments made to Daniels and a former Playboy model who has also claimed to have had an affair with Trump.