Danish Cartoon Show Focused on Man's Genitalia Sparks Backlash
John Dillermand possesses something unique that is, to borrow a phrase, a gift and a curse. It's something that can help him in rescue operations, make paintings and even light a grill from a distance without fear of getting burnt. But it also causes him a lot of trouble, especially when that "something" gets caught on some helium balloons that cause him to float away.
The "something" in question is an extremely long penis. In fact, it's the longest penis in the world.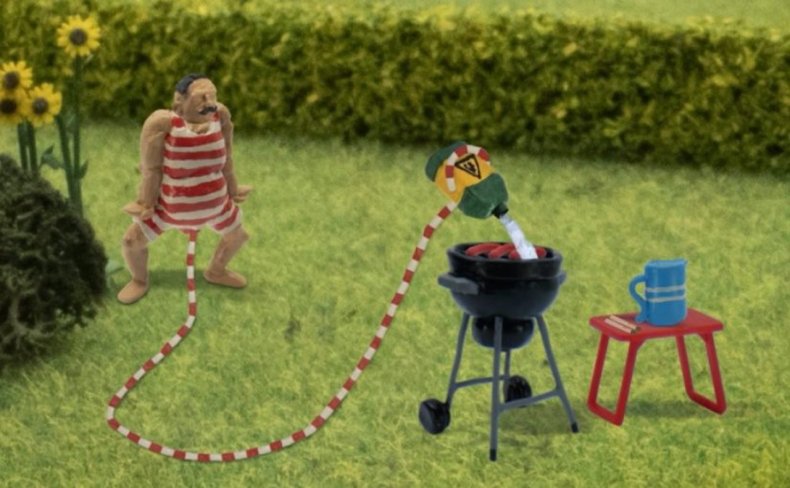 Of course, John Dillermand is not a real person but a character on an eponymous television show. If he were real, he might not be so controversial. You see, Dillermand is a claymation figure at the center of a new animated series in Denmark that's intended for an audience of 4- to 8-year-olds.
Needless to say, a cartoon about a man with a comically long penis has caused quite a bit of controversy, especially since it airs on DR (Danish Broadcasting Corporation in English), which is the country's public-service channel—basically, the Danish equivalent of PBS.
The show premiered on January 2, and opponents have been vocal about what they see as inappropriate programming for children. Danish author Anne Lise Marstrand-Jørgensen wrote on Twitter, "Is this really the message we want to send to children while we are in the middle of a huge #MeToo wave?"
DR defended the show on a Facebook post on Tuesday. The network wrote: "We think it's important to be able to tell stories about bodies. In the series, we recognize young children's growing curiosity about their bodies and genitals, as well as embarrassment and pleasure in the body."
The Guardian spoke with Christian Groes, an associate professor and gender researcher at Roskilde University, about the controversy. Groes said he believed the show sends the wrong message. "It's perpetuating the standard idea of a patriarchal society and normalizing 'locker room culture' ... that's been used to excuse a lot of bad behavior from men. It's meant to be funny—so it's seen as harmless. But it's not. And we're teaching this to our kids."
However, the show has its defenders, including education expert Sophie Munster, who spoke with Agence France-Presse.
"It's a very Danish show. We have a tradition to push the limits and use humor and we think it's totally normal," Munster told the French news agency. "The debate is from an adult perspective, in which the long penis is sexualized. Children have a different perspective. The size of the penis is exaggerated so much, children realize it's a joke."
This isn't the first time that DR has been criticized for its children programming. Another show aimed at younger audiences features a puppet who has talked openly about a fondness for crossdressing; the network also recently aired a reality program called Ultra Smider Tøjet (Ultra Strips Down), in which a panel of adults strip completely nude in front of children aged 11 to 13 to discuss issues with the human body.
DR provided further comment to The Guardian about John Dillermand. The channel told the outlet that it could have instead made a show "about a woman with no control over her vagina," and argued that John Dillermand is not an issue since kids enjoy the show.