Watch: Barrel Bombs Rain Down on Syria's Besieged Daraya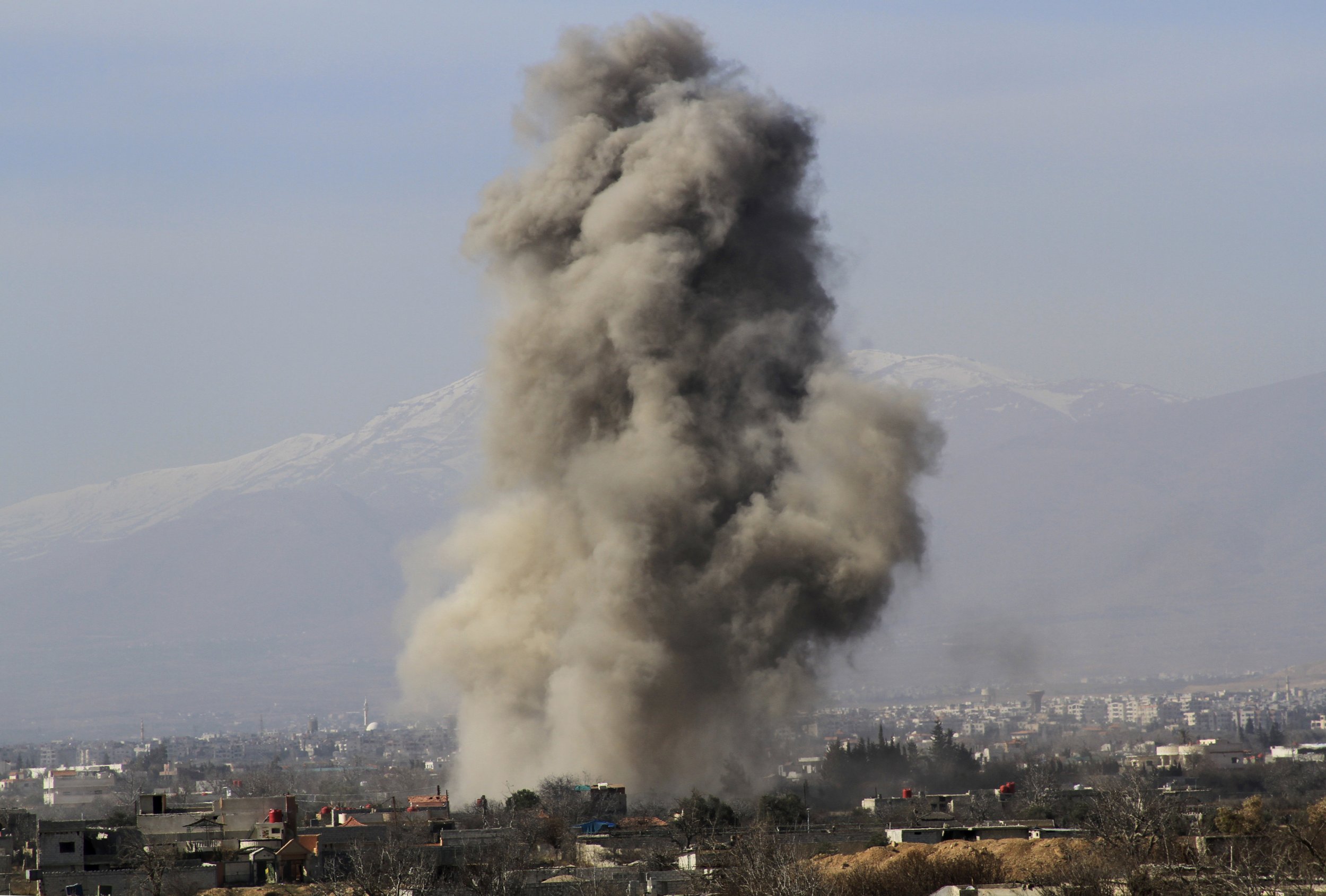 A disturbing new video from the local government in Daraya shows the frightening impact of barrel bombs that have been decimating Syrian cities.
Shot by the Local Council of Daraya City and released through the international human rights organization Amnesty International, the video shows the ferocious barrel bombs raining down from airplanes and helicopters onto buildings, reducing them to smoke and rubble.
The Syrian government primarily uses barrel bombs in areas where it claims there are terrorists and rebels. The crude weapons consist of containers such as barrels or gas canisters filled with shrapnel and sometimes chemicals. The injuries are often complex and deadly.
When asked what barrel bombs do, a young girl wearing glasses says in the video: "They want to kill me." Later, residents are seen digging a half-buried body out of the rubble with their bare hands.
While Daraya, a southwest suburb of Damascus, has been spared the devastation of barrel bombs since a cessation of hostilities went into effect on February 26, Amnesty says residents "continue to suffer from severe food and medical shortages and no electricity."
Officials in Daraya, which has been under siege for more than 1,255 days, said 6,800 barrel bombs were dropped in the area between January 2014 and February 2016, resulting in the deaths of 42 civilians, including 17 children. Last month, the U.N. World Food Program said Daraya residents have been reduced to eating grass because food supplies cannot reach the area. Many mothers are unable to produce breast milk due to malnutrition.
Amnesty International says it hopes the video "will spur the international community to redouble its demands on the Syrian government to grant immediate lifesaving humanitarian access to Daraya and all areas still under siege." The footage was recorded between December 2014 and February 2016.
"It is absolutely outrageous—though not surprising—that the Syrian government has continued to bombard and starve its own civilians," Magdalena Mughrabi, Middle East and North Africa interim deputy program director at Amnesty International, said in a statement. "And it is unacceptable that the UN and other influential international players are not doing more to address the critical situation in Daraya and other besieged locations."
Daraya is one of six besieged areas, which includes parts of Eastern Ghouta, that have not been granted government permission to receive humanitarian aid as of March 26, one month after cessation of hostilities began.