'Daredevil' Season 3 Teaser Debuts In 'Iron Fist' Season 2 Post-Credits
Iron Fist Season 2 delivers a tease for Marvel's next Netflix show, Daredevil, which is slated to arrive before the end of 2018. A bloody-faced Matt Murdock is giving confession. "I'd rather die as the devil than live as Matt Murdock," he tells the priest. Looks like he's made the choice to wear the suit once again. Watch the teaser below:
Heading into The Defenders, Murdock gave up vigilantism. But once he heard Elektra was involved with The Hand, he second-guessed his decision. Once Elektra went full-on Black Sky, he sacrificed his life to die with her underneath Midland Circle. The skyscraper collapsed on top of them, and neither has been seen since.
But in the post-credits of The Defenders, a bruised and bandaged Matt Murdock lays in bed at a convent. "Get Sister Maggie," the nun tending to him tells another standing by the door. In the comic books, Maggie is Murdock's long-lost mother, and it appears a similar story will unfold in the series.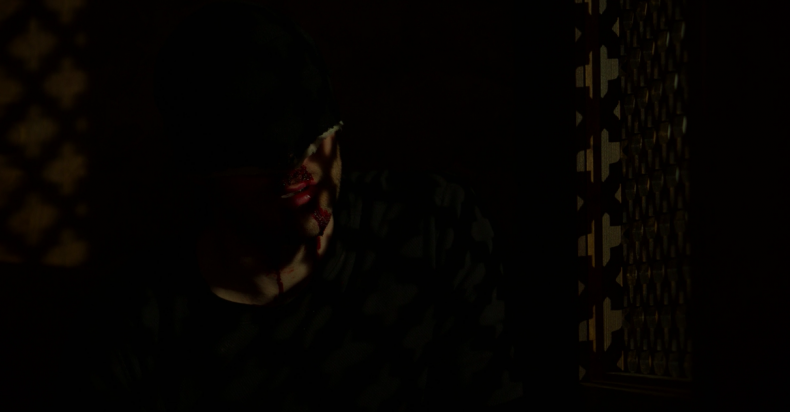 All evidence suggests Daredevil Season 3 will adapt the "Born Again" storyline from Frank Miller and David Mazzucchelli. "Sister Maggie" isn't the only connection. In that storyline, Daredevil is nearly killed by Kingpin (Wilson Fisk). Fisk is set to return for Daredevil Season 3.
Even more, the "Born Again" storyline features Karen Page, who is struggling with heroin addiction. Daredevil was filming in the fictional town of Fagan Corners, VT where Page's family was killed in a mysterious car accident. New York Bulletin reporter Ben Urich was investigating the accident before he died, hinting Karen's backstory could be an important subplot of Daredevil Season 3.
What did you think of the teaser? Any theories about Daredevil Season 3? Sound off in the comments.