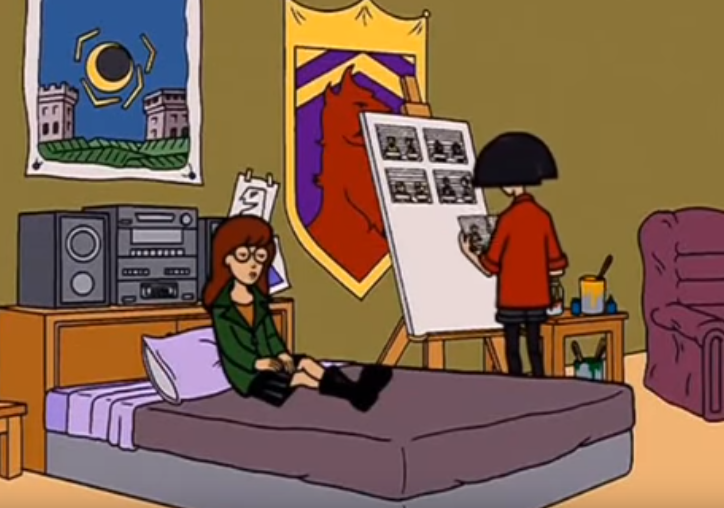 In a land filled with revivals and reboots, it was announced Thursday that MTV is bringing back popular animated series Daria under the newly launched MTV Studios.
Daria became a cult favorite in the late 1990s. The series followed Daria Morgendorffer, a satirical high school student, as she navigates her way around her clueless classmates. The show, which was a spinoff to Mike Judge's Beavis and Butt-Head, aired for five seasons.
Grace Edwards—who is best known for her work in Unbreakable Kimmy Schmidt, Broad City and Inside Amy Schumer—was tapped to pen the Daria reboot with a twist. The reimagined version, called Daria & Jodie, will follow Daria and her friend Jodie Landon. While it will be developed under MTV Studios, it's being shopped to partners at SVOD and Linear.
"The story she wants to tell of Daria is different, it's about Daria and Jodie and two close friends taking on the world today and what's happening in our culture at large," Chris McCarthy, president of MTV, told The Hollywood Reporter. "It's less about the monetization and more about telling great stories. Of course, we're going to make money but it's about taking this IP and bring it into the future and doing these shows on platforms where audiences make the most sense."
MTV had success with the recent revisitation of Jersey Shore through Jersey Shore: Family Vacation. The reality series brought back most of its original cast as full-fledged adults as they take a break from reality to reunite in Miami. With its return, it gained enough momentum and attention from audiences that the show was renewed for season 2.
Daria isn't the only MTV staple receiving reboot treatment. Aeon Flux will be rebirthed by Teen Wolf creator Jeff Davis, an updated version of The Real World will come from Bunim/Murray Productions and Made will additionally be revisited. The development of new and re-imagined series under MTV Studios will continue the company's push for creating original content.
"MTV has the biggest collection of hit youth franchises that spans more than three decades of content and over 200 titles, part of which have fueled our resurgence," McCarthy said in a statement issued to Newsweek. "With MTV Studios, we are for the first time ever opening up this vault beyond our own platforms to reimagine the franchises with new partners."
Daria & Jodie, alongside MTV's other planned reboots, doesn't have a scheduled release date at this time.