In Daring Rescue, Crews Pull Unresponsive Woman From Car Suspended Above Niagara Falls
A daring rescue was captured on video when crews pulled an unresponsive woman from a car suspended above Niagara Falls on the U.S. side. The woman rescued from the car has since passed away.
The footage, taken Wednesday afternoon, showed a red U.S. Coast Guard helicopter hovering over the Niagara River while lowering a rescuer on a rope towards the submerged vehicle. Onlookers watched from the snowy riverside behind a guardrail.
The car was located about 30 feet from the riverside, mostly submerged with its trunk facing towards the falls. The car became stuck and remained still as the rescue commenced.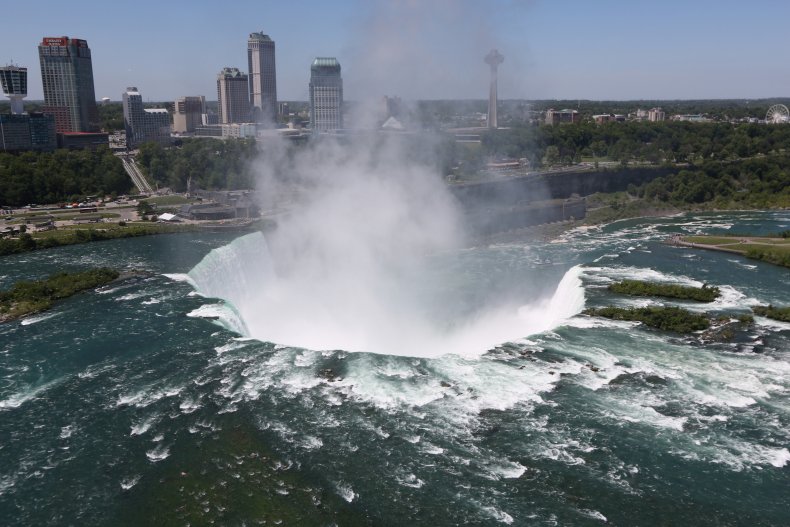 The rescuer—equipped with an ax, a yellow helmet, goggles and a snorkel—swayed to and fro in the wind as they tried to reach the car. However, the wind from the atmosphere and the helicopter blades initially blew the rescuer away from the car.
The rescuer was eventually able to enter the water near the car and open its passenger side door. As the river's rapids washed over the car's hood and windshield, the rescuer signaled with a raised fist that they had grasped the woman's body.
The woman, a west New York state resident whose identity has not yet been released, was reportedly in her late 60s, State Park Police Captain Chris Rola told The Buffalo News. Emergency responders transported her to the hospital, where she was later pronounced dead.
Police were able to see the car's license plate using a drone camera. It is unclear whether the woman pulled from the vehicle was its owner. The vehicle had no other occupants, police said.
The woman's vehicle had toppled over into the river near a pedestrian bridge around 11:50 a.m. Wednesday morning and witnesses called 911, according to Buffalo news station WKBW.
Investigators are looking into whether the car entered the river deliberately or accidentally.
Though dozens of fire and police crew members reported to the scene, rescuers decided to conduct an air rescue rather than sending divers into the river. In order to safely send a diver, rescuers would have had to secure two points on land to prevent the diver from being carried over the falls. Such points were unable to be secured.
The New York Power Authority lowered water levels to let rescuers reach the car more easily. The car remained in the river as of Wednesday evening.