'Dark Desire' Cast: Meet the Cast of the Netflix Series
Netflix's Dark Desire is the latest steamy thriller to pique the interest of viewers. Much like the erotic film 365 Days which dropped on the streamer last month, fans are loving the Mexican thriller, even though the critics are not.
Dark Desire, which is titled Oscuro Deseo in Spanish, follows a married professor who has a wild affair with a younger man who turns out to be one of her students.
The synopsis for Dark Desire reads: "Alma Solares, a prestigious lawyer and college professor, visits her best friend for the weekend to 'process the grief' of the latter's divorce. During the getaway, Alma meets Dario Guerra, a 23-year-old, and they have a wild tryst.
"She returns home with her husband and daughter, determined to forget her lapse in judgment, but her life becomes a living hell. What started as a minor adventure becomes an incendiary passion, and then a dangerous obsession, unraveling a chain of secrets of a past that fatally binds them all."
Here's a look at the cast of Dark Desire and where you might have seen the actors before.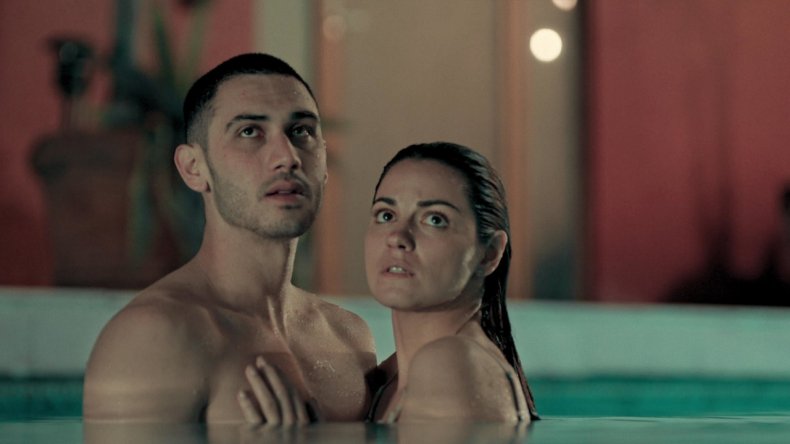 Who is in the cast of Netflix's Dark Desire?
Alma Solares - Maite Perroni
Leading the cast of Dark Desire is Maite Perroni, the married professor who begins an affair with the mysterious Darío.
Mexican actress Perroni is best known for starring in the telenovela Rebelde. She is also a member of the Latin Grammy-nominated pop group RBD. Her other acting credits include Cuidado con el ángel in 2008 and Mi Pecado.
Darío Guerra - Alejandro Speitzer
Dark Desire's breakout star Alejandro Speitzer portrays the role of the mysterious and sinister Darío.
The 25-year-old started his career as a child in various Mexican TV series. Of late, Speitzer starred in series Lady of Steel and Enemigo íntimo. In 2019, he starred in telenovela La Reina del Sur and crime drama The Club.
Leonardo Solares - Jorge Poza
Playing Alma's husband and Zoe's father Leonardo is Jorge Poza. His character is a judge who has an interesting relationship with the truth.
Some viewers may recognize Poza from the telenovela El abuelo y yo along with Gael García Bernal.
The prolific television actor has also starred in La Gata with his Dark Desire co-star Maite Perroni.
Zoe Solares - Regina Pavón
Alma and Leonardo's daughter, Zoe is played by Regina Pavón and her character has a morbid fascination with death.
Pavón has also starred in Monarca and No manches frida.
Esteban - Erik Hayser
Playing a criminologist turned private detective, and Leonardo's brother, Esteban is Erik Hayser.
Netflix viewers may be familiar with Hayser from beloved sci-fi series Sense8 where he played Raoul.
Hayser is also known for starring in the Mexican political drama Ingobernable.
Other cast members of Dark Desire include María Fernanda Yepes as Brenda Castillo and Paulina Matos as Edith.
Dark Desire/Oscuro Deseo is streaming now on Netflix.