The Dark Side of Business: How Ray Kroc Movie 'The Founder' Has Echoes of Trump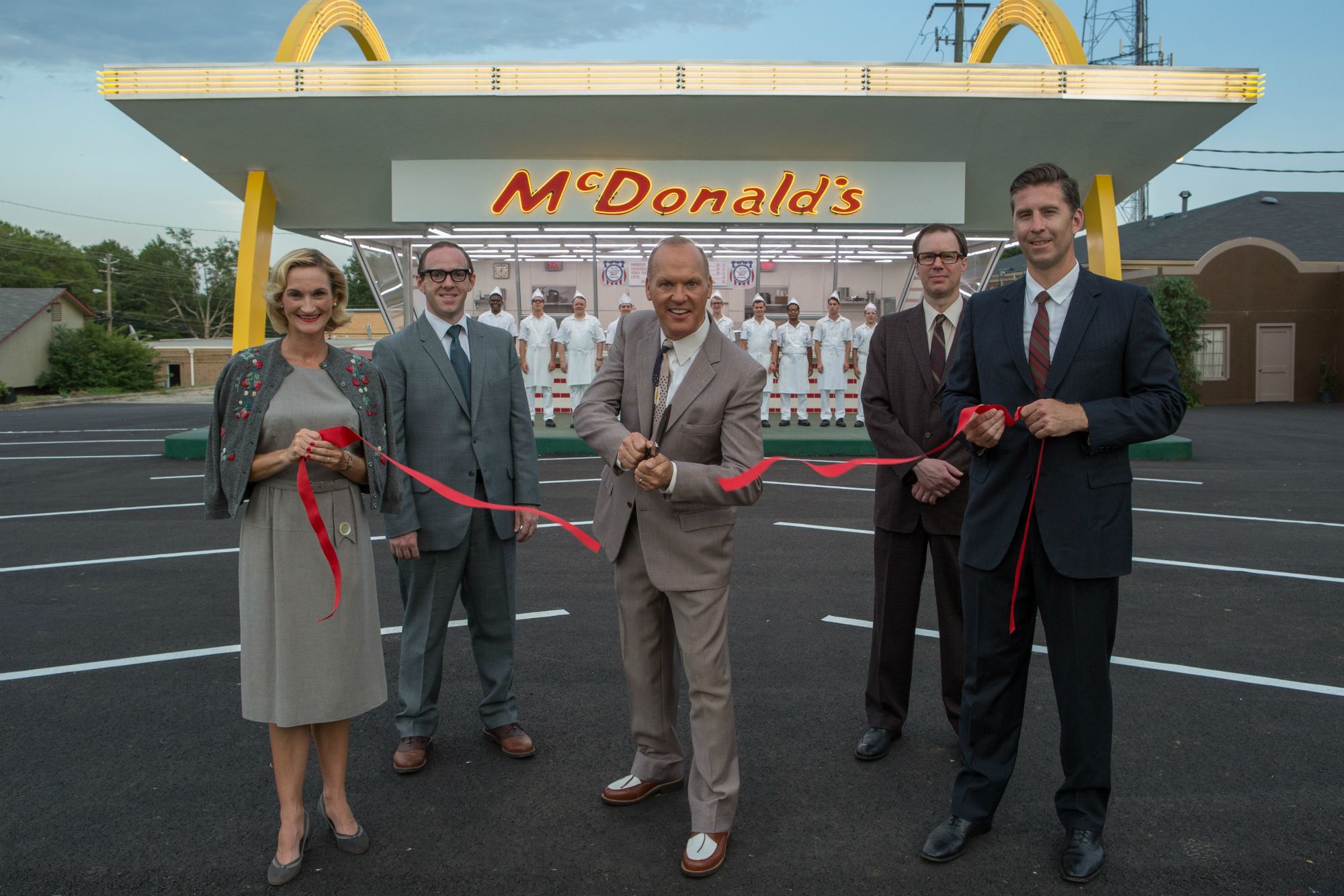 In The Founder, the biographical drama about McDonald's CEO Ray Kroc, the businessman has lofty ambitions to transform himself from a traveling milkshake-machine salesman with middling success to the man franchising a chain of fast-food restaurants that would revolutionize the way Americans, and the world, consumed meals on the go. To some people, his dream was laughable. Yet, through determination and a degree of guile, Kroc achieved his vision.
The parallel to the unlikely political rise of U.S. President Donald Trump is recognizable throughout the film, although it was in development long before Trump began his campaign for office.
"I wish the movie were not relevant," screenwriter Robert D. Siegel tells Newsweek. "What's transpired [in the U.S.] has given the movie added resonance and relevance. If I had my way I would have made the movie irrelevant and had a nice, safe country."
The Founder stars Michael Keaton as Kroc and chronicles how he first aligned himself with brothers Dick and Mac McDonald, the owners of a small burger restaurant in San Bernardino, California, in the late 1950s, then helped franchise it into a thriving nationwide business. A darker side to the Happy Meal emerges, however, when a zealous Kroc eventually edges the brothers out of the business; he agrees to pay them $2.7 million to buy them out and makes a handshake agreement to continue paying them 1 percent in royalties annually. The latter is never turned into a legal document and Kroc reneges on the deal.
Director John Lee Hancock's film is the first time the conglomerate's business history, ironized by its family-friendly wholesome image, has been told on screen. In fact, it's a story that has largely gone unnoticed by the public, even though the facts are a keyboard tap away on the internet.
"I wasn't [aware of the story]," says Hancock. "I probably knew there were brothers named McDonald's that were there at the start of it and I knew Ray Kroc."
"I didn't know anything about it," Siegel adds. "I dug into it and I wasn't that surprised—scratch beneath the surface of any corporate behemoth and you probably find something pretty horrifying."
The Founder began its journey to movie theaters when the film producer Don Handfield came across a song, "Boom, Like That," released in 2004 by Mark Knopfler, the English singer better known as a founding member and lead singer of rock band Dire Straits. "[It] is basically this movie in a three-minute song," Siegel says.
Keaton joined the film coming off the success of Birdman, the Oscar-winning drama that relaunched his career in 2014. The cast is rounded out by comedian Nick Offerman in an unusually serious role as Dick McDonald and John Carroll Lynch as Mac McDonald.
As if by kismet, the film was released in the U.S. on January 20, the same day as President Trump's inauguration. "It's been a little strange," says Hancock of the parallels. "When you're talking about Trump and Kroc, they were both successful win-at-all-costs businessmen who understood branding—especially the branding of a name. Kroc understood the branding of someone else's name and Trump understands the branding of his own name."
The Trumpian undertones of Kroc's ruthlessness "is probably less of a coincidence than it appears to be," according to Siegel. "It makes you wonder, is this what it takes to succeed in business—to be an asshole?"
Trump was a shrewd, even merciless, businessman before he took the White House. Kroc was, too. Similar films like The Social Network and Steve Jobs also depict Facebook's Mark Zuckerberg and Apple's Steve Jobs as having a self-aggrandizing business drive that lead to double-dealing and tumultuous fallouts with colleagues and friends.
Related: Carrie-Anne Moss on 'Humans' season 2, 'The Matrix' reunion with Keanu Reeves and technophobia
"I like writing about complicated, difficult, unlikable people...usually men. I like dark character studies and things that say something about America through this lens of pop culture," says Siegel. "If you read the autobiographies of most great achievers in business and capitalism, they're usually like this. These guys tend to be, to varying degrees, egomaniacal, ruthless. A lot of the words you would use to describe Kroc, you could apply to a lot of these guys. It's a chicken-or-the-egg thing: does the business world attract greedy, self-interested types or does it require that type of personality to thrive in that environment?"
Hancock has previous experience making a period film about a great American titan of business, with shades of something more insidious. He directed Tom Hanks as Walt Disney in 2013's Saving Mr. Banks, about the making of the cinematic classic Mary Poppins and Disney's contentious relationship with P. L. Travers, the creator of the character and author of the popular Mary Poppins books.
"At first I turned it down for that very reason," Hancock says of The Founder. "I thought this is gonna put me in some sort of rut, as the guy that only does those movies. But I had a rooting interest for Ray Kroc in the first half of the film and was rooting against him for the second half; I thought that would be a high-wire act that would be challenging and keep me interested for the two years it takes to make a movie."
Siegel used Kroc's autobiography, Grinding It Out, as a starting point for his screenplay. That, too, shares a kinship with Trump's own autobiography, The Art of the Deal, he believes. "You get a sense of the real person through their skewed perspective of how things went. If you read Donald Trump's autobiography, you'd think he was the most brilliant [businessman]. It's very self-aggrandizing, self-congratulatory."
There is one difference between Trump and Kroc, however. Trump's divisive policies, like the recent immigration ban, has had ramifications on the businesses he ran before becoming president. The hashtag #GrabYourWallet encouraged people to boycott Trump products and his daughter Ivanka's fashion line was dumped by a leading U.S. department store, some suggest in relation to her father's unpopularity.
McDonald's, which had a revenue of $24 billion globally in 2016, is unlikely to feel any strain on its bottom line.
Ask Siegel, for example, if finding out what's in the meat has changed his stance on eating at a McDonald's. "I was late for the premiere [of The Founder], I was starving, and with no sense of irony whatsoever I pulled up to the drive-thru and ordered an egg McMuffin," he says.
The Founder is out now in the U.S. and released in the U.K. Friday.