'Dark Side of the Ring' Season 3 to Feature 'Stone Cold' Steve Austin Appearance
Vice TV's Dark Side of the Ring documentary series is getting ready for its third season, and now we know the focus of the first episode, thanks to Jemele Hill.
On Thursday night's episode of Cari & Jemele (Won't) Stick to Sports, the duo talk to "Stone Cold" Steve Austin about the second season of his USA series, Straight Up Steve Austin.
"Other than our show, my favorite show on Vice is Dark Side of the Ring, which is a docu-series about pro wrestling, you're actually on season three to talk about the life and unfortunate death of your friend Brian Pillman," Hill says, before transitioning to how Austin has dealt with life after retiring from wrestling.
So, according to Hill, the first episode of Dark Side of the Ring Season 3 will be about the late Brian Pillman and it will feature Austin talking about him; considering their history in and out of the ring, it's appropriate to hear from Austin.
Check out the clip of Hill discussing the first episode of season three of Dark Side of the Ring below.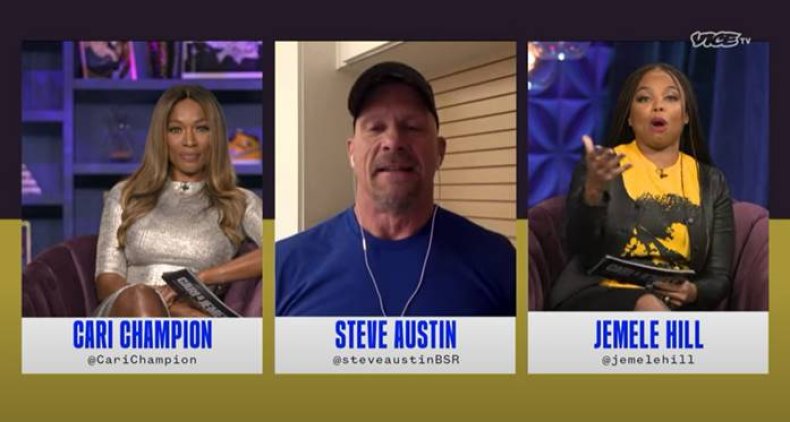 Vice and the Dark Side of the Ring crew have yet to announce the other episodes that will be a part of the third season, but confirmation that Pillman will be the focus of an episode does give more credence to a 2020 report from PWInsider.
According to PWInsider, Brian Pillman, the WCW-New Japan event in North Korea, Nick Gage and The Smith family will all receive their own episodes.
Pillman began his wrestling career in the late '80s for Stampede Wrestling in Canada, following a short stint in the NFL and Canadian Football League.
The Cincinnati native eventually came back to the U.S. and wrestled for the NWA and WCW. In the WCW, he teamed up with Austin, who at the time was going by the ring name "Stunning" Steve Austin, as one half of the Hollywood Blonds.
Pillman went on to wrestle for a few promotions, but many fans remember him for a 1996 angle in what was then called the WWF. While a part of that promotion, Pillman feuded with Austin and filmed a scripted promo inside his own home in which he pulled out a gun on Austin before the cameras went black. It proved to be a controversial promo, and remains infamous to this day.
In 1997, Pillman died from a heart attack at the age of 35.
Today, Pillman's son, Brian Pillman Jr., is a wrestler for All Elite Wrestling.
No premiere date for Dark Side of the Ring Season 3 has yet been announced. You can watch Cari & Jemele (Won't) Stick to Sports every Thursday at 11:30 p.m. on Vice TV.