DARPA Wants to Start Testing Autonomous Flight in Black Hawk Helicopters
The government's Defense Advanced Research Projects Agency (DARPA) will begin testing its latest autonomous flight system in Black Hawk helicopters next year. The Aircrew Labor In-Cockpit Automation System (ALIAS) was successfully tested in a S-76B commercial helicopter in Virginia last month, and as a result, engineers are now starting to integrate the system into one of the Army's most recognized aircrafts.
The test flight took place in Fort Eustis in mid-October, with Lieutenant Colonel Carl Ott, chief of Flight Test for the U.S. Army Aviation and Missile Research, Development and Engineering Center's Aviation Development Directorate carrying out maneuvers using the ALIAS system. He operated the helicopter using a tablet and "control interceptors."
Over the course of an hour, Ott conducted a series of realistic tasks, such as low-level terrain flight, a confined area take-off, landing zone selection and obstacle avoidance. Before the test flight, he had practiced with the ALIAS simulator so he could rehearse the maneuvers.
He said autonomous systems are becoming increasingly prevalent and in the future will likely be able to take on the role traditionally performed by a co-pilot. "The Army refers to this as Mission Adaptive Autonomy. It's there when the pilot needs the aircraft to fly itself and keep it free of obstacles, so the pilot can focus on more of the mission commander type role. But the pilot is able to interact with the system to re-suggest, re-route or re-plan on the fly," he said in a statement.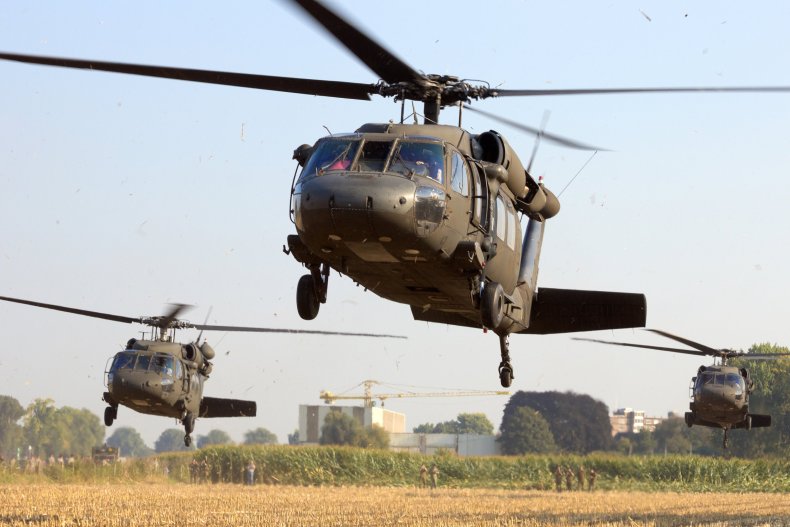 Graham Drozeski, the DARPA program manager for ALIAS, said the technology will reduce the cognitive burden placed on army pilots, allowing them to execute missions more effectively.
"Hovering in adverse winds is a task that consumes a human pilot's attention, but automated flight control achieves 'rock steady' precision," he said. "Really, we want the pilot's eyes and mind on the fight rather than holding an altitude. That's the core focus of ALIAS: bringing the latest advances from unmanned aircraft into a piloted aircraft through an interface that provides fluid interaction with the autonomous capabilities."
The ALIAS system has now moved into its third phase of development, and engineers are integrating it into a UH-60 Black Hawk. They plan to test it in 2019. "We've chosen the Black Hawk as the platform we want to demonstrate full integration of ALIAS-type capabilities—all the circuit breakers and switches and instruments in the aircraft, so that the capability ALIAS provides to a crew member is really like a co-pilot," Drozeski said.
The prospect of autonomous vehicles being used for military purposes is not new—last year the Army demonstrated a range of vehicles including a self-driving Humvee with an automated machine gun. According to the Army Times, using autonomous vehicles allows commanders and soldiers to be more effective during high risk operations.
Commenting on the DARPA test flight, Ingvild Bode and Hendrik Huelss, University of Kent scientists who have published research into autonomous weapons systems, said that while ALIAS is limited in its capabilities, it highights the way this technology is moving forward: "Even though ALIAS remains relatively 'stupid' from the viewpoint of AI and compared to the cognitive abilities of humans, it demonstrates that the trend to develop, test, and deploy autonomous features in weapons platforms is accelerating," they told Newsweek.
"As research in AI for military purposes advances, human oversight increasingly diminishes. Reliance on electronically processed and presented data is not only an operational problem because humans have to trust machines, but it also represents major normative concerns in warfare. Even supporting systems such as ALIAS can impede the human ability to exert meaningful human control to a degree that such control may become obsolete. These questions need answering in the form of a comprehensive societal debate on what kind of rules and norms should govern autonomous features in weapons systems. Introducing systems such as ALIAS are part of a process in which human control is gradually lost."
This story has been updated to include quotes from Ingvild Bode and Hendrik Huelss.