Darrell Brooks Jr Allegedly Upset Ex Didn't Pay His Bail Before Driving Into Waukesha Parade
Darrell Brooks Jr. was allegedly upset the mother of his child didn't pay his bail before driving his SUV into the Waukesha Christmas parade in late November last year, killing six people and injuring dozens more.
Brooks allegedly beat the mother of his child minutes before driving into the parade, a criminal complaint says, The Associated Press reported. The reason was because she denied to pay Brooks' bail after he was arrested for allegedly running her over with the same vehicle he used during the Christmas parade incident, according to the complaint.
On Friday, at the end of a preliminary hearing, Waukesha County Court Commissioner Kevin Costello said that Brooks must stand trial, as prosecutors have presented "ample" evidence showing that Brooks likely committed felonies, according to AP.
Brooks faces 77 charges in total for the parade incident, WITI reported. The charges include 61 counts of first-degree recklessly endangering safety, six counts of first-degree intentional homicide, six counts of hit-and-run resulting in death, two counts of felony bail jumping, and two counts of misdemeanor battery. If convicted of just one of the homicide charges, he would receive a mandatory sentence of life in prison.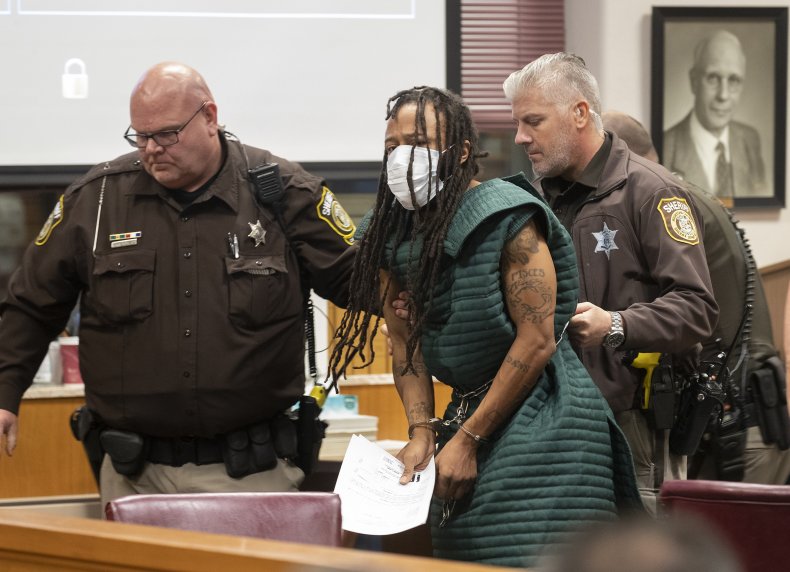 Waukesha Police Detective Thomas Casey, who is the lead investigator in the case, was the prosecution's only witness during the hearing, according to Fox News. Casey said he was one of many officers ordered to direct car traffic out of the area of the parade on Nov. 21. There were barricades placed around the parade route, he said.
Casey testified that saw a red Ford Escape in the parade route, Fox News reported. He said that he heard a horn beeping that sounded like it was coming from the SUV. Once he saw the vehicle, he yelled for it to stop, stepping in front of it and putting his hands up, Casey said.
"The vehicle continued driving into me. I'd say it was a slow speed at that point. Eventually the vehicle made contact with me, and I was pounding on the hood, yelling for it to stop, which it did not," Casey said, according to Fox News. "As the vehicle continued pushing through me, my position changed to the side of the vehicle, where I was directly outside the driver's side window and I could see inside of that window. I could see the driver very clearly."
Casey testified that the vehicle careened back-and-forth across the street for blocks, AP reported. The car ran into marchers from behind and ran them over, he said. He said that Brooks injured a total of 61 people. That figure includes the six people Brooks killed.
Public defender Anna Kees, Brooks' attorney, implied that Brooks was high during the incident, according to AP. She said officers who arrested him reported Brooks' eyes being red and glassy. Officers also said he smelled like marijuana.
She said that during the interrogation, Brooks told one of the detectives that he "didn't mean to kill nobody," Fox News reported.
Casey said he believes Brooks said that, having been familiar with the interrogation, according to Fox News.
Brooks' arraignment is scheduled for Feb. 11, according to WITI.
Brooks had posted a $1,000 bail in Milwaukee County on Nov. 19, two days before the Christmas parade incident, AP reported. Given the circumstances and Brooks' history, Milwaukee County District Attorney John Chisholm acknowledged it was "inappropriately low," according to the Milwaukee Journal Sentinel.