Darrell Issa Could Investigate President Obama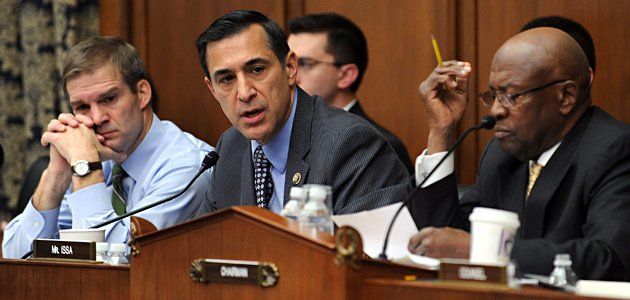 California Republican Darrell Issa has made himself a favorite of congressional reporters and a thorn in the side of the Obama administration. As the senior Republican on the House Oversight and Government Reform Committee, Issa uses his responsibilities as a federal watchdog to push stories critical of the administration and add substance to conservative critiques of the White House, forcing it to respond to charges it would prefer to ignore. Issa's relentless press operation drives these stories from blogs to Hill rags to the nightly news.
"Issa has become the chief antagonist to Barack Obama," brags spokesman Kurt Bardella. "He has the best job in Republican politics right now. When he puts an inquiry out there, that inquiry travels from here right to the White House Briefing Room, where [Press Secretary Robert Gibbs] gets peppered by everybody about it."
And Issa has been a very successful antagonist indeed. He's unusually skilled at finding just which stories to push—the ones that will drive a news cycle, or six. Most recently he's been demanding an investigation of the food-safety bureaucracy after the salmonella outbreak. Previously, he insistently harped on the White House's (clumsy, but not in the slightest bit unusual) attempts to lure Joe Sestak and Andrew Romanoff, Democratic challengers to incumbent senators, out of intraparty election battles by offering them administration positions. While Sestak himself revealed his offer in February, the press didn't focus on the story until Issa did; Politico, for instance, ran a 230-word item in February, but since Issa started poking around a month later, it has run more than a dozen stories.
Issa was also a behind-the-scenes player in the conservative movement's attacks on ACORN. The community organization became a campaign issue in 2008 when Republicans accused it of abetting voter fraud. While scattered incidents of false registration forms and heavily edited video from right-wing news sources were used to tar the organization, Issa used his position to look at the group's federal funding, methodically reporting on each connection, and ultimately persuading Congress to pass his bill banning it from receiving further government money. The organization finally disbanded—but not before Issa traced Obama's connections to what he calls a "criminal organization."
If Democrats are irked by Issa's behavior now, they'd better get ready: Republicans have a good chance to win control of the House of Representatives this fall, and Issa will likely lead the oversight committee, with unfettered subpoena power. That means Democrats should expect investigations into the president's staff, his appointees, and every policy he promotes—not to mention his response to crises like the BP spill. A Republican Congress may not be able to legislate with a Democratic president, but it will be empowered to obstruct his agenda through more than just legislative means.
The powerful House Committee on Oversight and Government Reform, charged with ensuring that the government operates with accountability, has two faces. One promotes accountability, ensuring that taxpayers get their money's worth and holding private interests liable for public damage. At the panel's investigative best, as under the tenure widely-respect Chairman Henry Waxman, it can expose mismanagement ($8.8 billion of shrink-wrapped $100 bills that disappeared in Iraq) and fraud (prescription drug companies conspiring to overcharge Medicare and Medicaid by millions of dollars). But the committee has also acted to drive partisan investigations for political gain, exemplified by an infamous act of gourd-icide: at the peak of the Whitewater investigation, Republican chairman Dan Burton reenacted the death of White House aide Vince Foster in his backyard, with a pistol-toting Burton destroying a pumpkin to prove that—somehow—President Bill Clinton was at fault.
For all his eccentricity, though, Burton almost paralyzed the Clinton presidency. Along with his Foster obsession, he subpoenaed thousands of pages of documents on every conceivable issue, even the White House Christmas-card list. Burton held major hearings on the 1996 Chinese campaign-finance scandals, and told his hometown paper, "If I could prove 10 percent of what I believe happened, [Clinton would] be gone. This guy's a scumbag. That's why I'm after him." It was the perfect example of the rift between a Democratic administration and a Republican Congress. Burton's legacy, at least for Issa, is clear: if you oppose the president's agenda, the oversight committee is the key platform for criticizing, and obstructing, it.
Issa has an unusual background for an ethics watchdog. After military service (somewhat exaggerated for campaign purposes) and a series of indiscretions with firearms and alleged car theft, he founded a successful car-alarm company (inspired by his brother, a car thief). Today Issa is the second-richest member of Congress, with a net worth estimated at $165 million.
His first foray into politics came in 1998, when he sought to challenge California Sen. Barbara Boxer but lost in the primary. In 2000 he won a Southern California House seat, replacing the retiring Ron Packard. His ambitions for statewide office continued, and he financed the recall of California Gov. Gray Davis with $1.6 million of his own money, hoping to earn the job himself, but backed out of the race when Arnold Schwarzenegger stepped in. Following that setback, he settled into his role in Congress.
"He could have done anything else with his life," notes former Republican representative Tom Davis, who himself chaired the oversight committee, pointing to Issa's fortune. "Darrell was a good member; that's why he was able to jump a lot of people in seniority."
Issa is a reliable conservative, but he has built up credibility by taking his oversight project seriously; his recent criticism of a provision in the financial-reform bill limiting public access to government information prompted bipartisan efforts to correct it. Nonetheless, though his support for transparency was recently recognized by the nonpartisan Project on Government Oversight, Issa's signature accomplishments, such as his recent attacks calling signs identifying stimulus projects "propaganda," tend to have a partisan edge.
Issa can leverage his record to go after Obama: several years of whistle-blowing around the Minerals Management Service, the regulatory office whose laxity contributed to the BP oil spill in the Gulf of Mexico, made his reports that the administration refused volunteers and international aid during this year's response to the disaster harder to dismiss.
"The difference between Waxman and Issa," a Democratic congressional aide tells NEWSWEEK, "is that Waxman had a lifetime of policy ideas and policy goals—he wanted to reform health care, he wanted to check on the FDA, he wanted to do something about climate change—that's what his oversight was focused on in the Bush administration. Issa seems to be all over the map—I'm not clear whether he has any policy interests aside from getting the Republicans back in power."
Promoting the Republican agenda will require Issa to carefully manage his reputation. "You'd rather be Waxman than Burton," says Tom Davis. "[Issa] understands maintaining credibility with opinion makers is an important piece of that, because that's the only way you can advance your agenda. He doesn't want to be a laughingstock."
Issa's ambition and his ability to push a story—check out his absurdist YouTube series "Oversight Police," complete with Dragnet aesthetics and a squeaky-voiced stick figure—guarantee he'll guide the news for months to come; reporters know he gives good quotes and can talk for hours. His staff notes that unlike many members, Issa understands how to work in the 24/7 news cycle, emphasizing an aggressive communications strategy—but one with a greater purpose. "The reason why this has been so potent is because this president, more than any other in the history of this country, assailed the status quo," says Bardella, Issa's spokesman.
"Oversight should be judicious, professional, and vigorous," Issa said in a statement. "Under the watch of Congressional Democrats, government spending has grown rapidly but the oversight efforts by this Congress have actually decreased ... Oversight should make the people's government work better for them."
With increasing public focus on regulation, those themes resonate, but Democrats have reason to expect Washington's partisan battles to play out in Issa's hearings if he becomes chairman.
"I won't use [my authority] to have corporate America live in fear that we're going to subpoena everything," he said at a public appearance in June. "I will use it to get the very information that today the White House is either shredding or not producing." Issa's staff points out that the congressman has a record of putting corporate executives, like those at Toyota and Bear Stearns, on the spot, but it's safe to say that an Issa-run committee will give the White House plenty of heartburn.
"Issa's definitely smarter than Dan Burton; he has better instincts and better judgment," the Democratic aide says. "That's scarier."
Tim Fernholz is a staff writer at American Prospect magazine and a research fellow at the New America Foundation. He gets more press releases from Darrell Issa than he does from anyone else.