Who Was Darryl Williams? Bodycam Footage Emerges Showing Deadly Arrest
Police in Raleigh, North Carolina, released body and dashboard camera footage Friday that shows the arrest of a Black man who died after officers repeatedly used stun guns on him.
Darryl Tyree Williams, 32, died at a hospital after the confrontation with officers in a parking lot at about 2 a.m. on January 17, according to a preliminary report by Police Chief Estella Patterson.
The footage was edited and posted on YouTube on Friday after a state judge authorized its release last week.
The police report said officers were conducting proactive patrols of nearby businesses at around 1:55 a.m. when they approached a car with Williams in the driver's seat. An officer asked the vehicle's occupants to step out after observing an open container of alcohol and marijuana in the car, police said.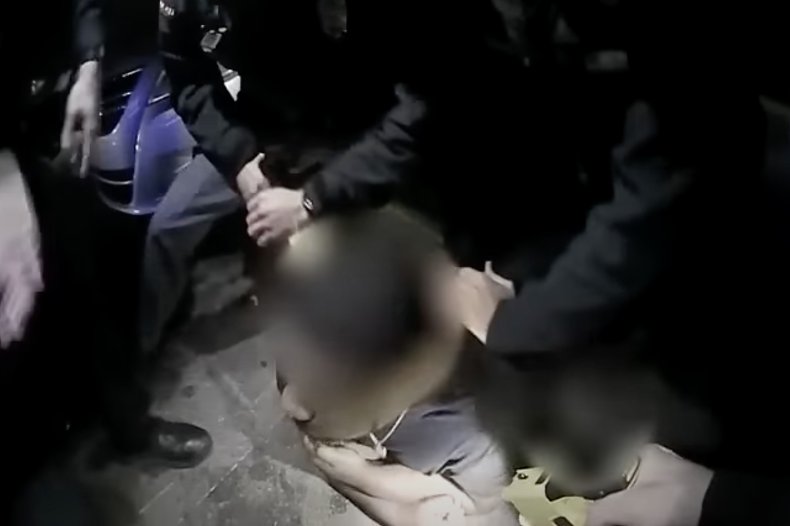 A man can be heard saying: "I'm not doing anything."
The police report said officers tried to arrest Williams for possession of a controlled substance after one found a folded dollar bill containing a "white powdery substance" in his pocket.
Footage from one body camera shows officers telling Williams to place his hands either up or behind his back several times. A struggle ensues, and an officer is heard threatening to fire a Taser unless Williams stops trying to resist arrest.
A Taser was then deployed, the footage shows, causing Williams to fall. Several officers are seen on the ground with Williams near a trash can.
Police said officers continued to command Williams to stop resisting and place his hands behind his back, but Williams broke away from the officers.
The video shows officers catching up to him moments later in the parking lot, telling him to get on the ground and trying again to arrest him.
"Why are you all doing this to me?" he asks.
Officers are heard ordering him to place his hands behind his back or he would be Tased again.
"I have heart problems," Williams can be heard saying after he was stunned again and before officers said another one would be coming if he didn't comply.
Police said Williams was stunned three times, twice through direct body contact with the Taser.
Williams was placed in handcuffs and positioned on his side around 2 a.m., the report said. In the footage, an officer is heard saying: "Relax man, relax. Chill out."
Moments later, officers become concerned about whether Williams still had a pulse, but they turn him over and say he's breathing.
One of the videos begins with Williams already on the ground and officers kneeling over him. He can be heard moaning.
Williams became unresponsive and stopped breathing after he was handcuffed, according to the police report. The footage shows police doing chest compressions to try to resuscitate him until emergency services arrived.
Williams was pronounced dead at a hospital about 3 a.m. His cause of his death is under investigation.
Two firearms, including one that was previously reported stolen, marijuana and "suspected controlled substances" were found in the car occupied by Williams, the police report said.
An autopsy has been performed on Williams, Wake County District Attorney Lorrin Freeman said Friday, but a final report from the Office of the Chief Medical Examiner has not yet been provided.
Williams' mother, Sonya Williams, watched the videos at Raleigh Police headquarters a day before they were publicly released.
"My heart was just broken, I mean, to see the way that he was treated," she said to CBS17. "It wasn't like he killed anyone, OK alright, if drugs were involved, give him a ticket or something like that, but, as far as all that tasing, that was uncalled for."
She also called for charges against the officers involved.
"I'm seeking justice for my son," she said. "I think those officers should be terminated and prosecuted."
The six officers involved in the arrest are on administrative leave and investigations are ongoing.
"The Williams family wants justice. That's what his mother wants the world to know," Dawn Blagrove, the executive director of Emancipate NC, a group advocating for Williams' family, told Newsweek.
"Justice not just for Darryl Tyree Williams, but for all the victims of state sanctioned violence across the nation."
Blagrove added: "We are acutely aware that the role of modern policing is to be the enforcement arm upholding white supremacy. Black bodies are at the receiving end of the most brutal forms of state sanctioned violence carried out by occupying forces, calling themselves law enforcement.
"Now is the time for the city of Raleigh and all of America to have a reckoning about the trauma and harm that policing causes to Black, Brown and marganalized communities."
Blagrove added that the Williams family, Emancipate NC and other advocacy groups have a list of demands, including the firing of the officers involved in the arrest, an immediate end to proactive patrols, an immediate discontinuance for now of the use of Tasers and a dismantling and rebuilding of the city's police advisory board.
The North Carolina State Bureau of Investigations and Raleigh Police Department have been contact for further comment.
Update 2/13/23, 8:35 a.m. ET: This article has been updated to add comments from Dawn Blagrove.