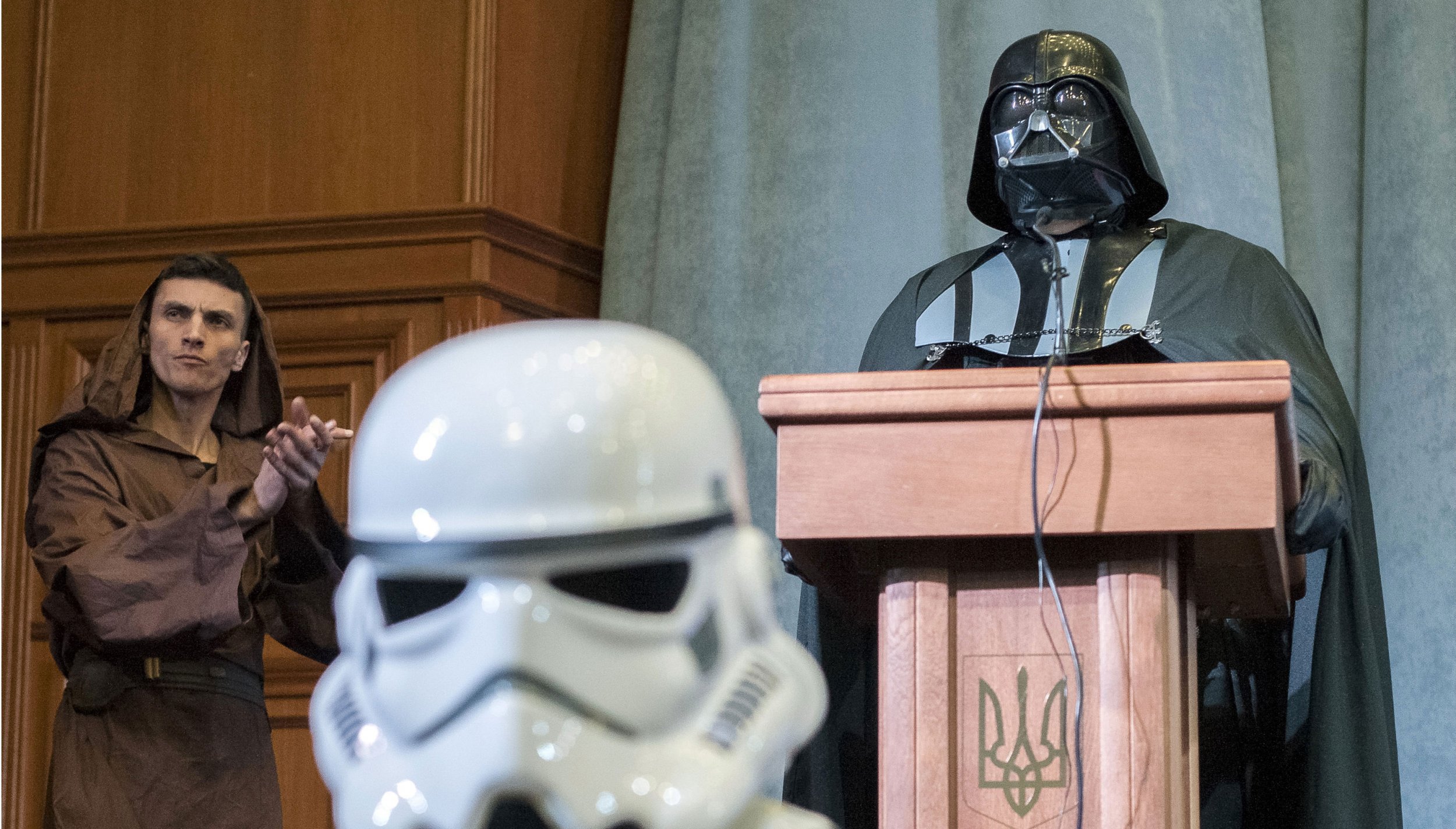 As Ukraine continues to struggle with Russian influence in its political affairs, Darth Vader, leader of the Galactic Empire has thrown his hat in the ring of the country's complex powerplay.
Ukraine's so-called Internet Party has put forward the Star Wars villain as its prime ministerial candidate in Sunday's nationwide parliamentary elections alongside 16 other registered candidates including Chewbacca, Princess Amidala and Yoda.
The Sith lord is well known in Ukrainian politics, having previously mounted unsuccessful campaigns for mayor of Kiev and Odessa, as well as a rejected bid for Ukraine's presidency in 2014 when he refused to show his face during the registration process. Although the party was founded in 2006 by alleged Ukrainian hacker Dmytry Golubov, the identity of the man beneath the mask remains a point of speculation in Ukraine.
Vader finished fourth in Odessa's mayoral election, though this did not deter him from pronouncing himself the winner.
His well-produced election spots have featured videos of his lightsaber altercation with muggers in the parking space of a Kiev department store, his march to seize the city of Odessa and montages of him and his fellow Star Wars retainers affectionately caressing public monuments across Ukraine's biggest cities.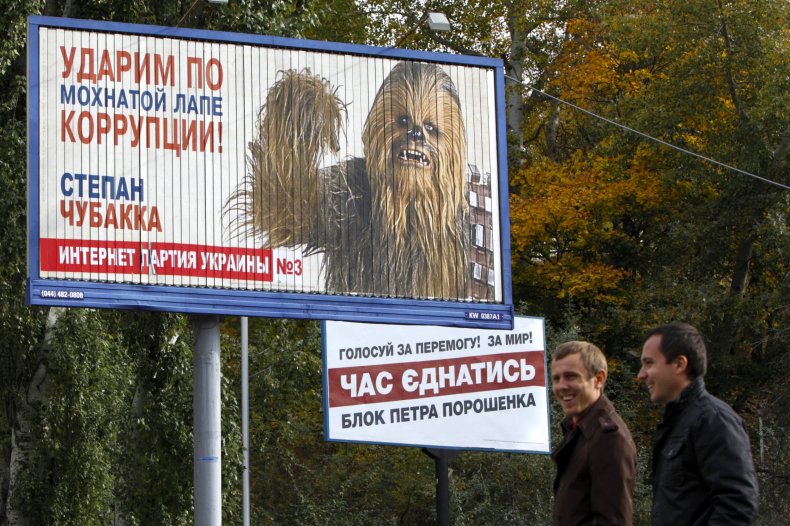 His VK social media account has over 18,000 followers and has made a habit of parading across Ukraine's larger cities accompanied by his Star Wars running mates, as well as stormtrooper and imperial guards. Election billboards featuring the characters-cum-candidates are can even be seen around major cities.
The party's policies include a promise to change Ukraine's political system into an e-government, which will allow Ukrainians to vote, claim social services, interact with government officials, track the budget and license their business entirely online.
The party promises to set up "transparent" and "interactive portals", "free computer courses for all who want them" while its candidate Darth Vader has committed to "annihilating bureaucrats".
Popular policies in Vader's public appearances in previous campaigns have been "free wifi for all", while the prime ministerial candidate promised to "regain Crimea in the space of 3 days" after a brief exchange with Russian president Putin earlier in the year.
During his campaign for mayor of Odessa in May of this year, Vader left talk of his policy plan to Chewbacca, who unfortunately chose to illustrate his points primarily through gesticulations and growling.
President Petro Porshenko's party leads opinion polls by 30% ahead of Sunday's vote, while Oleg Lyashko's Radical Party is second with 16% according to Kiev's Foundation for Democratic Initiatives. Prime minister Yatseniuk's People's Front is expected to get 11% of the vote.
Sadly for Vader, the Internet Party does look set to win any seats as no polling agency predicts the candidate will meet the 5% threshold. Unless, of course, someone decides to let the wookie win.