Dartmouth Dean Sparks Debate on the State of Israel and Anti-Semitism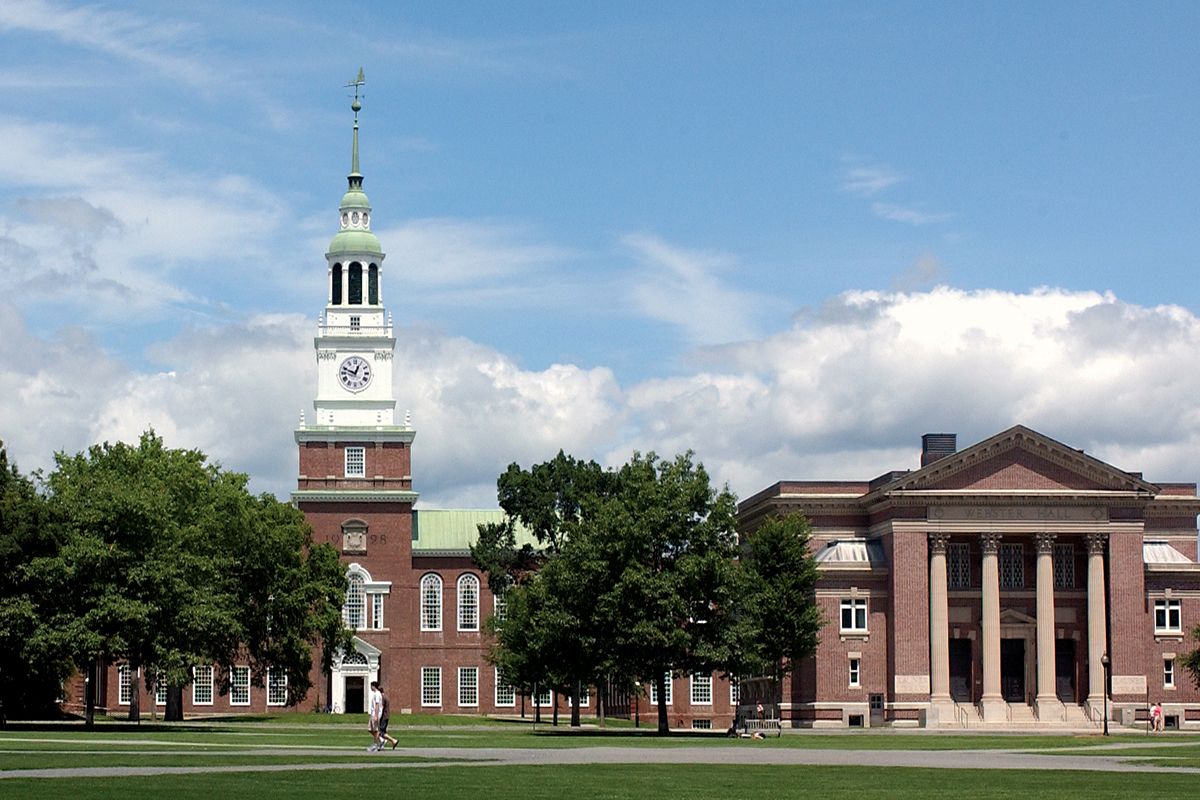 UPDATE: The Daily Dartmouth is reporting that S. Bruce Duthu has declined the deanship offered to him, in seeming concession that the campaign against him was showing no signs of slowing. "Whether warranted or not, this matter has been and will likely continue to be a significant distraction for me professionally and a source of considerable pain and frustration for me personally," Duthu said in a statement.
The Daily Dartmouth is also reporting that a student group, Native Americans at Dartmouth, had been mounting a pro-Duthu campaign that sought to place his imperiled appointment in the context of greater questions of race and ethnicity. A statement released by the group to the campus said, in part, "When people of color are appointed to positions of power, they are met with racist backlash disguised as bureaucratic scrutiny from communities who benefit from a system that lacks diversity,"
The original article appears below.
S. Bruce Duthu is one of nation's most prominent scholars of Native American law, a graduate of Dartmouth College and one of the mainstays of its well-regarded Native American Studies program, where he has taught since 1986. His appointment in late March as Dartmouth's new dean of the faculty of arts and sciences should have served as confirmation of the high esteem in which he is held by his peers.
Instead, the appointment has been met with accusations of anti-Israel bias. Those accusations have been made by one of Duthu's own Dartmouth colleagues. They focus on a letter Duthu signed four years ago, as well as an email he sent to Dartmouth faculty to affirm his support of Israel. What seemed, in that email, a slight grammatical oversight has been taken as subtle confirmation of anti-Israel bias.
At issue is a 2013 statement from the Council of the Native American and Indigenous Studies Association, of which Duthu was then treasurer. That statement calls for a "boycott of Israeli Academic Institutions," suggesting strong sympathies with the Boycott, Divestment and Sanctions movement then taking root on college campuses. That statement says, in part, "we strongly protest the illegal occupation of Palestinian lands and the legal structures of the Israeli state that systematically discriminate against Palestinians and other Indigenous peoples."
Other academic groups, most notably the National Council of the American Studies Association, have adopted similar boycotts, while others, like the American Historical Association, have rejected them. Some believe that only such overtly hostile positions will force Israel to change its policies regarding what many consider the illegal occupation of Palestinian territories; other, however, call such sympathies evidence of leftist hypocrisy, wondering why Israel is singled out for its transgressions while other nations escape similar scrutiny of their human rights records.
Duthu's co-authorship of the letter was brought to light by Alan Gustman, a professor of economics at Dartmouth. On May 3. Gustman sent a letter to the entire Dartmouth faculty opposing Duthu's appointment to the arts and sciences deanship. He then forwarded that email to David Horowitz, whose Frontpage website serves as a clearinghouse for right-wing news, in particular concerning liberal overreach on American college campuses. That effectively made Duthu's plight the latest outrage to animate an emboldened right-wing internet ecosystem.
Gustman's letter, published by Frontpage on May 5 is 1,150 words in length. Gustman opens it by calling Duthu "an active advocate of the BDS movement, a movement that proposes boycotting, divesting and sanctioning Israeli academic institutions." Gustman goes on to say that he has "no reason to believe that Professor Duthu is anti-Semitic" but nevertheless condemns him for "supporting a movement that is substantially anti-Semitic."
Gustman notes that Dartmouth's president, Philip Hanlon, had previously said the college would never support a BDS-type boycott of Israel. He notes, moreover, that Dartmouth, like most Ivy League institutions, has a legacy of anti-Semitism which, in his view, should have led the college "to appreciate the broader symbolism of appointing an active BDS advocate to the leadership of the Faculty of an Ivy League Institution."
Whether the BDS movement is anti-Semitic is a matter of fierce debate. Its proponents say they want merely to push Israel into giving the Palestinian people the state they deserve. Opponents, however, say the activists are animated by an animus against Jews, not any political goal. The Anti-Defamation League, for example, says that the "delegitimization of Israel is at the heart of contemporary anti-Semitism."
Gustman's suggestion that Duthu is an "active" supporter of the BDS movement does not appear to be supported by evidence. Duthu did not respond to repeat requests for on the record comment. (Disclosure: Although I took a class with Duthu, that was more than a decade ago. As far as I can remember, Israel was never discussed in the class, which was called "Indian Country Today" and was excellent.)
Duthu attempted to calm the outrage over his appointment—much of which took place online, well beyond the confines of the remote New Hampshire countryside where Dartmouth is located—with his own email to the Dartmouth faculty, which he sent out after Gustman's email appeared on Frontpage. "I continue to believe in the right of private citizens to express criticism of any country's government policies," Duthu's email said. "At the same time, I do not believe that a boycott of academic institutions is the appropriate response."
Joseph Asch, a 1979 graduate of Dartmouth who blogs about the college from a conservative perspective at Dartblog, found a curious error in Duthu's letter: Duthu referred to "the state of Israel," not "the State of Israel," the latter being, as Asch pointed out, the accepted means of describing the country. Asch opined that the college's public relations team had surely vetted the email -- and just as surely had seen the lower-case s. Therefore, this was a deliberate decision, in Asch's view, perhaps even a dog whistle to fellow supporters of BDS. "Does Duthu mean to imply that Israel is not really a state?" he wondered. "He probably wouldn't refer to the U.S. as the united states."
Gustman was also unimpressed by Duthu's email. "I do not feel he renounced his previous position," he told me. He also issued his own response, in which he wondered why Duthu's letter did not explicitly withdraw his support of the statement. "If he does not clearly and unambiguously repudiate his position and support for BDS, the anger directed his way will only get louder."
That much does appear to be true. Articles critical of Duthu have been published by The Observer, the onetime New York high-society publication now owned by presidential consigliere Jared Kushner (who is an Orthodox Jew), which charged that Duthu's appointment "brought into question the college's commitment to academic freedom""; Pamela Geller, a virulent anti-Muslim advocate, who called Duthu a "Jew-Hating BDS Leader"; the Jewish Journa l, which deemed his appointment "fraudulent"; the Washington Free Beacon, which called Duthu a "leading supporter" of BDS, though that appears to be an exaggeration of his involvement in the movement.
At the same time, Duthu has found support among some of his most prominent Jewish colleagues. These include Susannah Heschel, the head of the Jewish Studies program who—like her father Abraham Joshua Heschel, who marched alongside Martin Luther King, Jr., at Selma—has explored the political manifestations of Judaism in the modern world. According to The Daily Dartmouth, Heschel "disagreed with Gustman's interpretation of Duthu's co-authorship, saying that "the declaration does not endorse the BDS movement, as it does not explicitly mention BDS."
Another professor of Jewish studies, Udi Greenberg, said that "calling for the academic boycott of Israel, in under no circumstances can be constructed as anti-Semitism automatically." Yet he also reminded that the BDS movement served as a shield for "idiots, demagogues and anti-Semites."
Others yet remained skeptical, echoing Gustman's suspicions. Economics professor Andrew Levin wondered to The Daily Dartmouth why Duthu didn't "simply say in plain English that he no longer supports the BDS movement" in his letter to the campus.
As it happened—and by pure coincidence, it seems—the Duthu controversy broke just as Dartmouth announced that Linda Sarsour would be speaking on campus. Sarsour is a leading BDS advocate loathed by the right. The Algemeiner, a publication on contemporary issues in Judaism, noted that while Sarsour's visit would be sponsored by the Office of Pluralism and Leadership, an administrative group that promotes diversity on campus, that same office refused to sponsor a visit by Izzy Ezagui, a veteran of the Israel Defense Forces who lost an arm in combat. According to The Algemeiner, the student was told that the proposed lecture would not "meet the mission" of the Office of Pluralism and Leadership.
"I think Dartmouth College has shown a remarkable disregard for the concerns of the Jewish community," one student told The Algemeiner. Although some students protested the Sarsour event earlier this week, it appears to have taken place without incident.
The debate over Duthu, the new dean, continues.