Anti-Feminism Blogger Daryush Valizadeh Of 'Return Of Kings' Asks Followers To Post Journalists' Details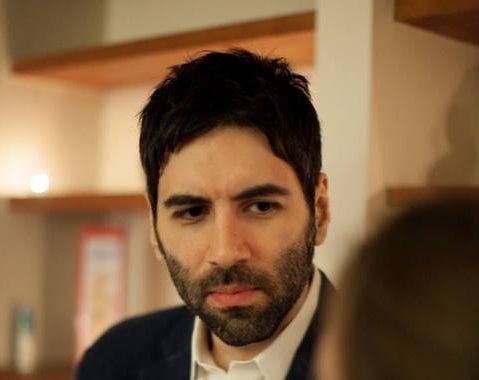 A controversial anti-feminism blogger and pick-up artist is encouraging followers to publish personal information about "lying reporters" who write about him.
Daryush Valizadeh, who calls himself "Roosh V" and is organizing 165 meetings in 43 countries for followers at the weekend, wrote in a post on his forum on Wednesday: "Now that logistics are handled...we can start our first counter-operation and hit back against the enemy.
"Where did this worldwide mob get the idea that we are meeting to discuss rape tactics? Through the media. Dozens of reporters have now blatantly lied about all of us being 'pro rape' and having a 'rape advocacy platform.' They have frothed up a crazy mob that is ready to dox and assault. We must hold journalists fully accountable for their incitement."
The forum now appears to be locked to non-members, but Newsweek took a screenshot of the post.
Valizadeh appeared to be referring to reporting of this weekend's meetings in the media, much of which references his 2015 article "How To Stop Rape," which Valizadeh has since insisted should be taken as "satire." In it, he writes:
"I propose that we make the violent taking of a woman not punishable by law when done off public grounds.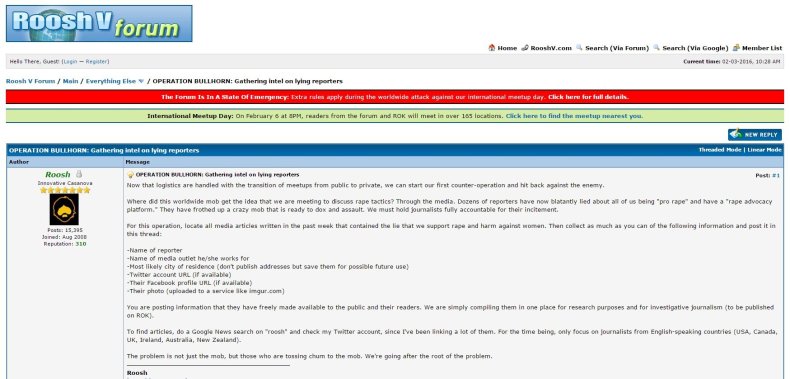 "If rape becomes legal under my proposal, a girl will protect her body in the same manner that she protects her purse and smartphone… After several months of advertising this law throughout the land, rape would be virtually eliminated on the first day it is applied."
In Wednesday's forum post, Valizadeh encourages his followers to share on the forum thread the names, home cities, Facebook profiles, photos and other details of reporters who have published "the lie that we support rape and harm against women." He discourages members from publishing journalists' addresses but suggests that they "save them for possible future use."
Valizadeh added that the information will be used for "investigative journalism" that will be published on his Return of Kings website.
At the time of writing, information about 14 journalists had been posted on the thread. One U.K.-based journalist who was included says: "The very idea that they are putting my name on some sort of list and keeping me in mind for future acts of retribution, I have to say it makes me feel apprehensive."
Valizadeh has attracted controversy in the past for his writings on women and the process of seduction. In a 2010 blog post on his site titled "When no means yes," he wrote:
"'No' when you try to take off her jeans or shirt means…'You need to turn me on a lot more.'
'No' when you try to take off her bra means…'Try again in five minutes.'
'No' when you try to take off her panties means…'Don't give up now!'"
The 36-year-old, who grew up in Maryland, U.S. and worked as an industrial microbiologist, has attracted a huge following through videos, blogs and talks handing out techniques for picking up women. He espouses a philosophy called "neomasculinity," of which one of the tenets is: "A woman's value significantly depends on her fertility and beauty. A man's value significantly depends on his resources, intellect, and character."
Valizadeh has already said he will take his meetings underground following widespread criticism across the world, plans for protests, and the launching of petitions for Valizadeh to be banned from various countries, including one in the U.K. Attendees in many cities will be required to prove their membership before being told a secret location.
Newsweek has reached out to Valizadeh for a comment but has not yet heard back.