'Dash and Lily': The Book The Netflix Series is Based On
Dash and Lily is a new series streaming on Netflix, which tells the story of a boy and girl (played by Austin Abrams and Midori Francis) who communicate via a notebook of dares that they leave in various locations around New York City. Like previous Netflix YA content before it like 13 Reasons Why and To All the Boys I Loved Before, Dash and Lily is based on a book.
Dash & Lily's Book of Dares by Rachel Cohn and David Levithan (the co-authors of Nick and Norah's Infinite Playlist), first published in 2011.The official synopsis shows us that the Netflix show is a pretty close adaptation of the novel: "16-year-old Lily has left a red notebook full of challenges on her favorite bookstore shelf, waiting for just the right guy to come along and accept its dares. Dash, in a bad mood during the holidays, happens to be the first guy to pick up the notebook and rise to its challenges.
"What follows is a whirlwind romance as Dash and Lily trade dares, dreams, and desires in the notebook they pass back and forth at locations all across New York City. But can their in-person selves possibly connect as well as their notebook versions, or will their scavenger hunt end in a comic mismatch of disastrous proportions?"
The book included a number of real New York locations, which also appear in the Netflix show. Central to both, for example, is The Strand bookstore, a real life shop in NYC where Dash has to complete a series of dares to find out about the woman writing in the notebook. Incidentally, that store had appealed for help to survive as a business during the coronavirus, so the publicity it gets from this major new Netflix series could not come at a better time for the store.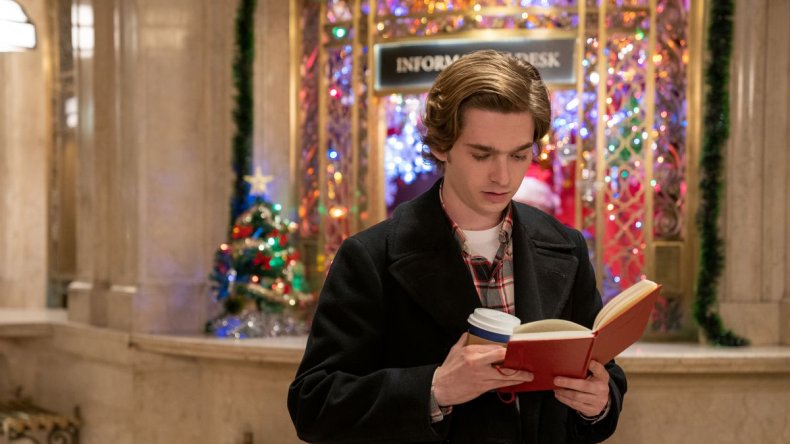 The book is the first of three Dash and Lily novels, and was followed up with The Twelve Days of Dash & Lily (set over the Christmas after the events of the first book) and Mind the Gap, Dash & Lily (set in London), meaning that we could be getting a few more seasons of the Netflix show based on these books.
When filming the Netflix show, Abrams and Francis took inspiration from the book and bonded themselves through a notebook, as their characters did not meet until late in the series.
Francis told E! News: "We kind of kept a little notebook ourselves that we shared back and forth just kind of expressing revealing things to one another, just to get to know each other in a similar way as they were on the show.
"It was Austin's idea and I remember when you said that to me, Austin, I was like, 'Yes, this guy is so fine with being like a nerdy meta actor,' and that made me very happy."
The books are fairly unique in being co-authored. Asked how this works by Entertainment Weekly, author Rachel Cohn said: "He writes a chapter, emails it to me, and I pick up where he left off, and so on. We have a basic set-up in mind when we start, but really make no real plans for how we are going to get there, and we discuss the book very little while we're writing it."
Dash and Lily is streaming now on Netflix.