Dasha Zhukova Is the New Russia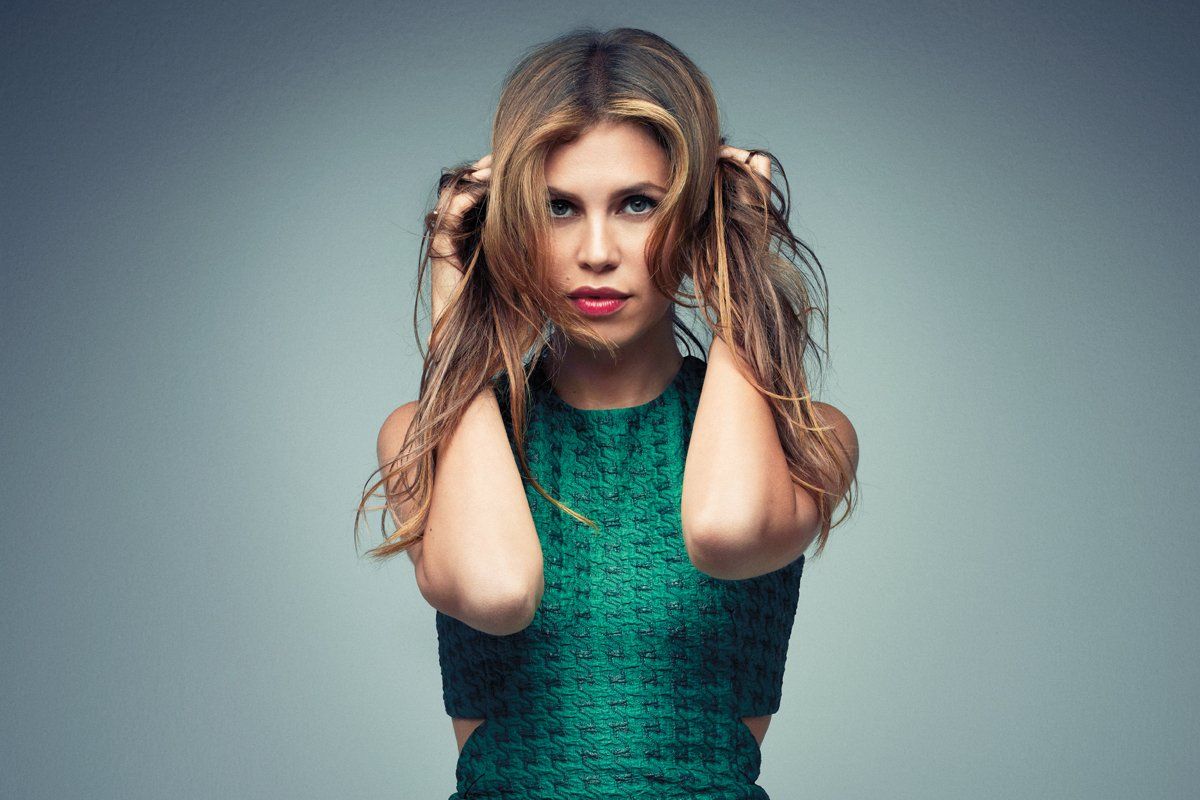 In a forgotten corner of Moscow there is a ruin. One of those typical Soviet 1960s rectangular things produced by faceless architects. Trees have started to grow from the flat roof. The floor is broken. In what was once the central hall there is a mural in the deliriously happy socialist-realist manner: an orange sun, a young woman with flaming hair, a finger outstretched like the hand of God on the Sistine Chapel. The bottom of her leg is wrapped around with new graffiti: "PANKS!" it says ("punks" misspelled in Cyrillic). This sort of building is destroyed in Moscow every day. But Dasha Zhukova sees in it a thing of beauty.
"The mural, the tiles, the paint: it all reminds me of my childhood. Everywhere old buildings have been destroyed, as if someone sucked the soul out of the city. I love Moscow—the smell of subway, the smell of the asphalt when it rains. But the city is in turmoil."
Zhukova wants to do something about it. And as one of the world's wealthiest art patrons, the daughter of a mini-garch and girlfriend of Roman Abramovich, the ninth-richest oligarch in Russia, she can. This is where she will construct her modern-art oasis, Garage, part of the regeneration (no, resurrection) of Moscow's long-abandoned lung, Gorky Park. Imagine Manhattan had no Central Park, no Guggenheim, and imagine they were to appear suddenly, in one moment and in one place, and imagine what that would do to the psyche of the city.
Rem Koolhaas, perhaps the most admired architect in the world, has been brought in to build Garage. "I love Rem's work because he is so political. He always thinks what a society needs," says Zhukova.
"The plan is to maintain as much as possible," says Koolhaas, who speaks English with a whisper of a Dutch accent. 'In this way we can intervene in the holocaust of buildings from the era."
The mural, the graffiti, the whole patina will stay. The furniture will be inspired by forgotten Soviet designs. But Garage will reach forward too: wrapped in translucent polycarbonate, a "center for contemporary culture" with films, lectures, cafés, restaurants. "A progressive, happy space," says Zhukova, and a different way to engage with art than the Soviet tradition of ritualized homage through museums that feel like mausoleums. "This is the new Russia," Zhukova insists. "I hope this project will give Russia a new identity, an identity that will take everything the country has been through and bring it into 2012."
The need to bring reconciliation between Russia and the world is, one senses, something personal for Zhukova. She emigrated from Moscow at the age of 10, joining her academic mother in the disjointed peregrinations of an immigrant's life. They ended up in Southern California. Her voice still oscillates between breezy Valley Girl and tough Muscovite. Garage marries her connection to Moscow with her love for modern art. This has been her mission since 2008. "I was spending a lot of time in London, and I thought it would be great to have a space like that in the Russian context," says Zhukova, with the disarming simplicity only the really, truly rich can afford.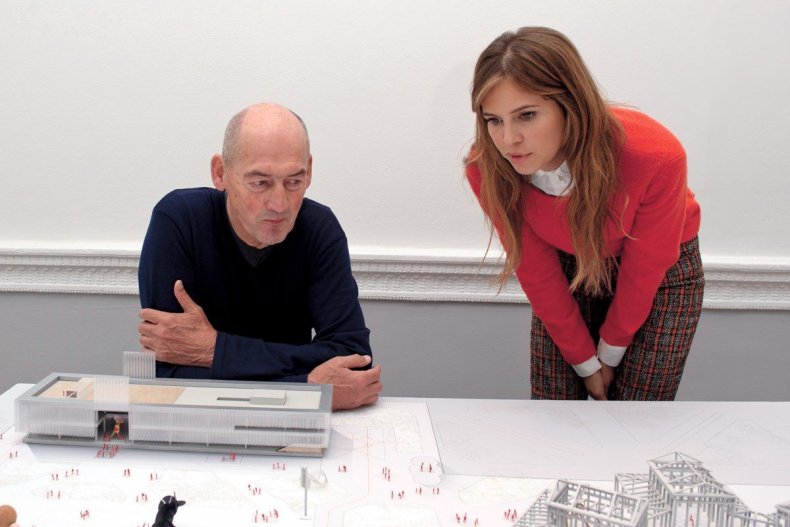 Modern art has a turbulent history in Russia. In the 1920s Moscow was the capital of the world's avant-garde. Stalin banned abstract art as bourgeois. The Soviets supported socialist realism: the CIA sponsored Jackson Pollock. Lines have become blurred since but modern art is still representative of a more liberal, Western worldview in the country. Recently official Russian art has favored the saccharine, self-important statues of Zurab Tsereteli; the Aryan, unintended kitsch of Ilya Glazunov. Zhukova brought over the ironic, giant rabbits of Jeff Koons and Marina Abramovic lying naked under a skeleton. But in her previous, peripheral gallery Zhukova could only attract the already converted, the art aficionados. Now Garage, as part of Gorky Park, will be at the center of everything.
The Gorky Central Park of Culture and Leisure was once the Soviet Arcadia, where the workingman came to spend the ideal socialist day, in the best city, in the best country in the world. There were rides, theaters, and a park postal service to send flowers and love notes between visitors. There were performances of Swan Lake on a stage in the middle of a pool: at the end of the show the water would spray up to gently hide the entertainers behind a liquid curtain. After 1989, the park went dark. Gangs would meet here for shootouts. The gates were shut: you had to pay to enter, but it was unclear why you would want to. The only busy day was the annual paratroopers celebration, when Muscovites would literally hide their children behind locked doors as swaying soldiers straight from service in the Caucasus vomited in the fountains and beat up passersby.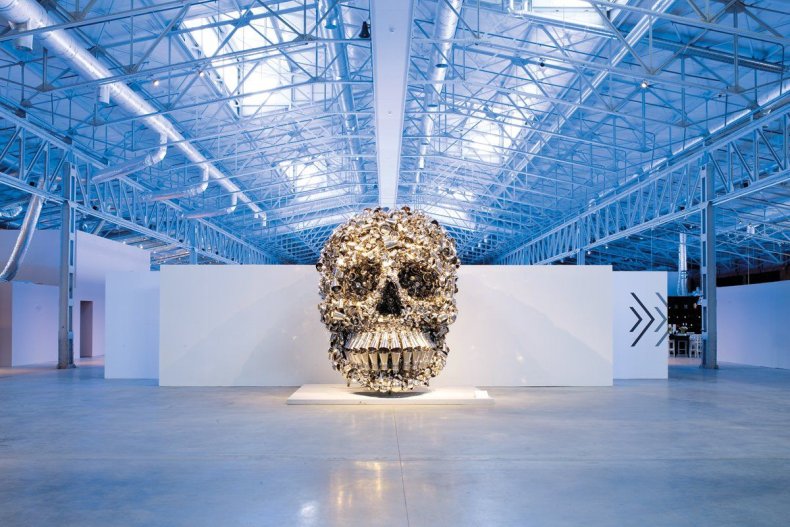 Now Gorky is rejuvenated. Entry is free again. There are open-air cinemas, indie-rock festivals, Wi-Fi, and beach volleyball. The park is full of shiny, happy, pretty Muscovites. From Soviet Arcadia to Middle-Class Arcadia: thanks to a rumored $2 billion from Zhukova's boyfriend, Roman Abramovich. Moscow has its Central Park back, and the city feels noticeably different. And soon Garage will sit among all this: Wi-Fi, beach-volleyball, and modern-art utopia. Squint hard and you can see a vision of what Moscow, what Russia, could perhaps one day be.
And these oases are growing in Moscow. On a balmy May weekend, thousands of young Muscovites stroll, smoke, and kiss through the annual "night of the museums." Hidden away in regenerated factories, which style themselves as Moscow's version of Manhattan's Meatpacking District, there are clusters of boutiques, galleries, and cafés. A few hundred yards away is a city of scowls and bribe-hungry cops; here you've stepped into a parallel reality.
"The people you see here are the new generation. They want more open relations between each other, the city," says Anton Belov, Garage's managing director. "They come to Garage [Zhukova's old gallery was also called Garage], the regenerated factories, Gorky Park, and they can see that life can be different, that you can organize a good space in 8,000 square meters. They start to believe in change. That you can change something more: your street, the city, the country. It's the same people I see at the [pro-democracy] protests."
In a converted wine plant I visit Paperworks, the gallery that curated the latest winner of Russia's most prestigious modern-art award, the Kandinsky Prize. The award was won by Yuri Albert for his installation, Moscow Poll, which asked the public to vote on questions such as "Does the work of an artist seem worse to you if you do not share his political convictions?" and "Do you believe a good work of art can change our life for the better?"
Alongside the art spaces new art and architecture schools have also been appearing. Strelka, an "Institute for Media, Architecture and Design," is one of the most high-profile. Koolhaas is a director at Strelka and his bureau's think tank, AMO, has designed the curriculum. His connection with Moscow goes deep. In 1967, still a journalist, he traveled to Moscow. There he discovered the legacy of the 1920s avant-garde: "This was an architecture that seemed so much more: a new way of thinking about and organizing life. I would not have become an architect if it wasn't for visiting Moscow."
Now Koolhaas is in Moscow continuing that tradition. The curriculum he and AMO have helped design for Strelka gives an education different to the technically focused Russian schools. The focus is on investigating context, working out what a city needs. A course last year was on public space. The concept was so lacking in Russian thinking that Strelka had to invent a new term: obschestvennoye prostranstvo, more accurately "social," "community" or even "civic" space. Months before mass demonstrations began in Moscow Strelka's students were already researching the influence of protest movements on cities, designing models for Moscow's development. "Imagine a city growing from the bottom up. A city where people have become authors and stakeholders of the space they inhabit," wrote one student. The research projects were published in Moscow's most engaged magazine, Bolshoj Gorod (Big City), introducing a new vocabulary to the town.
"Give us back our city" has become a clarion call of the protests, and the protests themselves have become increasingly like art performances. Underground theaters have been playing in the streets; there have been open-air lectures and film showings; instead of official demos Muscovites have been organizing mass "walks with writers"—tens of thousands strolling down the usually overpoliced streets, led by the city's most famous poets and novelists, a sort of flânerie against feudalism. Meanwhile, visual artists have been causing creative disruption throughout Russia. The radical situationist group Vojna ("War") have led the way: from graffitiing a huge penis on the underside of a St. Petersburg bridge to face the building of the FSB (formerly the KGB, which controversially won a state prize for Innovation in Art), to rushing through Moscow and kissing stunned policewomen on a project called Kiss-a-Cop. On May 12 a group of artists led by Anton Litvin set up their canvases opposite the Kremlin. They painted white on white: "However hard we try, we just can't see the Kremlin," they said. On May 19 modern artists staged their own march through Moscow: one was carried on a piano playing jazz ditties, a second carried a drawing with text: "The revolution in our hearts has already happened, we want to stay and live here."
But while modern art, architecture, and design are inspiring, researching, and shaping ideas into deep-seated change in Russia they also reflect its limitations, challenges, and dangers. Though Strelka is an open courtyard just opposite the Kremlin and has a bar and lectures open to the public, few apart from hipsters or the pretty people come inside: "I want it to be open," says Ilya Oskolkov-Tsentsiper, Strelka's president, "but it's as if there's an invisible wall here: even when they're drunk the rest of Russia doesn't wander in." The same can be said of the regenerated factories. And he's worried about Gorky Park, the concept for which Strelka helped develop: "I heard an ad on the radio calling it 'the new fashionable place in Moscow': that risks alienating people. Remember those paratroopers that used to go there? When everyone was scared of going in? They need to still go there—it's their park too." At times the confrontation can be violent: last week a modern-art exhibition in the southern region of Krasnodar was stormed by nationalists, Orthodox activists, and Cossacks outraged at what they perceived was its anti-patriotic tone. Members of a situationist art group, Pussy Riot, are in prison and threatened with seven-year sentences for bursting into Moscow's central cathedral and singing a prayer asking the Icon of Mary to save them from Vladimir Putin. "The devil has laughed at all of us," said the Russian Orthodox patriarch.
The schism between a progressive Russia and the rest is hardening, the potential for confrontation between an urban intelligentsia and the masses is growing. This May Bolshoj Gorod carried a poster calling the country not to be divided into "us and them, Moscow and the rest." Strelka is focusing a new component on "Hinterland" to get the rest of Russia on the development agenda and to look for potential ways to soften the divide between town and county.
In her own way Dasha Zhukova hopes her Garage, with its attempt to integrate different strands of Russian identity, can play a harmonious role too: "We've had this problem with a split identity for centuries, ever since Peter the Great tried to Europeanize the country. Garage is just a small step."
The new Garage plans to be ready for next year.