Data From 17 States, 2 Cities, Shows Black People Vaccinated at Much Lower Levels Than Whites
An analysis of 17 states and two cities shows that Black Americans are receiving the coronavirus vaccine at much lower rates than whites—highlighting an ongoing racial gap amid a pandemic that has disproportionately affected people of color.
According to a study by the Associated Press released Saturday, Black people in each state are getting vaccinated at levels below their share of the general population, and in some cases, the disparities are significant.
The data came from Alaska, Colorado, Delaware, Florida, Indiana, Maryland, Mississippi, Nebraska, New Jersey, North Carolina, Ohio, Oregon, Tennessee, Texas, Vermont, Virginia and West Virginia, as well as Philadelphia and Chicago.
Each of the states and cities have released racial breakdowns of their coronavirus vaccination efforts through January 25.
The study also found that Black people are receiving fewer shots despite the fact that they make up a large percentage of the nation's health-care workers, who were given priority access when the vaccination campaigns began in mid-December.
In Maryland, for example, Black people make up 30 percent of the population and 40 percent of the health-care industry, yet account for just 16 percent of the people vaccinated so far. White people, which in the state's data includes both Hispanic and non-Hispanic whites, constitute 55 percent of the population and 67 percent of those who have gotten shots.
Similarly, in North Carolina, Black people make up 22 percent of the population and 26 percent of the health-care workforce, but only 11 percent have gotten vaccinated. White people, including Hispanics and non-Hispanics, are 68 percent of the population and 82 percent of those vaccinated.
In other places, including Florida and Ohio, only 5.8 percent of those who have been vaccinated are Black, while more than 75 percent have been white.
In states including Nebraska, Colorado, West Virginia, Oregon, Vermont and Alaska, Black people make up 2.5 percent or less of vaccinations so far.
In contrast, the study found that white people are getting vaccinated at closer to or higher than expected levels in most of the states examined.
Though the analysis focused mostly on Black Americans, the Associated Press reported that Hispanic people also lagged behind in vaccinations, but their levels are somewhat closer to expectations.
Additionally, several states where Hispanic and Black communities were hit particularly hard by COVID-19, including California and New York, have yet to report data.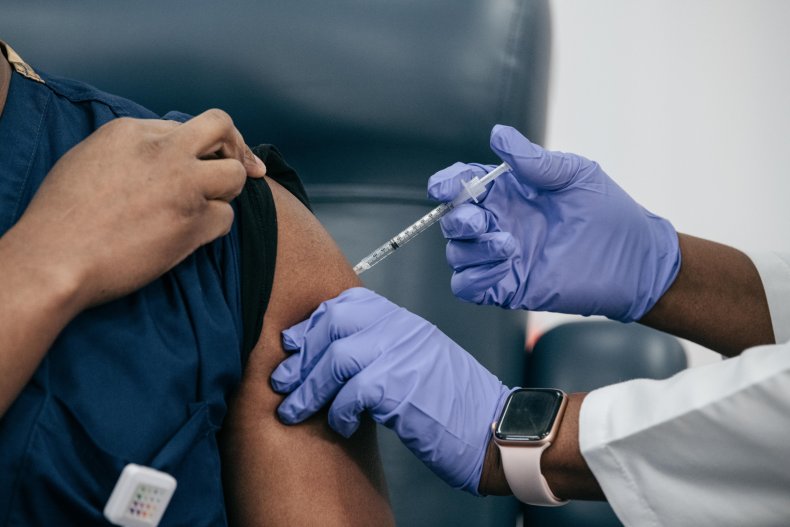 The racial gaps add to an ongoing struggle seen throughout the coronavirus pandemic, which has been shown to disproportionately affect communities of color.
According to the Centers for Disease Control and Prevention (CDC), Black, Hispanic and Native American people die from COVID-19 at almost three times the rate of white people.
Several factors could be driving the vaccine disparity, including distrust of the medical establishment among Black Americans due to a history of discriminatory treatment; lower access to vaccines in Black neighborhoods; and a digital divide that can make it difficult to get vaccine crucial information, the Associated Press reported.
In November, civil rights activist Rev. Al Sharpton said President Joe Biden must implement a plan to "deal with the economic plight and he must deal with the racial disparity in COVID-19."
"Many Black Americans live in healthcare deserts, where there are no hospitals or healthcare centers in our area. So he must come up with how we will see equal distribution of vaccine," he said.
"Many in the African American community, we don't trust vaccines because of past history like the Tuskegee experiment," he added. "He needs to deal with that health disparity, particularly in light of COVID-19."
Biden's administration has vowed to bring more equity into the vaccine rollout, and has encouraged states to target vulnerable neighborhoods by using tools such as the CDC's social vulnerability index, which analyzes data on race and poverty.
"We are going to make sure there are vaccination centers in communities hit hardest by the pandemic, in Black and Latino communities and rural communities as well," Biden said in early January, according to CNN.
Dr. Marcella Nunez-Smith, the chair of Biden's COVID-19 equity task force added that "We are going to take extra steps to get to the people hardest to reach, and that work is happening right now," the Associated Press reported.
Newsweek reached out to the White House for additional comment, but did not hear back in time for publication.