Data Dive Finds 100-Year-Old Teachers and Phantom Schools in Mexico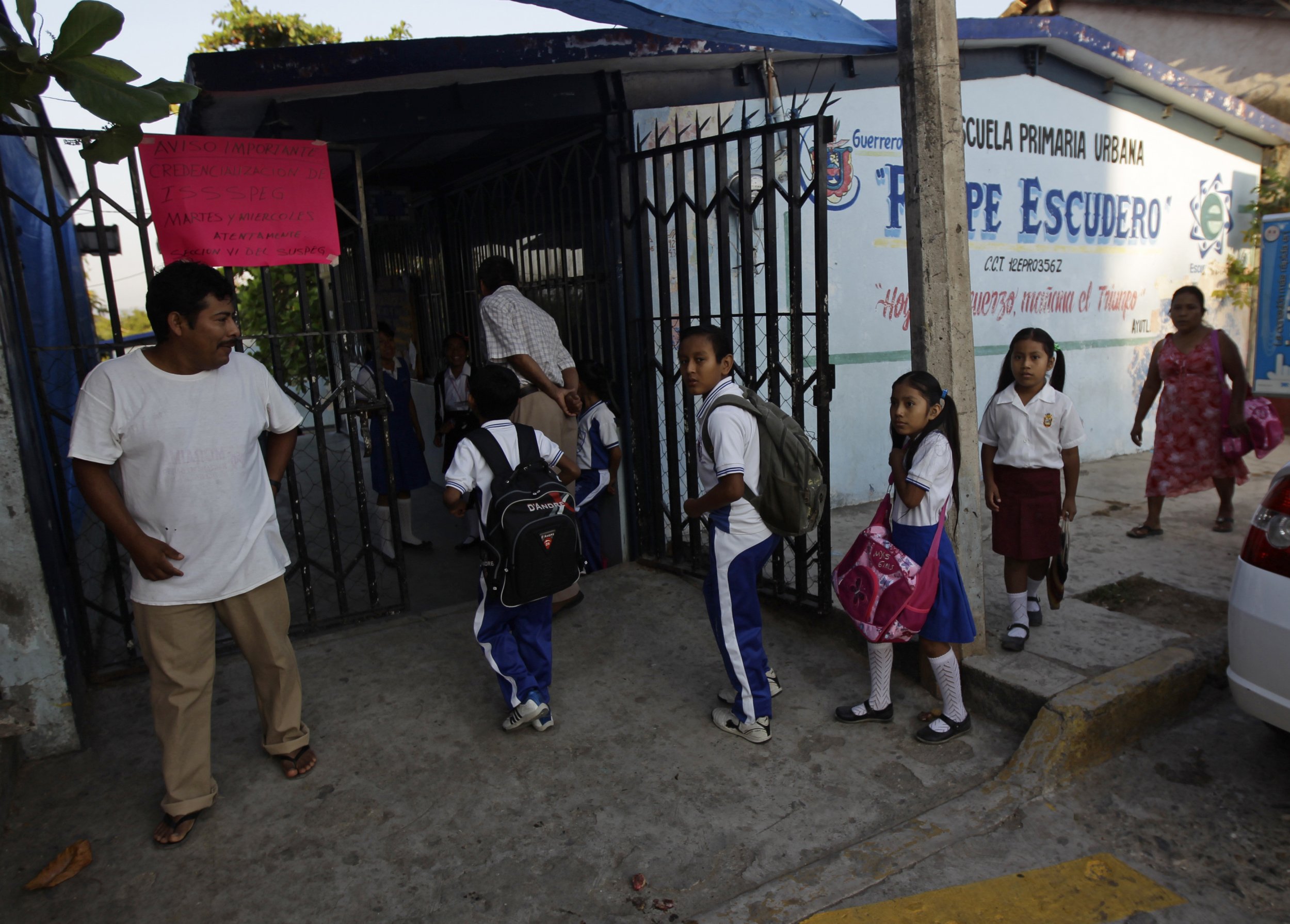 Teachers over the age of 100? Check. Teachers who earn more than the president? Check. Teachers who teach at phantom schools? Check.
A Mexican research organization has developed an algorithm to organize and parse previously unreadable data, yielding outlandish results. Analysts at the Mexican Institute for Competitiveness (IMCO) released a report this month revealing there are 1,442 teachers on the government payroll between the ages of 100 and 105. Of these, 1,441 are registered in Hidalgo state, in eastern Mexico, and all but one of those were born on December 12, 1912.
The report, which is based on statistics from Mexico's Education Ministry, also revealed that 70 teachers in Mexico earn more than President Enrique Peña Nieto, who makes around $15,000 per month. Of these, 19 work at schools that have failed or barely passed the national standardized test.
According to a 2013 report by the Organisation for Economic Co-operation and Development, of all its member countries, Mexico spends the highest proportion of its education budget on teacher salaries and compensation of staff.
Apart from the headline numbers, the report reveals that education statistics are disorganized and largely impenetrable. "We have a kind of accounting anarchy," says Juan Pardinas, IMCO's director. After the report was published, he said, the Hidalgo state government reached out to his team, suggesting some of the discrepancies were the result of an engineer, rather than an accountant, incorrectly filling out the payroll information by using a salary code for other types of payments, such as widows' spousal benefits.
In the early '90s, the federal government stopped demanding that the states provide substantial information about their operations, including how many teachers they have, what teachers earn or what conditions their schools were operating under, thus decentralizing the country's education system. In 2008, Congress passed a law requiring states to provide the federal government with homogeneous financial information, but it has proved largely futile: Four out of 32 states have not handed over payroll databases for the last trimester of 2013, and eight states have handed over empty or incomplete databases.
Teachers in Mexico, particularly those who work within the public school system and are members of the powerful union—the largest labor syndicate in Latin America—have for decades enjoyed almost total autonomy from official authorities, often selling, buying or inheriting their jobs. They had been accountable, instead, to the union leader, Elba Esther Gordillo, who was seen by political experts as one of the most influential political players in the country, famous for her love of brand-name clothes and a penchant for collecting multiple properties.
But last year, Gordillo, whose aura of untouchability had grown steadily throughout the previous decade, was accused of embezzling millions of dollars from the union for personal use and went to prison. Forbes included Gordillo in its 2013 list of the most corrupt Mexicans, noting her $4.7 million house in Coronado Cays featured "a private dock with a boat and jet ski."
Six months later, Congress approved an overhaul of the education system, instituting evaluations of teachers at public schools and enacting an open competition among university graduates to fill teaching positions. Experts hailed the reform as a major step toward transparency, while cautioning that it had been watered down in response to violent protests. In several parts of the country, members of the union had burned buildings, chased legislators from Congress buildings and at one point blocked off access to Mexico City's international airport in an effort to stop the overhaul from reaching the president's desk.
Despite Gordillo's arrest and the legislative overhaul, education statistics remain murky. Pardinas and his team discovered 536 telesecundarias, or secondary and high school programs available in rural areas via satellite, that apparently operated without electricity. They also found an undisclosed number of "phantom schools," which are unregistered and may very well not exist, but still have teachers on the payroll.
The report found that the average monthly national salary for Mexican teachers is $1,954, that the teacher with the highest salary lives in Oaxaca state and earns $46,849 a month, and that there is a school in Guerrero state that has a single student enrolled but keeps six employees on its payroll whose salaries add up to $6,644 per month.
"There is a collision between a legacy of opacity, a will toward transparency and disorganized accounting and accountability," said Pardinas.
Alexandra Zapata, who coordinated the report at IMCO, told local reporters that as soon as the study was released, the Education Ministry began modifying its data, though she said IMCO would put the original documents on its web page.
Francisco Olvera, the governor of Hidalgo, where most of the century-old teachers were listed, criticized the study, saying it lacked scientific rigor. Enrique del Val Blanco, deputy secretary of the Education Ministry, echoed Olvera.
But Congress seemed more convinced about the validity of the report. Last week, a group of senators requested an investigation into the study as well as the supposed modification of data. They also requested that should the inquiry reveal wrongdoing, the responsible parties should be sanctioned.
Marco Fernandez, an education expert at Mexico Evalua, a public policy research group, has been working on an analysis of the same databases as IMCO. He says he has found troubling data manipulations. For example, he said Tamaulipas state reported to federal authorities that it has five commissioners, or teachers that are allowed to perform a different activity, sometimes a political one, temporarily while still receiving their teaching salary. Fernandez found, however, that there were at least 1,200 commissioners.
"Like this example, there are many," said Fernandez. "Misuse of public education funds is not corrected because it is the authorities themselves who are violating the law. The main message is one of impunity."