Data Reveals Significant Lag Times During Most-Streamed Super Bowl Ever
In the aftermath of Super Bowl LVI—the most-streamed NFL game ever—a new study has revealed that many large streaming platforms saw significant lag times compared to the live event.
As more and more people ditch cable and over-the-air television for streaming options, latency over the internet can cause issues for sports fans who could be seeing that big, game-changing play as much as a full minute after it happens. Since the latency isn't consistent across platforms, that opens the door to being spoiled moments before viewers see the big play itself.
The study was published by Phenix Real Time Solutions, a tech company that calls itself the "go-to provider for real-time video streaming solutions." Phenix's study, which the company stated was done for the fourth year in a row, found that most streaming platforms lagged behind the actual game anywhere from 50 seconds to just over one minute.
Nine of the largest and most-common streaming platforms were studied. While the NFL's official app was listed as the best option, it still reportedly lagged 50.0 seconds behind the action on the field. The longest lag time, according to the study, was seen by Hulu, whose live TV streaming package would broadcast plays 60.4 seconds after they occurred.
All of these lags happened during a Super Bowl that was the "most-streamed NFL game ever," with an average "minute audience of 11.2 million viewers across all digital endpoints," according to a press release from the NFL.
As more Americans continue to choose streaming platforms as their prime choice for live sports—and television in general—Jed Corenthal, the CMO of Phenix, spoke about the multitude of issues surrounding lag times.
"We've done this study for four years in a row, and quite frankly, there hasn't been a change to anybody's technology that's streaming the Super Bowl in four years," Corenthal told Newsweek during an interview. "Every year we see the same thing ... we're at 40, 50, 60 seconds of latency total, including the broadcast delay."
"We want to make sure that people are trying to experience the same thing they would as if they were in the stadium," Corenthal continued. "Our latency is sub-seconds, so if you're in the stadium, you're basically not seeing any delay."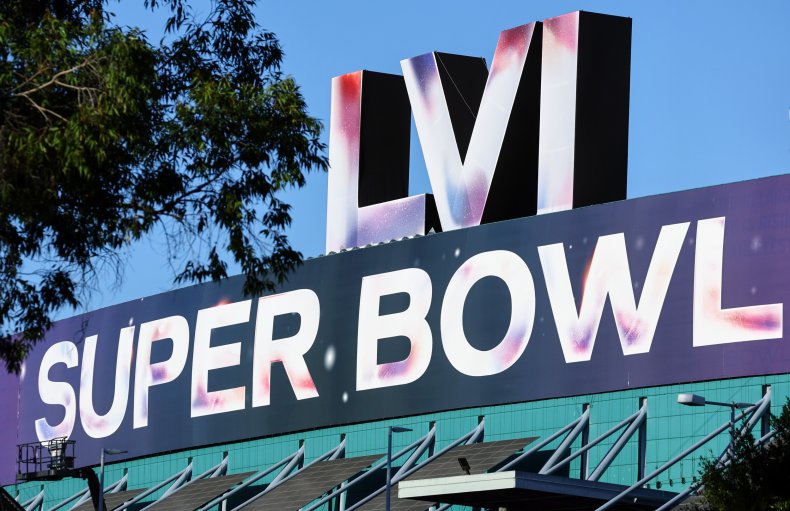 When asked what could incentivize streamers to improve their performance, Corenthal told Newsweek: "I think that, for the first time this year, more so than in the past, we're seeing a flood of fans, a flood of people go to social media and start complaining, and they're realizing that this is not tolerable ... they're missing plays, their friends are seeing things before they are."
"I think it's starting to get to the point where there's a bit of a pushback starting to happen," Corenthal added.
In a similar light, when asked if the NFL itself could take steps to push streaming platforms to make changes, Corenthal stated: "We hope so ... the truth is, we've been doing this for a number of years now, and [our service] works, it's proven ... so there's a solution in place; we just hope that there are some people out there that are willing to step up and say, 'hey, enough is enough, let's see what we can do to make this experience a better one."
He added that the current method of streaming "is just not conducive for a great experience overall."
Corenthal's statement appears to be backed up in Phenix's study, which showed that the only streamer that had a significantly shorter lag time was Verizon 5G SuperStadium, which partnered with Phenix's technology in 2020. The streamer reportedly had a lag of only 0.9 seconds compared to the other platforms.
Even with the mass increase in streaming seen across the United States in the past few years, there is another option that has also been proven to have a much shorter lag time: cable television, which typically has a delay of just five seconds, according to CNET.
However, despite this, droves of Americans are still cutting the cable in favor of streaming options, and Corenthal doesn't see that changing despite the longer lag times.
"I think that ultimately, [streamers] are going to have to change their technology because you've got too many cord-cutters, I saw a stat the other day that over the last couple of years, we've gone from something like 11 million to 74 million people who've cut the cord," Corenthal said. "So they're not coming back—once you cut, you're done."
"Once the streaming providers do improve their technology and move to real-time ... you're going to get those people who are going to be watching sports on their streaming platforms to stay there, and more people will go there once the experience improves," Corenthal added.
A spokesperson for Hulu told Newsweek in a statement, "Delivering live TV over the Internet has improved greatly over the years, but reliability and stability is still dependent on a number of parties and connections that could contribute to latency. That is why we designated our systems to minimize the impact to ensure that we deliver a seamless viewing experience for Hulu subscribers."
Newsweek has also contacted DirecTV Stream for comment.
Update (02/15/2022, 9:30 p.m. ET): This story has been updated with a statement from Hulu.