Data Wizard Nate Silver's New Site Launches Under ESPN Ownership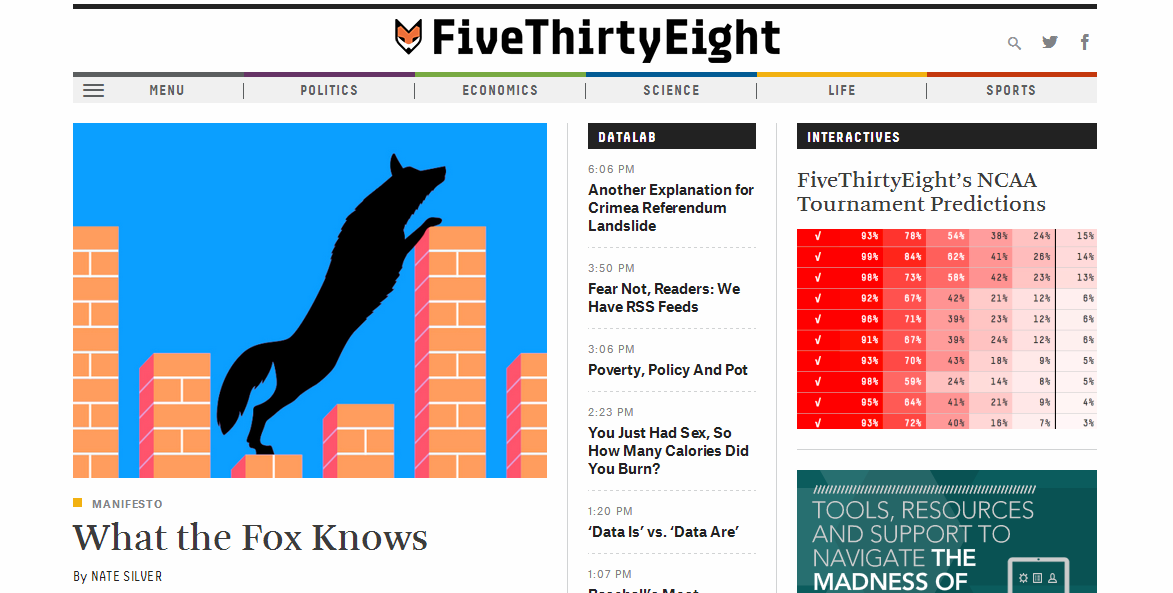 More than seven months after ditching The New York Times for ESPN, statistician-wizard Nate Silver has finally gotten around to launching the new incarnation of his FiveThirtyEight site.
Best known for correctly predicting each state in the 2012 presidential election, Silver is trying to branch out while sticking to number-crunching. Silver promises the new site will encompass more than politics or sports, telling the Daily Intelligencer, "we take our science and economics and lifestyle coverage very seriously." On the site's navigation, between "Politics" and "Sports," there are topbar dropdown menus for such areas of interest as "Economics," "Science," and "Life." The "DataLab," column highlights such non-politics-y items as 'Data Is.' vs. 'Data Are' (answer: 'Data is') and 'You Just Had Sex, So How Many Calories Did You Burn?' (answer: 2.8 times more calories than sitting still).
Silver also provides a sprawling, 3,500-word introduction to the new site, in which he calls his election forecasts "overrated" and introduces readers to his new team of data journalists, whose skills reportedly include "data visualization, computer programming and data-literate reporting."
"The breadth of our coverage will be much clearer at this new version of FiveThirtyEight," Silver writes. "We've expanded our staff from two full-time journalists to 20 and counting. Few of them will focus on politics exclusively; instead, our coverage will span five major subject areas."
But Silver's timing is a bit awkward, if not also a bit fortuitous. Popular interest in "explanatory journalism" has exploded during his absence, much of it focusing on Ezra Klein's new policy site, Vox, and the venture's long trail of high-profile hires. Last week the site—and others of its ilk—came under particularly pointed attack for its lack lack of diversity:
Project X may now be called Vox, but the great VC-backed media blitz of 2014 is staffed up and soft-launching, and it looks a lot more like Projects XY. Indeed, it's impossible not to notice that in the Bitcoin rush to revolutionize journalism, the protagonists are almost exclusively – and increasingly – male and white.
Silver, it should be noted, addressed the piece, which he found "reaaaally, really frustrating," in his own interview last week. "We're a bunch of weird nerds. We're outsiders, basically," he told the Daily Intelligencer.