Who Killed Nicole VanderHeyden? Green Bay Murder Featured on New 'Dateline' Episode
Green Bay, Wisconsin, mother Nicole VanderHeyden was found dead May 20, 2016, but who was responsible for her death? On Friday's episode of NBC's Dateline, Andrea Canning investigates the case. Ultimately, it was technology that helped put VanderHeyden's murderer behind bars.
"Green Bay, Wisconsin, home of the legendary Packers. After the football season ended, the city became transfixed by a new battle of sorts—one that played out in a courtroom. At the heart of it all, a beautiful 31-year-old mother named Nicki VanderHeyden. She had been found dead in a field," NBC's Canning narrates. "It seemed too awful to be true, a murder case where nothing was as it seemed." She adds: "A who-done-it offering digital devices as intriguing clues and there was something else: an explosive accusation and one gavel-rattling twist."
VanderHeyden's live-in boyfriend Douglass Detrie said he was devastated over his girlfriend's death, but he soon became a suspect. George S. Burch was charged with murdering VanderHeyden, but the defense soon pointed the finger at Detrie.
Detrie was arrested and held in jail for more than two weeks, the Green Bay Press Gazette reported. "I don't know. Why, how am I in this position, what's going on? I didn't get it. I think I said, 'This is wrong.' I was advised not to say anything but I wanted to say so many things, that I had nothing to do with this, you're making a big mistake here," he said during the trial about being arrested.
He and VanderHeyden had been at a rock concert the night of the murder. They got into a fight, with VanderHeyden leaving the bar they were at and accusing Detrie of abuse and infidelity. "You hurt me all the time," one of her texts that night read.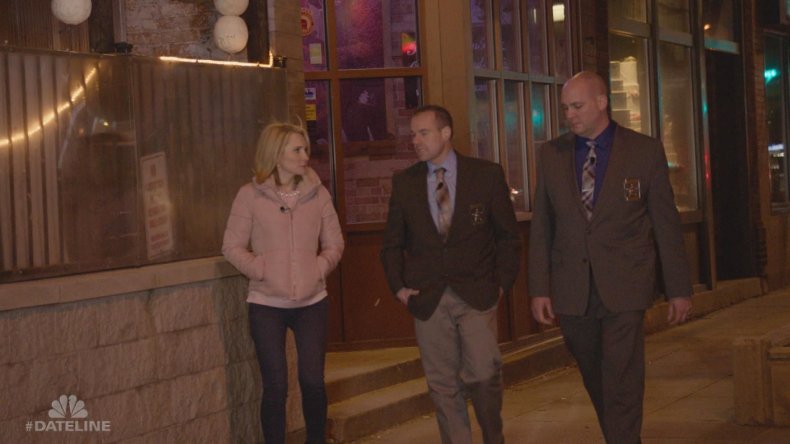 Detrie claimed he didn't know what VanderHeyden's messages were about, saying he "responded back nicely, trying to diffuse, trying to calm her down, because she seemed upset."
But Detrie wasn't angry over VanderHeyden's message, he said. "I was puzzled," he said. "I was just talking to friends, enjoying the night, didn't know why she was texting me that way."
"At some point, I got a text that she met someone she knew," he continued. "She didn't say who it was. I didn't know either. I figured maybe she went with a friend and they had gone somewhere else, but that she didn't want to talk to me. She was upset."
Burch was convicted of VanderHeyden's murder in March 2018. To convict Burch, police used his cellphone and Google Dashboard to pinpoint his location the night of the murder, the Green Bay Press Gazette wrote. As for Detrie, they used his Fitbit to exonerate him.
To watch the case unfold, don't miss Friday's episode of Dateline at 9 p.m. ET on NBC.