Love in the Time of Coronavirus: How COVID-19 Is Affecting Dating Apps for Singles
With more and more people practicing social distancing, it's unclear how exactly single people are supposed to date as concerns over COVID-19 become increasingly severe. Well, fear not: For the lovesick loners looking to meet someone in the age of coronavirus, these are the approaches that dating apps and services are taking.
In a statement, Hinge, the designed-to-be-deleted dating app, wrote that users' safety was most important. "At Hinge, our users' safety is a top priority, and we want them to feel prepared during this pandemic," the company said in a statement. "We strongly encourage users to use their best judgment and be as safe as possible during this time, including following the latest guidelines from the World Health Organization [WHO]—found on our Help Center. We continue to listen closely to our community about the most supportive experience we can offer during this time."
On its website, Hinge also provided important tips from WHO, including social distancing, washing hands, avoiding face touching and staying up to date. Tinder is sharing a similar message with a new card that appears for swipers, adding that people should carry hand sanitizer and maintain distance during social events.
The ethically-non-monogamous-focused dating app #Open is also recommending serious caution, advising users in a message to not meet new partners in person and to instead make use of video and phone calls.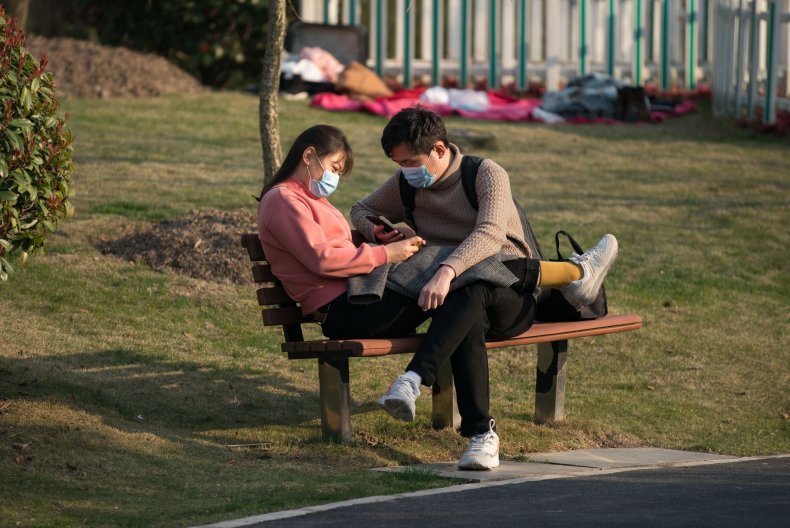 "It's important to be aware of the risks and to make the best decisions for you individually for anyone you're intimate with or for the people you care about," the app's message said. "Please consider avoiding physical and particularly intimate interactions with new partners. This isn't a good time to be swapping spit. We know it can be a drag being cooped up inside, but there are lots of other ways to have fun. Sexting or phone and video sex are great ways to get hot without getting sick. Make new friends and have deep conversations. You have a new icebreaker that everyone can relate to, but whatever you do, please stay safe out there, and make smart decisions about how and when you're intimate with others."
"It feels like apps that do what we do have a responsibility to be direct and straightforward with their users: Now is not the time to be making new connections," #Open co-founder David Epstein told Newsweek. "That's not appropriate social distancing, and we think the apps need to be more direct and straightforward about that."
While many people were already comfortable just swiping endlessly before coronavirus was even a factor, the cofounders of Here/Now wanted their company to provide a more human, in-person approach to dating—which they've now had to move online. Typically, though, the company specializes in special events like "the Mixer," where attendants can meet up, talk in person and keep their eyes away from screens.
"We call it a cocktail party where everyone gets to actually meet everyone in the room," Here/Now co-founder Lynsey Wheeler told Newsweek. After the event, people are invited to a second bar, and surveys are texted out, asking if people felt a connection with anyone at the party, be it friendly or romantic, and then the two are invited to text each other. The company also holds get-togethers based around events like club nights, concerts, comedy shows and more. During events, people are required to check their phone and are encouraged to refrain from speaking about work.
But with bars and restaurants closing and many live events being postponed, the folks at Here/Now have been forced to adapt their format for the internet. "We have been really intentional about creating ways for people to connect in a time when the in-person isn't possible, because there's a real risk for people to get sucked into social media and start swiping and swiping and feel this really voyeuristic closeness to other people, and that's really unhealthy in a time where we're already feeling more lonely than normal," Wheeler said.
While more people plan to stay inside and self-quarantine, both Here/Now and #Open's founders said they've seen an increase in interest in their digital services.
Wheeler said Here/Now's events will be held over Zoom, with an intimate group of 12 guests. People will be given one-on-one opportunities over an hour to connect with each person attending the event. Here/Now maintains its rules of telling attendants to refrain from speaking about work or checking their phone or having multiple tabs opened. In addition, conversation about coronavirus is also off the table during the online events.
"People need time and space away from that, and that also becomes another crutch of small talk. So, we're taking that off the table to A) let people get deeper, and B) to give people permission to take a break from thinking about this for an hour," co-founder Rachel Breitenwischer told Newsweek.
To foster a stronger personal connection, Here/Now's founders are encouraging people to show an interesting and personal item from their homes while in the virtual dates, but also suggested that, if people feel the need to meet in person, that they try simple outdoor options like taking a walk in the park, strolling through the local neighborhood.
#Open's other co-founder, Amanda Wilson, said that this whole experience could give people some time to focus on improving communication skills, without having to meet in real life.
"It's all kind of virtual dating now," Wilson said. "If you can lean into the fact that we're going to be in our individual homes for a little bit: swipe right more often, talk to more people, take this opportunity to work on your communication skills and play the long game. We're going to have to have a little bit of delayed gratification for our society right now."