Protesters gathered outside the Brooklyn Center Police Department in Minnesota on Wednesday following the fatal police shooting of Daunte Wright, and one protester was seen brandishing a severed pig's head on a pole.
In a video posted to Twitter on several different accounts, the demonstrators can be seen outside the police station, which is surrounded by fences and an armored police vehicle.
One protester who is at the front of the group can be seen waving the severed pig's head above the fences while he and others yell and curse at the police officers behind the fences. Toward the end of the video, people that appear to be speaking behind the camera can be heard saying, "That's a real pig head."
Later on Wednesday night, a protester who appeared to be wearing the same clothing from the earlier video, and was also carrying the same pig's head on a pole, spoke to Fox News correspondent Mike Tobin during the network's airing of Hannity.
The protester, who declined to provide his name but said that he was "ex-Navy," showed the pig's head during the interview. The pig's head is wearing a police hat, and the pole the man was waving had an American flag attached.
"I was out here last night, and I was simply over there having some words with officers," the protester said. "Somebody else shone a flashlight on them, and I got maced in the face for the second time by police officers in my life. It hurt really, really bad. And I got really, really upset, and I went and got this pig head and this thing today."
Asked if the pig's head meant that he believed all cops are bad, the protester said, "I think the institution of policing is bad. There's probably some good folks. As a matter of fact, I can see it in a lot of their eyes. There's some good folks, but they just have terrible jobs."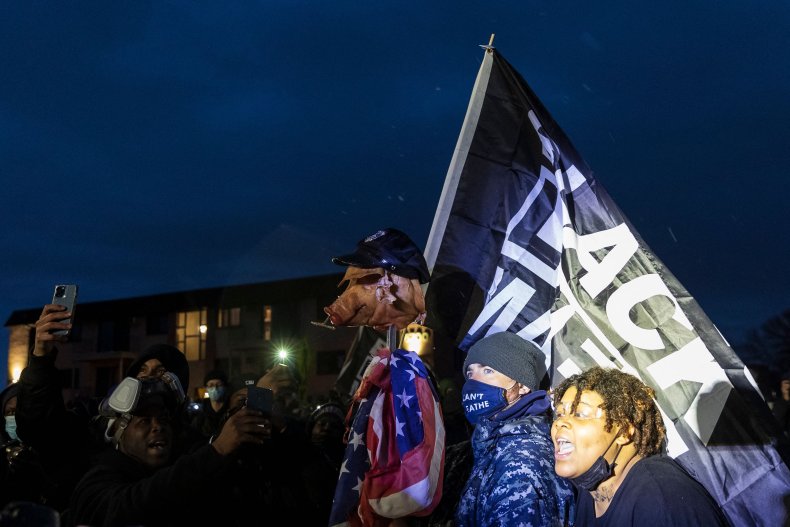 The scenes of the pig's head being brandished outside of the Brooklyn Center Police Department come after last Sunday's fatal shooting of Wright, a 20-year-old Black man, during a traffic stop, when an officer repeatedly yelled "Taser" but grabbed her firearm instead and fired.
Just two days after Wright's death, Kim Potter, the officer who fatally shot him, and Brooklyn Center Police Chief Tim Gannon announced their resignations.
On Wednesday, Washington County Attorney Peter Orput said in a statement that Potter was being charged with second-degree manslaughter in Wright's death. The charges carry a maximum penalty of up to 10 years in prison and a $20,000 fine.
"Certain occupations carry an immense responsibility and none more so than a sworn police officer," Imran Ali, Washington County assistant criminal division chief and director of the Major Crime Unit, said in the statement. "With that responsibility comes a great deal of discretion and accountability. We will vigorously prosecute this case and intend to prove that Officer Potter abrogated her responsibility to protect the public when she used her firearm rather than her taser."
Potter was arrested on Wednesday but was released after posting a $100,000 bond.
Newsweek reached out to the Brooklyn Center Police Department for comment but did not receive a response in time for publication.