Daunte Wright's mother on Tuesday recalled her son's final moments before he was fatally shot by police near Minneapolis this past Sunday.
Katie Wright said she received a phone call from her son as he was getting pulled over by authorities. She said Daunte believed he was being pulled over for having air fresheners hanging from his rearview mirror and told her the officers were asking about his insurance.
"A second goes by and I hear the police officer come back up to the window and ask Daunte to get out of the car. Daunte asked, 'For what?' The police officer said, 'I'll explain to you when you get out of the car.' He said, 'Am I in trouble?'"
Katie, fighting back tears, said she heard some scuffling before officers asked Daunte to hang up the phone. Later, she received a FaceTime call from the woman in the car with Daunte, who said he'd been shot. The woman then pointed the camera toward the driver's seat, where Daunte laid unresponsive.
"That was the last time that I've seen my son, that's the last time that I've heard from my son, and I've had no explanation since then," she said.
Her remarks were made during a press conference on Tuesday with attorney Ben Crump and friends and family of Wright, as well as members of George Floyd's family.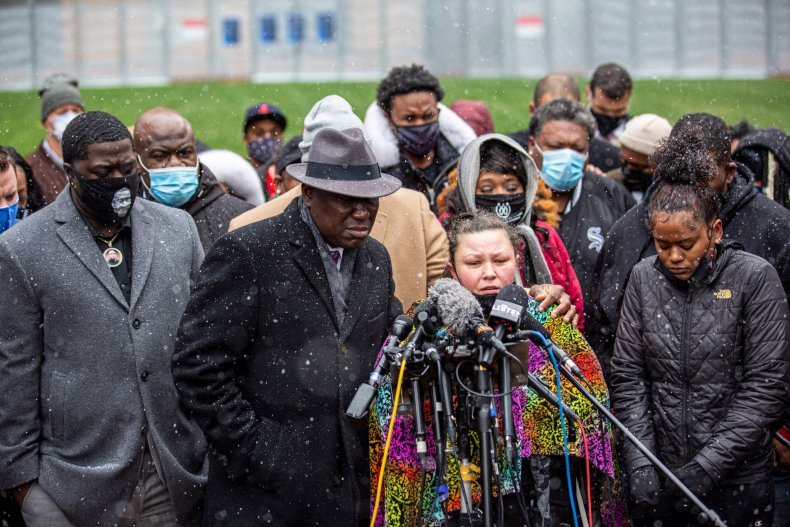 Daunte, a 20-year-old Black man, died Sunday after he was shot by a police officer during a traffic stop in the Minneapolis suburb of Brooklyn Center. Authorities said they pulled Wright over for a traffic violation related to expired registration tags. Officers then discovered that he had a warrant for his arrest and attempted to detain him.
In graphic body camera footage released Monday, one officer can be seen pointing a handgun at him and shouting "Taser." After the car pulls away, the officer says, "I just shot him" to two other officers.
Brooklyn Center Police Chief Tim Gannon said Monday that he believed the officer who shot Wright, later identified as Kim Potter, meant to use her Taser instead of her gun. Potter, a 26-year veteran of the department, had been placed on administrative leave but on Tuesday resigned from her position. Gannon also resigned from his post as chief of police.
Wright's death immediately sparked unrest and further increased tension in Minneapolis, which was already on high alert because of the Derek Chauvin murder trial. Chauvin is charged with second-degree murder, third-degree murder and second-degree manslaughter in the death of Floyd.
Floyd, an unarmed 46-year-old Black man, died after Chauvin kneeled on his neck for about nine minutes during an arrest in May 2020. Floyd's death sparked a summer of protests and nationwide reckoning on police brutality and racial injustice.
Philonise Floyd, George Floyd's brother, said Tuesday that the two families need protesters around the nation to "stand up and be with us."
He added that now is a "time for change" and said, "Minneapolis, you can't sweep this under the rug anymore."