'Married at First Sight' Spoilers: Why Did Dave Flaherty Say Amber Martorana Was 'Unfair'?
Insecurity has been a huge problem for Married at First Sight star Amber Martorana. One of those self-doubts included the color of her hair. While speaking with other women from the Lifetime reality show, she claimed that husband Dave Flaherty wanted her to become a brunette when she complained about her blonde hair falling out, but Flaherty argued that wasn't the case.
When Dave was asked by a fan if he really wanted Amber to dye her hair by a fan on Tuesday night's Married at First Sight: Unfiltered he said: "Absolutely not."
"It had nothing to do with that. I don't care. I really don't. What I said, and what I really feel is, like, 'Hey, if this is making your hair fall out, let's at least think about other options.'" He added: "She already had it in her mind that I didn't like how she's a blonde, which honestly isn't true. It's a little unfair."
On a previous episode of Married at First Sight, Dave had said his preference is tall women with brown hair, like Jessica Biel. Amber, however, is on the shorter side and has platinum blonde hair.
While they were discussing her hair over dinner, Dave didn't realize he was hitting at an insecurity of Amber's. "You know what's tough? I don't think in the moment I did. I didn't get what was going on. I didn't get why it was an issue. So what I should have done was—rather than being sympathetic, I got frustrated," he said.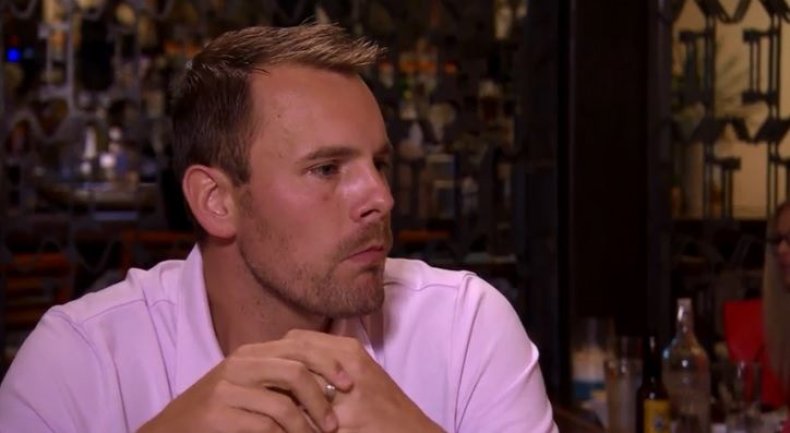 Amber and Dave previously fought over his rating of her. On a scale of one to ten, Dave gave Amber a 7.5, something she wasn't pleased with. His new wife wasn't as "domestic" as he would have wanted, according to Amber.
"I just felt like the way we were connecting, I think he was thinking of a traditional wife. But everything else going on with us, I felt like we were in such a great place and we were just getting along so well," Amber told host Jamie Otis on last week's Married at First Sight: Unfiltered. "There was so much else going on that was so great that I didn't think he was taking into consideration in the rating."
Amber would have helped more around the house but her work schedule was hectic. "There's so much that was going on that I had absolutely no time to do anything. We had totally different schedules, so I think it was unfair, honestly," she said. "I was just mad, like, just lie! Just give me some white lie and make me feel better!"
Season 7 of Married at First Sight airs on Tuesdays at 9 p.m. ET on Lifetime.