Dave Bautista Reportedly in Talks with WWE and All Elite Wrestling
After teasing a confrontation with Triple H in 2018, Dave Bautista is reportedly in talks to return to WWE in time for WrestleMania 35.
Pro Wrestling Sheet is reporting that the Guardians of the Galaxy star is "deep in talks" with the promotion to return to this year's WrestleMania in New York City. However, the outlet also reports that Bautista's return is 50/50, and still being negotiated.
WWE isn't the only promotion looking to sign Bautista.All Elite Wrestling is also reportedly showing interest in "The Animal." Pro Wrestling Sheet says Bautista isn't turning AEW away, and that the former world champion will listen to what both companies have to offer.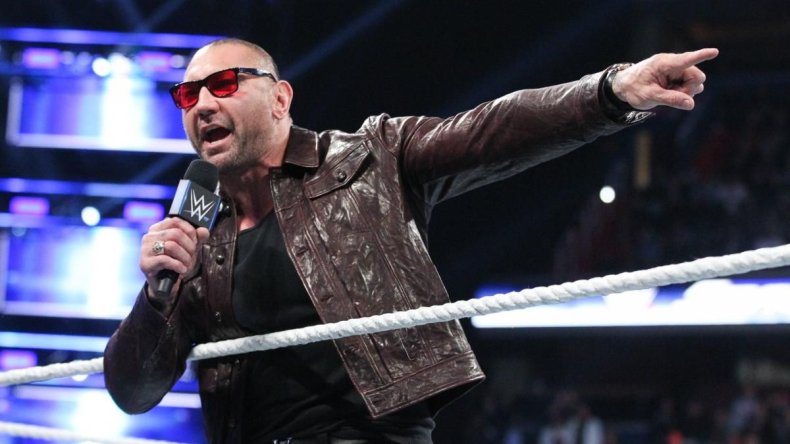 All Elite Wrestling is a new promotion started by the Khan family, who have ownership of the Jacksonville Jaguars NFL team, with Cody Rhodes, The Young Bucks and Kenny Omega serving as Executive Vice Presidents.
The promotion's first show, Double or Nothing, is set for May 25 in Las Vegas with a confirmed card that includes: Adam "Hangman" Page vs PAC, The Young Bucks vs the Lucha Brothers, and Kenny Omega vs Chris Jericho.
Bautista's last run in WWE may best be remembered when he lost to Daniel Bryan for the World Heavyweight Championship at WrestleMania 30 in a Triple Threat Match with Randy Orton. Shortly after, Bautista and Orton would reunite with Triple H to become Evolution and feud with The Shield before Bautista left the company in June 2014.
Dave Bautista would return in October for SmackDown 1000, which saw the reunion of Evolution with Ric Flair, Triple H and Randy Orton. Bautista ended that segment praising Triple H and listing off his many accolades before tossing a jab at his former friend and rival.
"There is nothing that this man hasn't done in this business, except beat me," Bautista said. You can view the segment below.
If Bautista returns to WWE for WrestleMania 35 to face Triple H, they would join a card that includes Seth Rollins vs Brock Lesnar for the Universal Championship and Becky Lynch vs Ronda Rousey for the RAW Women's Championship.
WrestleMania 35 will go live April 17 from MetLife Stadium in New Jersey.
What do you think of Dave Bautista potentially coming back to the WWE? Do you think he would consider going to AEW? Let us know in the comments section below.