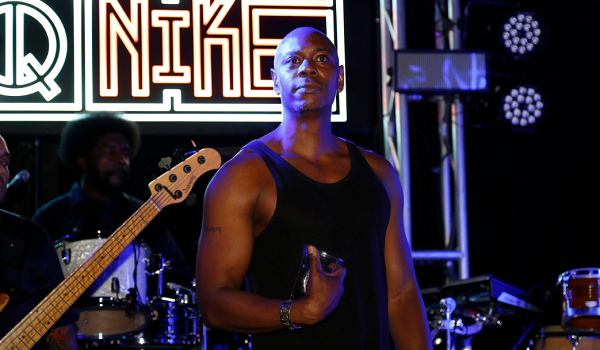 What happens when Ed Sheeran and Dave Chappelle end up at the same after-party in Washington, D.C.? Pure greatness.
Chappelle and Sheeran delivered a high-energy performance of Radiohead's "Creep" last week at the Eighteenth Street Lounge in the nation's capital, according to Rolling Stone. The English singer started the song, singing the lyrics while playing the guitar, but Chappelle—who has developed a reputation for randomly performing covers of the Radiohead classic—jumped in and took over the vocals while raising his bottle to the crowd.
Although Chappelle has mastered impersonating some of music's biggest legends like Prince and Rick James, the comedian's vocals aren't remotely comparable to the unmatched sound of Thom Yorke. His raspy and flat voice certainly doesn't hold the same range as Yorke's does on the original. But the 44-year-old gets an A for effort just for his rock star energy.
It also helps that Chappelle seems to be pretty passionate about covering "Creep." The harmonica player first performed the song, which is a story about a drunk man trying to get the attention of a woman, at Erykah Badu's 45th birthday party in April 2016 and again during a Saturday Night Live after-party in November.
French musician Frédéric Yonnet also joined Chappelle and Sheeran on stage, lending his vocals for the second verse of "Creep."
A video of the surprise jam session, which took place on September 19 following Chappelle's standup performance at the Warner Theater in Washington, surfaced online Wednesday along with another of Sheeran's solo cover of Stevie Wonder's "Superstition" and Bill Withers's "Ain't No Sunshine."
Sheeran did all of the singing for the rest of the night, but Yonnet offered a bluesy harmonica riff during "Superstition," while Chappelle hopped on the guitar to play the opening chords of "Ain't No Sunshine."
Chappelle and Sheeran may seem like an unlikely pairing, but it's not the first time the entertainers have jammed together. Sheeran recently told Maryland's 94.7 FM that he was first invited to join Chappelle on stage following one of his own concerts at ​Wembley Stadium in London. It just so happened that after his show, Sheeran ended up at the same warehouse party where Chappelle was performing with a band and got called up on stage.
"Ever since then, when he has jams and he's in town, I go and jam," Sheeran said.
Check out Chappelle and Sheeran's jam sesh below.