Dave Chappelle Added to Netflix Comedy Festival Line-Up After Controversy
Dave Chappelle has been added to the line-up of the Netflix Is A Joke comedy festival—two months after his special on the streaming service resulted in a backlash and company walkouts.
Chappelle sparked controversy on the October release of his stand-up special The Closer, in which he made jokes about transgender women and declared himself a "TERF"—an acronym for trans-exclusionary radical feminist.
While his special was decried by many of the public and sparked protests and walkouts at Netflix's corporate offices, the company stood by the star.
And Netflix's stance has been reaffirmed as Chappelle's name is among the long list of over 130 comedians who will perform at the11-day festival, set to take place in Los Angeles from April 28, 2022.
More than 100 shows will take place across 25 iconic venues in Los Angeles, including the Hollywood Bowl, Greek Theater, Dodger Stadium and the newly renamed Crypto.com Arena, formerly known as the Staples Center.
Chappelle's name appears on promotional material for the festival alongside a veritable who's who of comedy, including Amy Poehler, Tina Fey, Jerry Seinfeld, Conan O'Brien, David Letterman, Pete Davidson, Ellen DeGeneres, Chelsea Handler, Aziz Asnari, Kevin Hart, and Community stars Joel McHale and Ken Jeong.
As Chappelle faced criticism for his stand-up special, he was defended by Netflix co-CEO Ted Sarandos.
"Chappelle is one of the most popular stand-up comedians today, and we have a long-standing deal with him," he wrote in a memo to employees.
He went on: "As with our other talent, we work hard to support their creative freedom—even though this means there will always be content on Netflix some people believe is harmful.
"Several of you have also asked where we draw the line on hate. We don't allow titles [on] Netflix that are designed to incite hate or violence, and we don't believe The Closer crosses that line."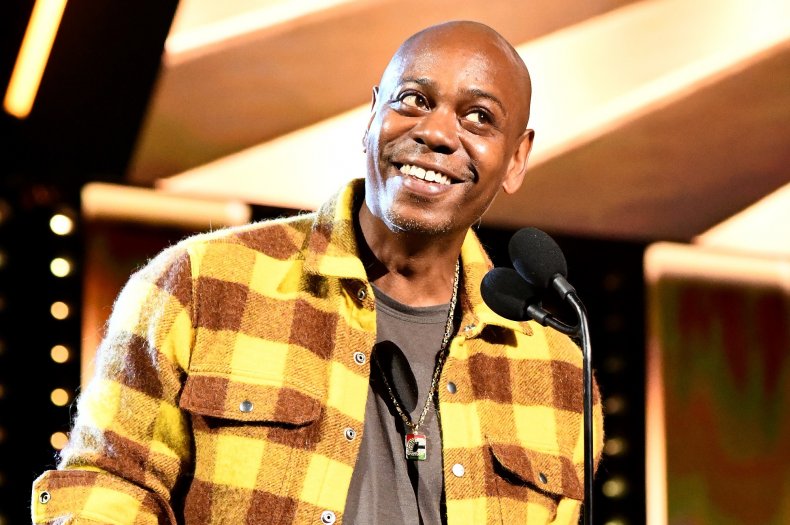 Sarandos added: "Particularly in stand-up comedy, artistic freedom is obviously a very different standard of speech than we allow internally as the goals are different: entertaining people versus maintaining a respectful, productive workplace."
In an interview with Variety soon afterward, Sarandos addressed the staff memo, saying: "Obviously, I screwed up that internal communication. I did that, and I screwed it up in two ways.
"First and foremost, I should have led with a lot more humanity. Meaning, I had a group of employees who were definitely feeling pain and hurt from a decision we made. And I think that needs to be acknowledged up front before you get into the nuts and bolts of anything. I didn't do that.
"That was uncharacteristic for me, and it was moving fast and we were trying to answer some really specific questions that were floating. We landed with some things that were much more blanket and matter-of-fact that are not at all accurate."
At the end of October, Chappelle lauded Sarandos for being "the only one that didn't cancel" him, as he said he was disinvited from a number of film festivals, where he had planned to screen his film Untitled: Dave Chappelle Documentary.
He also denied reports that he was invited to speak with transgender employees at Netflix and refused, adding in a video shared on Instagram: "Even though the media frames this that it's me versus that community, that's not what it is. I don't blame the LGBTQ community for any of this s***. This has nothing to do with them, it's about corporate interest, and what I can say, and what I cannot say.
"For the record, and I need you to know this, everyone I know from that community has been nothing but loving and supporting. So I don't know what all this nonsense is about."
He added: "To the transgender community, I'm more than willing to give you an audience, but you will not summon me. I am not bending to anybody's demands."