Dave Chappelle Stage Attack Sparks Wave of Jokes and Memes
The internet reacted exactly how you'd expect to the news that Dave Chappelle was attacked onstage during a stand-up show, with floods of jokes filling social media timelines almost instantly.
Chappelle was reportedly ambushed while onstage at the Hollywood Bowl in Los Angeles while performing in the Netflix Is A Joke festival. Footage shared online shows him being tackled while multiple eyewitness reports suggest Chappelle's team beat up the attacker, with Chappelle even joking that he "stomped" him.
An LAPD spokesperson confirmed the suspect, Isaiah Lee, has been arrested for assault with a deadly weapon and was transported to a local hospital.
Social media is ablaze with reactions to the incident, and as is customary, jokes and memes have been made. The majority of people have made jokes about the repercussions facing the attacker, rather than the incident of Chappelle getting tackled.
Twitter user @JSquit took Chappelle's account that he "stomped" the attacker seriously and posted an image of a cartoonish flat man to show how he's doing now.
Meanwhile @StreamtheVote played on the incident's link to Will Smith slapping Chris Rock at the Oscars. Rock had also performed at the Netflix comedy event and walked on stage to question whether it was Smith who had attacked Chappelle. @StreamtheVote posted a mocked up image of Will Smith with missing teeth and wrote, "they really messed up" the attacker.
British comedian Eshaan Akbar also tweeted his reaction to the attacker's condition. Video footage seemed to show the attacker leaving the venue on a gurney with a visibly dislocated arm. Akbar wrote, "How can they say Dave Chappelle is anti-trans when he's totally transitioned this guy's arm into a leg."
Comedian Gianmarco Soresi also played on Chappelle's reputation of talking about the trans community. "Maybe this will finally give Dave Chappelle something new to talk about," he wrote. Fellow comedian Amy Miller replied stating that "he blamed trans ppl anyway."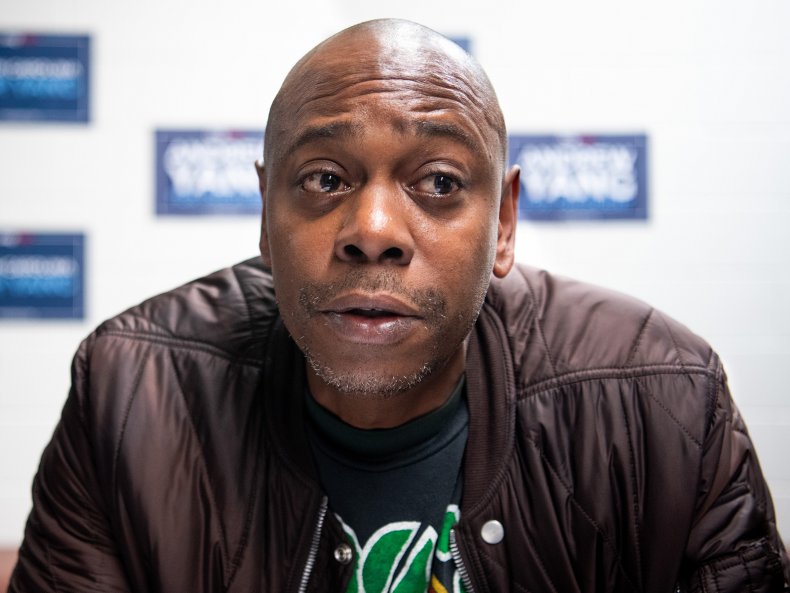 Twitter user @PaulSpetrini brought up the recent altercation involving Mike Tyson and an unruly passenger on a plane. "I'm really digging this new trend of celebrities reminding people exactly who the hell they are dealing with," they wrote.
Also playing on the image of the alleged attacker leaving the venue with a dislocated arm, it was compared to a famous scene from Harry Potter and the Chamber of Secrets by Twitter user @FilmItLee.
Commenting on the state of the reported attacker's arm, Twitter user @PTOTHEMCD noted that he's been shaped into a different position. "Stop attacking people at their workplace and you won't end up looking like a pretzel," they wrote.
Verified Twitter user @DdotOmen was one of those to share original footage of the show after the attack happened. He gained traction for tweeting that the suspect "came to see Dave Chappelle and almost met Charlie Murphy the same night." A comedian and good friend of Chappelle's, Murphy died in 2017 and memorably appeared in a series of Chappelle's Show sketches about his life.
Newsweek have reached out to the LAPD for comment on the incident, and to Netflix who were hosting the event.
Update 5/4/22 10:46 a.m. ET: This article was updated to add an LAPD statement.