Dave Chappelle on Being 'Canceled' for Transphobic Jokes: 'I Love It'
Comedian Dave Chappelle responded Thursday night to the backlash about his recent transphobic jokes by saying, "If this is what being canceled is like, I love it."
The comments came during a sold-out show at the Hollywood Bowl in Los Angeles in front of a crowd that included celebrities like Stevie Wonder, Brad Pitt and Tiffany Haddish. The event was for a screening of Untitled: Dave Chappelle Documentary, an upcoming film about Chappelle.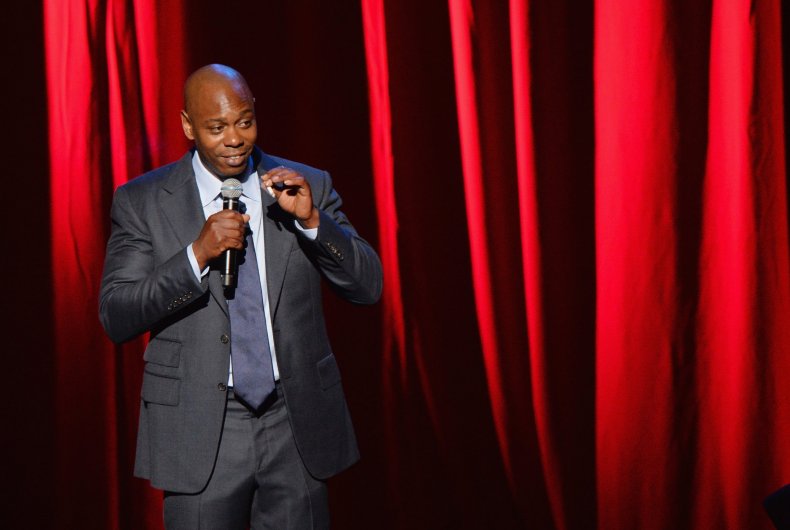 The Hollywood Reporter wrote his line about "being canceled" was met by loud applause from the audience. At another point in the night, he also reportedly declared, "F**k Twitter. F**k NBC News, ABC News, all these stupid networks. I'm not talking to them. I'm talking to you. This is real life."
Chappelle has been under fire following the recent release of his latest Netflix standup special, The Closer. During the special, he made jokes about the transgender community that have been condemned by GLAAD and the National Black Justice Coalition.
Among the remarks directed toward transgender people in The Closer include this one: "Gender is a fact. Every human being in this room, every human being on Earth, had to pass through the legs of a woman to be on Earth. That is a fact."
Elsewhere in the special, he defended Harry Potter author J.K. Rowling, who has been beset by her own controversy over a string of comments that are regarded as anti-transgender. Chappelle proclaimed during the Netflix show that he, like Rowling, is on "team TERF," which stands for "trans-exclusionary radical feminist." The term and ideology deny that trans-women are women.
"With 2021 on track to be the deadliest year on record for transgender people in the United States—the majority of whom are Black transgender people—Netflix should know better," National Black Justice Coalition Executive Director David Johns said in a recent statement. "Perpetuating transphobia perpetuates violence. Netflix should immediately pull The Closer from its platform and directly apologize to the transgender community."
GLAAD also addressed Chappelle's comments from The Closer on Twitter. The organization tweeted, "Dave Chappelle's brand has become synonymous with ridiculing trans people and other marginalized communities. Negative reviews and viewers loudly condemning his latest special is a message to the industry that audiences don't support platforming anti-LGBTQ diatribes. We agree."
Among several other controversial comments regarding the LGBTQ+ community in The Closer were Chappelle's musings on the rapper DaBaby, who was dropped from multiple music festivals in the summer after he made homophobic comments during a concert.
Chappelle referenced DaBaby's role in a fatal shooting that took place years ago. (DaBaby denied being the shooter and was never charged.) In his Netflix-taped routine, Chappelle said, "In our country, you can shoot and kill a [N-word], but you better not hurt a gay person's feelings."