Dave Chappelle Says He'll Never Apologize to 'Articulate Idiot' Candace Owens
Dave Chappelle has said he will not apologize for roasting Candace Owens in his Netflix special, but apologized for calling her "articulate."
The comedian discussed the reactionary right-wing pundit on a recent episode of his podcast The Midnight Miracle.
Asking his co-hosts: "There is no possible way that I owe Candace Owens an apology, is there?"
Both Talib Kweli and Yasiin Bey, responded with an immediate: "F*** that!" and say it's "crazy that [he] brought her name up."
In June 2020, Chappelle performed a Netflix special dedicated to George Floyd, 8:46, which saw him take aim at Owens.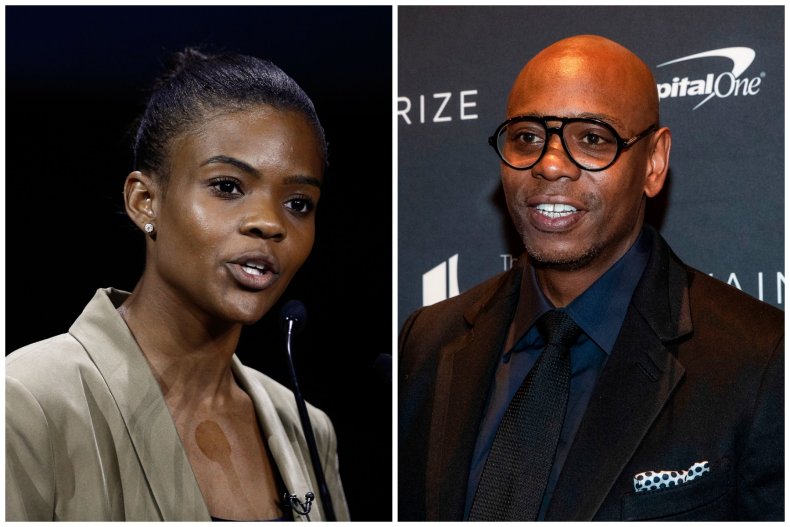 "That rotten b****, she's the worst," Chappelle said on stage at the time. "I can't think of a worse way to make money. She's the most articulate idiot I've ever seen in my f***** life."
Owens brushed off the insult at the time, tweeting: "Dave Chappelle is one of the greatest comedians of all time and I made it into one of his specials. That's POWER!"
In this week's podcast, Chappelle references some of Owen's controversial opinions, such as when she called Floyd a "violent criminal" in the wake of his death.
"We shouldn't be buying T-shirts with his name on it," she said in a video posted to Twitter in June 2020.
"He was a violent criminal," she said of Floyd.
He then decides: "So the verdict is no apology, right?" and points out that in comedy, "you shouldn't apologize for jokes," deeming it a "very bad precedent to set."
Chappelle also defended his jokes about kicking Owens "in the p****" because of her "cruel and dangerous" comments about George Floyd.
"It's not illegal to be an a******," he explained, but said he found her comments about George Floyd to be "particularly cruel."
He did, however, apologize for labeling Owens "articulate" in the Netflix special.
"By the way, Candace Owens, I'm sorry I called you 'articulate.'"
Meanwhile, Jon Stewart made an appearance on the podcast, where he also spoke about Owens.
"Here's why you were so effective in what you said about Candace Owens," the late night host said. "Because they have held you up as an avatar of truth-telling, because you're willing to speak your art in the way that you want to speak it."
He explained: "Her life is provocation, her brand is provocation, that's how she makes her money" and said that she offers "provocation and a troll that's meant to increase brand recognition" rather than a "genuine offer of argument and exchange of ideas."