Dave Chappelle Faces Backlash for 'Troubling' Trans Jokes in Comedy Special
Dave Chappelle is facing backlash after making controversial jokes about transgender women in his new Netflix stand-up special, The Closer.
The comedian, whose sixth and final comedy special for the streaming platform was released on Wednesday, weighed in on the controversy surrounding author J.K. Rowling, who has been branded a "TERF"—an acronym for trans-exclusionary radical feminist.
After insisting that he had never made any explicitly anti-transgender jokes in his past specials, Chappelle defended Rowling as he said: "I'm team TERF!"
"Gender is a fact," he said, while standing onstage at The Fillmore in Detroit in August, per the Daily Beast. "Every human being in this room, every human being on earth, had to pass through the legs of a woman to be on earth. That is a fact.
"Now, I am not saying that to say trans women aren't women, I am just saying that those p****** that they got... you know what I mean? I'm not saying it's not p****, but it's Beyond P**** or Impossible P****. It tastes like p****, but that's not quite what it is, is it? That's not blood. That's beet juice."
Harry Potter author Rowling faced criticism after she shared some of her views on transgender issues in an essay published on her personal website and in comments made on her Twitter account.
In the face of backlash, Rowling tweeted: "If sex isn't real, there's no same-sex attraction. If sex isn't real, the lived reality of women globally is erased. I know and love trans people, but erasing the concept of sex removes the ability of many to meaningfully discuss their lives. It isn't hate to speak the truth."
"I respect every trans person's right to live any way that feels authentic and comfortable to them," she added. "I'd march with you if you were discriminated against on the basis of being trans. At the same time, my life has been shaped by being female. I do not believe it's hateful to say so."
Elsewhere in his special, Chappelle also spoke about his friendship with transgender woman Daphne Dorman, a fan of his jokes who took her own life in October 2019. He said that he has since started a trust fund to pay for her daughter's college education, per The Daily Beast.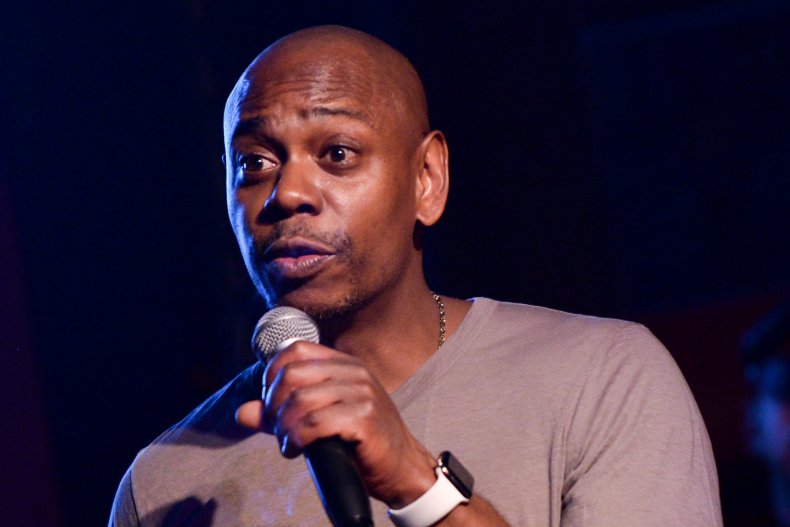 Chappelle also revealed that he would stop making LGBTQ jokes "until we are both sure that we are laughing together. I'm telling you, it's done. I'm done talking about it. All I ask of your community, with all humility: Will you please stop punching down on my people."
His comments didn't go down well on Twitter, where The Daily Beast's senior entertainment editor Marlow Stern wrote: "Dave Chappelle's new comedy special #TheCloser is... a lot. And his trans 'jokes' remain troubling and unfunny."
Another Twitter user, who identifies as trans, wrote, in part: "This latest special was a long winded attempt to explain himself without changing or seeking to understand how the things he said were harmful. How he justifies himself is that he was friends with a trans woman who told him he's not transphobic...WTH? BUT MY FRIEND IS BLACK THO?
"You can't use a a trans person friend as a token for why you can't be transphobic. Just like whites with black friends or straights with gay people. It's sad he doesn't see this."
Stated another: "As a trans woman, I have usually defended Dave Chappelle's specials because I think they're hilarious and his jokes about trans women never felt intentionally malicious. The Closer changed my mind on that. That special felt so lazy and disingenuous and I'm really disappointed."
The self-described Chappelle fan went on: "I am 100% with Dave Chappelle on the fact that people are too sensitive nowadays and that not everything someone says is meant to be mean, but that then doesn't give you an excuse to go the complete opposite direction and just be a total a****** to an entire group of people."
"I completely understand Chappelle's feeling about how the black community never gets ahead in this country, which is why I would never make the kind of jokes about the black community like the ones Dave makes about the trans community," read a follow-up tweet.
"I don't believe in canceling Dave Chappelle," wrote another. "I just believe in never watching his s*** again until he wakes up from this mental spiral of cancel culture paranoia that Joe Rogan put him in. Trans women + men aren't bullies for demanding to be treated like humans. F****** quit it."
Elsewhere in the comedy special, Chappelle also weighed in on the outcry rapper DaBaby sparked, when he made disparaging comments about the gay community and people living with HIV/AIDS during a stage performance in July.
Chappelle compared the backlash to DaBaby's fatal altercation with another man in North Carolina in 2018, after which his music career thrived.
"A lot of the LGBTQ community doesn't know DaBaby's history," said Chappelle. "He's a wild guy. He once shot a n**** and killed him. In Walmart. Oh, this is true. Google it. Nothing bad happened to his career."
"Do you see where I'm going with this?" Chappelle said to the theater audience as they laughed. "In our country, you can shoot and kill a n****, but you better not hurt a gay person's feelings."