Dave Chappelle's Jussie Smollett Remarks Resurface After Jail Sentence
Jussie Smollett has been sentenced to jail for staging a hate crime months after was found guilty of lying to police about being the victim of an attack he orchestrated himself—and the sentencing has prompted an old Dave Chappelle joke about the situation to resurface on social media.
The Empire actor, 39, was the subject of a Chappelle stand-up bit back in August 2019 in the Netflix special Dave Chappelle: Sticks & Stones.
The routine took place long before Smollett was found guilty but saw the comedian roast the actor for lying to police.
"One night in Chicago, he was the victim of a racist and homophobic attack," Chappelle began in his spiel.
"Oh it's a crazy story, apparently when he was walking down the street late at night, two white men came out of the shadows with MAGA hats on and beat him up, tied a rope around his neck and called him all kinds of [slurs] put some bleach on him and ran off into the night."
Smollett claimed that two men had attacked him in January 2019 in Chicago. He said the attack entailed the use of racial slurs and the men tied a rope around his neck while expressing support for Donald Trump.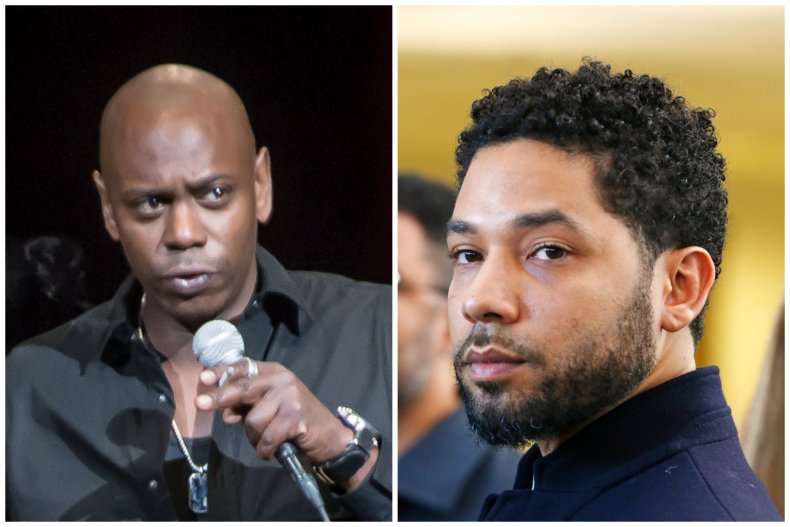 Prosecutors said the actor lied to police when he told them that he was attacked by two masked men. ​​Smollett was later accused of paying brothers Abimbola and Olabinjo Osundairo $3,500 to help stage the attack.
The Chappelle clip was initially shared by Netflix's comedy account, Netflix is a Joke, and has amassed two million views since December.
The video is racking up thousands of more views today as Smollett became a trending topic on Twitter following his reaction to being sentenced to jail.
In the stand-up show, Chappelle went on to say that there was an outpouring of support for Smollett from celebrities and Hollywood—including from Joe Biden and Kamala Harris—but that Black Americans were "oddly quiet" on the matter.
He added that that was because Black people understood that Smollett was "clearly lying."
"None of these details added up at all," he said.
Chappelle went on to imitate a mock interaction between Smollett and a police officer taking the report about the incident.
He joked: "Okay, you left the house at 2 a.m., it's minus 16 degrees. You were walking, you were walking. All right. And... and where were you going? Subway. Sandwiches? That's when the men approached you... what did they have on? MAGA hats? MAGA hats in Chicago... [aside to another police officer] Find out where Kanye West was last night..."
Smollett was sentenced to 30 months of felony probation on Thursday with no travel restrictions, a $120,106 in restitution to the city and a $25,000 fine, along with spending the first 150 days of his sentence in the Cook County Jail.
After the sentencing, Smollett screamed to the courtroom: "I am innocent. I could have said I am guilty a long time ago."