Dave Chappelle's 'Sticks & Stones' Netflix Comedy Special Has a Hidden Ending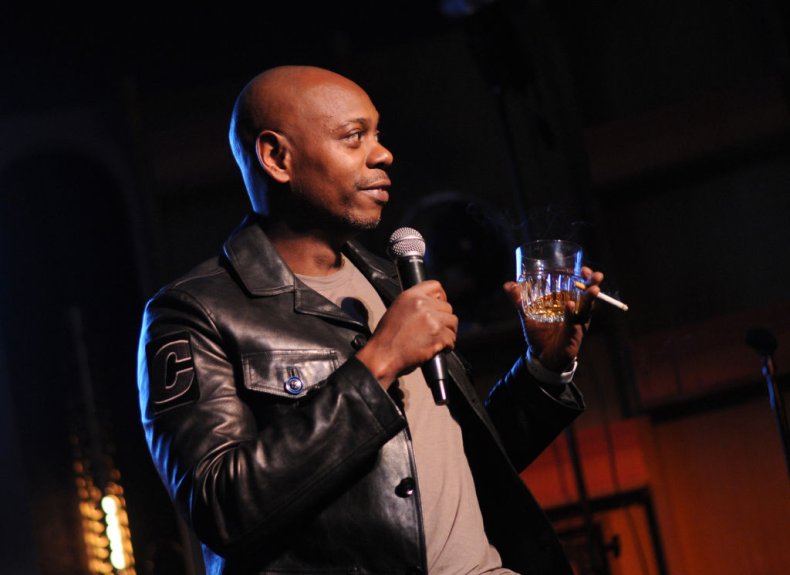 Dave Chappelle's new Netflix stand-up comedy special Sticks & Stones was released Monday and there's a secret hidden ending viewers can only see if they watch the entire special first.
The 22-minute bonus content is called Epilogue: The Punchline, but don't bother searching for it on Netflix. The only way to actually view the special bonus footage is to wait until the last few seconds of the Sticks & Stones special, meaning after the credits roll.
The bonus footage mainly consists of Chappelle casually talking to the audience. He says he's always asked to address some of the controversial things he says in his comedy, so he intends to do that by letting the audience ask him anything they want. But he warns them of one very important thing.
"There are no dumb questions allowed," he says. "If you ask a dumb question, you'll be asked to leave."
One audience member asks Chappelle who he thinks is going to win the 2020 presidential election.
"Who do you think is going to win the 2020 election?" the audience member asks.
"All right, I'm going to put a pin in this," Chappelle replies. "But I'll tell you right now, I don't know. But I think Trump has a better shot than a lot of people would like to think. I'm just saying, it all depends on how the left talks. The way we're talking is not going to win the f***ing ballgame. Donald Trump's over there on the right grabbing handfuls of p****, Joe Biden can't even smell hair over here, f*** this side."
Chappelle famously hosted the first Saturday Night Live after the 2016 election, appearing in a sketch that showed white voters at a house party depressed over Trump's win and black voters not surprised by it.
Chappelle also offered advice for young comedians.
"Do you have any advice for young comedians?" one audience member asks.
"Are you thinking of doing comedy?" Chappelle replies.
"I've never done it before, but watching you has made me want to try it," the audience member replies to audience laughter.
Chappelle begins to respond visually, making faces, while someone in the audience yells, "Bring him up! Bring him up!"
"I don't know if that's an insult or not," Chappelle replies.
"It's a compliment," the audience member says.
"I mean, [N-word] don't say, 'I've never done brain surgery, but it looks a lot easier than I thought.' I'm teasing. Here would be my advice. Okay, I don't know how comedians start nowadays, right? But what I would suggest is just start. And once you start, you can't really stop. No matter what happens, no matter how bad it gets, no matter what people say. You know what I mean? Because comedy is weird like that."
"You know why I hate watching other comedians do comedy?" he goes on to say. "Not because I hate other comedians, but because I love comedy so much. It's like watching somebody else f*** your girl. And I say, 'Ah, I f*** her better than that.'"
Chappelle also addressed other controversial jokes he's made in the past, some including topics like rape, race and transgender people.
Sticks & Stones is Chappelle's fifth comedy special for Netflix, which have received multiple Grammys and Emmys. Sticks & Stones was shot in Atlanta.
On Sunday Chappelle hosted "Gem City Shine, A Benefit Concert" in Dayton, Ohio, a benefit for the victims of the mass shooting there that left nine dead and 27 injured. Kanye West, Stevie Wonder, Chance the Rapper and Jon Stewart also participated in the benefit show. Chappelle lives in Yellow Springs, Ohio, part of the Dayton metropolitan area.