Dave Grohl Was so Nervous Around Paul McCartney He Didn't Recognize a Foo Fighters Song When Taylor Swift Played It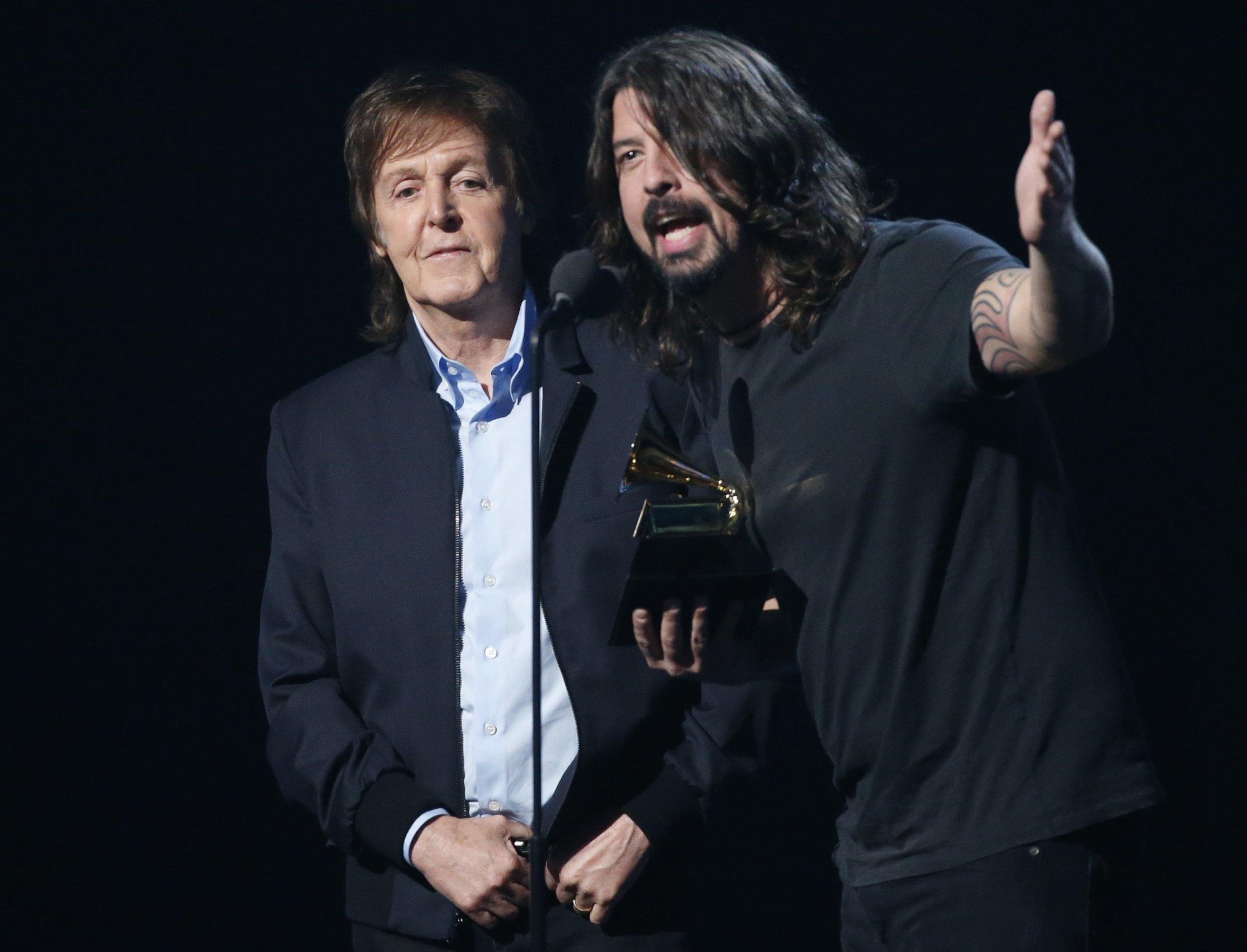 Just because Dave Grohl has met and played with Paul McCartney doesn't mean the Foo Fighters frontman doesn't still get nervous playing with the Beatle.
On Thursday night's The Late Late Show with James Corden, which included an edition of Carpool Karaoke with McCartney, Grohl spoke about the influence that The Beatles have had on his life. Grohl didn't have a guitar teacher growing up and instead "just learned from The Beatles," he explained. He listened to their records and had a Beatles songbook with simple chord charts.
Since then, Grohl has become a successful musician, and he and McCartney have shared a stage and worked on music together. In 2013, they, along with former Nirvana members Krist Novoselic and Pat Smear, produced "Cut Me Some Slack." The song from Grohl's Sound City soundtrack won a Grammy for Best Rock Song in 2014. Then, on May 23, 2015, Grohl joined McCartney on vocals and guitar for "I Saw Her Standing There" during one of his shows.
Two years later, McCartney played drums on the Foo Fighters' album Concrete and Gold. "He's a pal," Grohl told ET Canada. "He's the most wonderful person in the world." The band also spoke about the collaboration, adding that McCartney "hadn't even heard of the song ["Sunday Rain"]" but only "did two takes."
Even after those collaborations, the nervousness "never wears off," Grohl told Corden on Thursday about playing with McCartney. His nerves came into play when, at a party, McCartney played a new song on the piano and everyone wanted Grohl to play something after him. Grohl admitted that he was "a little out of sorts at that point" and didn't know what to do since he can't play piano, and the guitars were all left-handed.
He didn't know what to do, but that was when Taylor Swift came to his rescue. She offered to do a song instead and "saved" him.
"She gets up and she starts playing this song, and it sounds familiar," Grohl recalled. However, because he was "out of it," he couldn't place it. He looked to his wife and noted that he knew the song. He was right. Swift was playing the Foo Fighters' "Best of You."
"It was like one of those nightmares where you're running backwards," Grohl continued. He recovered and joined her. "I sang it the way I sing it," he said. "Next to Paul and the piano. It was crazy."