Dave Grohl Could Be Inducted Into the Rock and Roll Hall of Fame Twice—Just Like These 23 Artists
The Rock and Roll Hall of Fame just shared its long list of nominees who could possibly be inducted as part of the class of 2021 later this year. The official inductees will be announced in May, but right now a variety of artists are eligible to be selected, including Jay-Z, the Go-Go's, Rage Against the Machine, Devo, Fela Kuti, Kate Bush and Mary J. Blige.
Carole King, Tina Turner and the Foo Fighters are also among the contenders. And that's notable not just because those artists would forever be enshrined in history, but also because it wouldn't be the first time that King, Turner or Foo Fighters frontman Dave Grohl would be inducted. They're all already in the Rock Hall, for other endeavors.
King and Turner were both inducted as part of duos in the 1990s. King was honored in 1990 as a songwriter, alongside her onetime husband and collaborator, Gerry Goffin; Turner, meanwhile, was welcomed to the Hall of Fame in 1991, with her onetime husband and musical partner, Ike Turner. Grohl was inducted into the Rock Hall in 2014, as a member of Nirvana.
So, if any of those acts are selected for induction in 2021, King, Turner and Grohl would join an impressive lineage of artists who have been entered into the Rock and Roll Hall of Fame more than once. Who else has pulled off this feat? Read below to find out.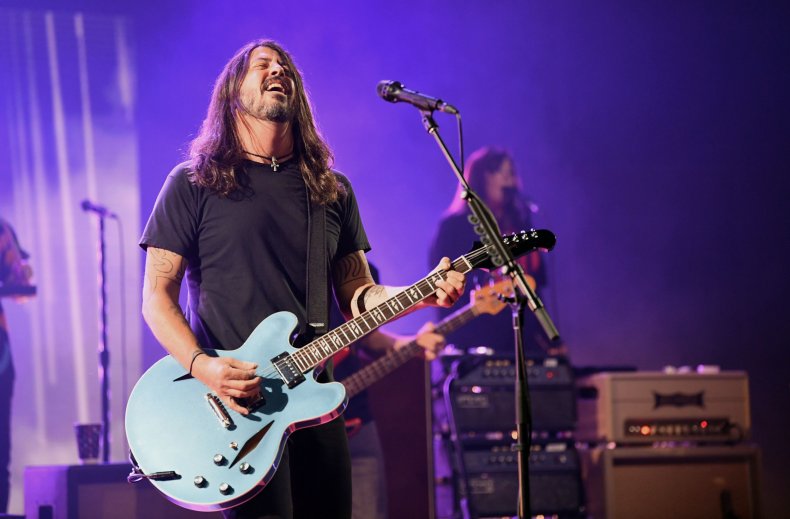 Stevie Nicks
If Turner and King are both inducted, they will be the second and third women inducted multiple times. Fleetwood Mac vocalist Stevie Nicks became the first woman to be entered into the Hall multiple times, when she was inducted as a solo artist in 2019. Her first induction, as a member of Fleetwood Mac, took place in 1998.
During an interview with CBS Sunday Morning, she spoke about the honor of being inducted twice. "It's 22 men that are in twice for their solo work and being in a big band," she said. "So I feel that I definitely broke a big rock'n'roll glass ceiling."
Gregg Rolie
While he may not be the best-known member of Santana or Journey, Gregg Rolie has played in both groups, and was inducted into the Rock Hall with each of them, in 1998 and 2017, respectively.
Lou Reed
The famed "Walk on the Wild Side" singer-songwriter has also been inducted twice—once, for his tenure as frontman of the Velvet Underground in 1996, and then later, in 2015, as a solo artist.
The Beatles
Unsurprisingly, every member of the Fab Four has been inducted twice, for their time together as a band that you might have heard of, and also for their individual solo careers. The Beatles were inducted as a unit in 1988. From there, John Lennon was the first to get into the Rock Hall a second time, with his posthumous induction in 1994. Paul McCartney followed in 1999; George Harrison joined suit, posthumously, in 2004; and Ringo Starr is the most recent double-honoree, with his 2015 induction.
Peter Gabriel
The "In Your Eyes" singer received his first nod from the Rock Hall in 2010 as a founding member of prog- (and later soft-) rockers Genesis. Then, he was recognized for his post-Genesis solo career in 2014.
Rod Stewart
Before being inducted with blues-rockers Faces in 2012, the "Maggie May" singer was first brought into the Hall of Fame in 1994, on the strength of his solo career.
Ronnie Wood
The Rolling Stones bassist is the only member of the iconic band to be inducted into the Rock Hall twice. Wood's first induction came with the Stones in 1989, and his second was decades later, when he was also brought in for his role with Faces, alongside fellow two-time inductee Rod Stewart.
Crosby, Stills & Nash
Crosby, Stills & Nash is another beloved band in which every member has been inducted into the Rock Hall twice. David Crosby was the first of the bunch to be inducted, as part of The Byrds back in 1991. Stephen Stills received both his inductions on the same night in 1997 (a first!), as both a member of Buffalo Springfield and Crosby, Stills & Nash. Following CSN's admittance, Graham Nash didn't receive his second induction until 2010, when the Hollies received the honor.
Jeff Beck
It's hard to believe that, over time, the Yardbirds counted three of the most famous guitarists ever among its ranks. (We're referring, of course, to Eric Clapton, Jimmy Page and Jeff Beck). Beck was inducted as part of the band in 1992, and later received a nod for his solo work in 2009, when he was inducted by none other than Page.
Sammy Strain
The R&B singer received inductions in 2005, for his work with the iconic band the O'Jays, and in 2009, for his time with the 1960s soul group Little Anthony and the Imperials.
Johnny Carter
R&B and doo-wop vocalist Johnny Carter was inducted as a member of two different 1960s groups, in 2001 and 2004, respectively: The Flamingos, which he was a founding member of, and The Dells.
Michael Jackson
Considering how young he started in the music biz, it shouldn't be a surprise that Michael Jackson has been inducted into the Rock Hall a couple times. First, he made it in as a member of the Jackson Five, in 1997; then, the Thriller hitmaker was inducted again, in 2001, for his solo work.
Paul Simon
The Graceland singer's solo career is just as storied and influential as his work in the cherished folk duo Simon and Garfunkel, who were inducted in 1990. Simon was then honored for his material apart from Art Garfunkel in 2001.
Eric Clapton
Believe it or not, Eric Clapton has actually pulled off a hat trick. That's right, he's been inducted into the Rock Hall three separate times. First, he flew in with the Yardbirds in 1992, then he returned with Cream in 1993 and, finally, he was recognized a third time in 2000, for his solo stuff.
Curtis Mayfield
The Super Fly singer-songwriter and producer was first inducted into the Hall in 1991 as a member of The Impressions, and then again for his solo work in 1999, shortly before his death that same year.
Neil Young
While Neil Young may not have been included in the Crosby, Stills & Nash induction for his work in the Crosby, Stills, Nash & Young iteration of the supergroup, Young was still present at the 1997 induction as part of Buffalo Springfield. And by then, he'd already been honored for his solo career a couple of year earlier, in 1995.
Jimmy Page
Like Beck and Clapton, the Led Zeppelin mastermind received his first induction in 1992 with the Yardbirds, and was honored by the Hall again in 1995, as a member of the mighty Zeppelin.
Clyde McPhatter
Both of Clyde McPhatter's inductions came posthumously, as the soul singer died in 1972 at 39 years old. He was honored for his solo career in 1987, and then again the following year, in 1988, for his work with the Drifters. He was the first person ever to be inducted into the Rock and Roll Hall of Fame multiple times.