Who is David Bernhardt? Zinke's Likely Replacement Is a Former Oil and Coal Lobbyist Who Fought to Limit the Endangered Species Act
Environmental advocacy groups celebrated the resignation of Department of Interior secretary Ryan Zinke last week, as he left his office under a cloud of controversy surrounding his private jet use, relegation of public lands to oil and gas companies and problematic history on racial issues. But celebrations may have been premature, as his likely replacement, Deputy Secretary David Bernhardt, has deep ties to the oil and gas industry and has a history of fighting on their behalf.
Bernhardt, a former George W. Bush official, worked in 2001 to open the Arctic National Wildlife Refuge to drilling and to allow commercial snowmobile operations in Yellowstone National Park. While working for Bush, Bernhardt also replaced independent government research about climate change used in Congressional testimony with oil-company funded reports, according to Climate Nexus, a climate advocacy group.
After leaving the Bush administration, Bernhardt went to work as a fossil fuel and water industry lobbyist at Brownstein Hyatt Farber Schreck. He also represented Taylor Energy, which has been leaking a significant amount of oil into the Gulf of Mexico for 14 years. Among the clients he lobbied for were Halliburton Energy Services, Noble Energy, NRG Energy, the US Oil and Gas Association and the Independent Petroleum Association of America.
Before joining the Trump administration, Bernhardt pledged to wait until August of 2019 to interact with his former lobbying firm and other oil and gas companies he represented while working in private industry. But plenty of the actions he's taken since joining the DOI have been a great boon to his prior employers. Within two months of taking his position, he met with a number of the lobbyists who he once worked with, breaking his pledge.
In October of 2017, the Bureau of Land Management changed their administrative opinion in order to make it easier for Cadiz Inc., a group Bernhardt did legal work on behalf of, to embark upon a controversial project to pump water from the Mojave Desert to Los Angeles. The DOI also recently refused to issue a decision on whether the Mohegan and Mashantucket Pequot tribes could open a new casino in Connecticut, which benefitted competitor MGM Resorts. Bernhardt's former firm has worked with MGM-affiliated companies.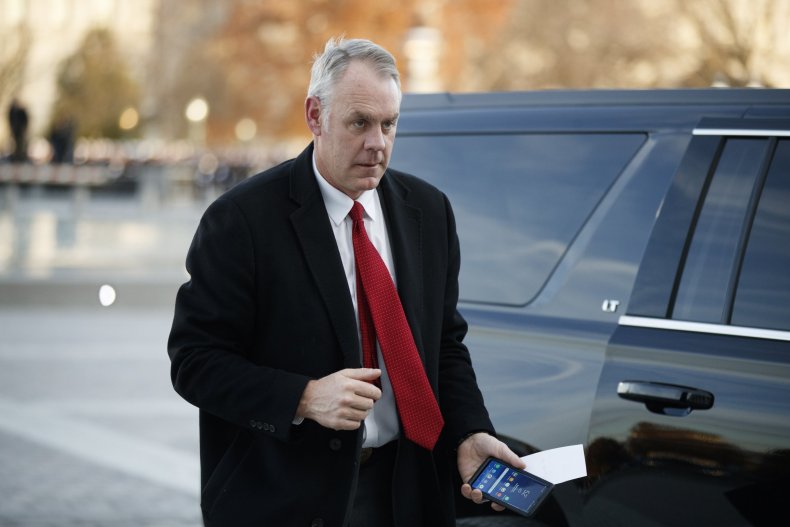 In August, the deputy penned an opinion piece for The Washington Post advocating for a rollback of the Endangered Species Act and supporting a "vision of conservation as one that uses federalism, public-private partnerships and market-based solutions to achieve sound stewardship."
In May of 2017, as Bernhardt was being considered for his deputy role at the DOI, a group of 150 environmental watchdog groups signed a letter opposing his nomination.
"Mr. Bernhardt has represented mining and extraction companies, developers, and oil and gas interests. He lobbied for a bill seeking to delay new air pollution limits on coal-fired power plants while working for EP Energy, an American subsidiary of Access Industries," they wrote. "He pushed multiple bills that would have expanded offshore oil and gas drilling in the aftermath of the BP Deepwater Horizon disaster on behalf of Cobalt International Energy, a company that was investigated by the Securities and Exchange Commission and the Department of Justice for violations under the Foreign Corrupt Practices Act."
Likewise, the League of Conservation Voters president, Gene Karpinski, expressed concern with Zinke's potential replacement. "The investigations into Zinke's ties to industry and misuse of taxpayer funds must continue and the Department of the Interior must reexamine every decision made during Zinke's tenure that may have been influenced by the fossil fuel industry and other polluting special interests. Congress must also ensure that the next Secretary of the Interior is committed to protecting our public lands and the communities that depend on them," he said in a statement.
Update: A previous version of the story said that Bernhardt lobbied on behalf of Cadiz Inc. He did legal work for the company but never worked as a lobbyist for them. His former company, Brownstein Hyatt Farber Schreck, has however worked with Cadiz in a lobbying capacity.