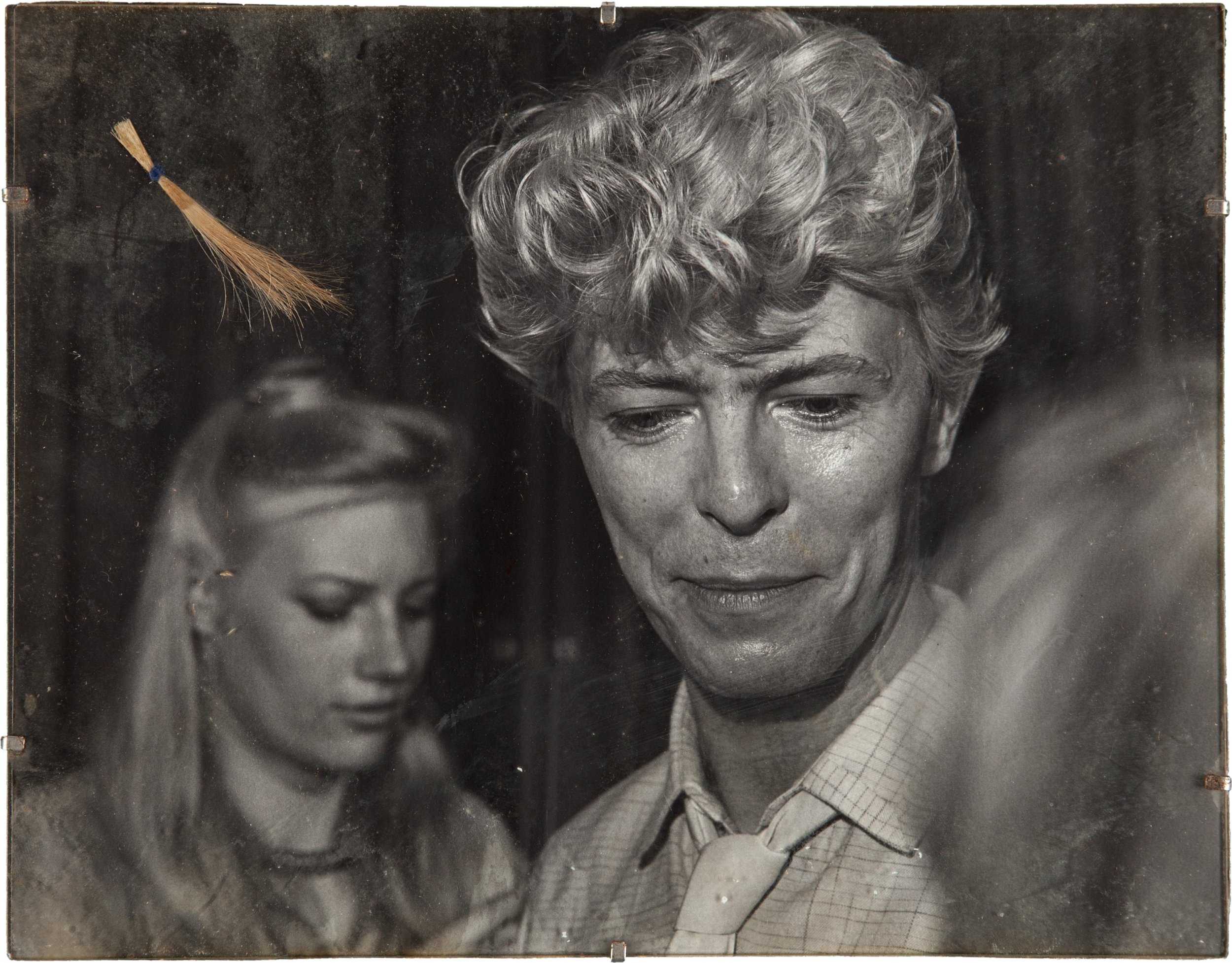 Wendy Farrier was just 12 years old when she became a fan of David Bowie. Like many preteens and teenagers in the early 1970s, Farrier and her friend would hole themselves in the bedroom and listen to "Life on Mars" on repeat. "We were hooked—we listened to it over and over again," she said.
Ten years later, Farrier, living in London and working for the famous Madame Tussauds waxwork museum, would come face-to-face with her idol . Working as a wig maker for the tourist attraction, Farrier chopped locks off of the Starman's famous hair to help create his own waxwork figure. She recalled: "Normally at Madame Tussauds, the head of the department would have taken the hair samples, but he knew I really liked David Bowie."
Some three decades on from the encounter, Farrier, who kept hold of one of Bowie's hairlocks, is auctioning it off. The unusual sale, hosted by Heritage Auctions, gives fans of the late singer—who died at the age of 69 in January—the chance to own not a piece of memorabilia, but a piece of Bowie. So far, the hair has attracted a bid of $2,000 (£1,360) and Heritage expects it to sell for an upward of $4,000.
For more than 30 years, the small, blond lock was framed with a picture of Farrier and Bowie at Madame Tussauds and, until recently, it had pride of place on the walls of Farrier's home. "It stayed on my wall when I lived in Surrey. But when I moved to Wales it just stayed packed in a box and never came out," Farrier tells Newsweek over the phone from her current home in Aberystwyth, Wales, Monday.
Farrier remembers the exact moment she came to own a piece of David Bowie's hair: her hands were trembling as she took a pair of shears to her idol's head, in order to take a sample of hair for use by in creating an accurate wig. She remembers how awestruck she was, unable to muster more than a few words. But most of all she remembers his kindness.
"He came over and seemed…a normal guy," said Farrier, now 55. "There wasn't any ego there, he was very easygoing. I said: 'I'm sorry, I'll be very careful, I won't muck up your style,' because he had a big quiff at the front. I remember my scissors were shaking as I did it. He was totally calm, he didn't make a fuss."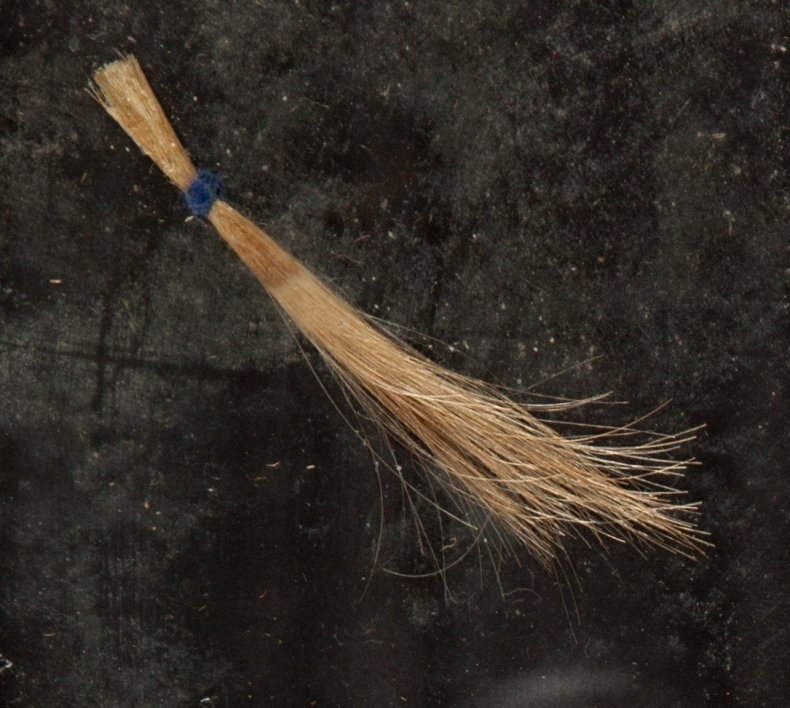 In total, the makeshift barber session saw five locks cut from Bowie's hair. Only one is still in existence, kept as a memento by Farrier, and now up for sale. The other four were, in keeping with Madame Tussauds' policy, destroyed after being used to match the color of the Bowie waxwork's wig to his real hair.
Farrier's encounter with Bowie was documented by a sculptress, who took a photo of her standing behind the singer, his hair perfectly shaped—long, flowing tufts of blond masking his forehead.
"At that time he had so many different colors—I took about five samples because the back of his head was a different color to the very bleached blond at the front," said the wigmaker.
These days Farrier is less sentimental about her prized Bowie memento. "I'm 55 now. You find as you go through life different things happen, and things that were important to you in your twenties are not so important to you as you get older. For me, it's my family, my children, my animals [that are important].
"At the end of the day you can't take these things with you—I've got my memories, I know I took the hair sample, I was lucky enough to meet him. I cherish other things more now."
Part of the proceeds of Farrier's auction will be donated to the Soi Dog Foundation, which shelters and provides medical care for neglected and abused dogs in Thailand. Said the former theater wig-dresser: "I wanted to give something back. I'm not a wealthy lady and Soi Dogs does such good work. It will go to helping them to feed the dogs, rehabilitate them, get them off to good homes. I hope people understand the reason why I'm selling it."
However, Farrier is fully aware—and accepts—that some may find the timing of her auction, six months after Bowie's death, distasteful.
"I can understand that people think I'm cashing in on his death," she said. "But I wanted to do it now while I've got all the evidence [proving its authenticity] and also, because I can now give more money to the Soi Dog Foundation. I had to weigh up whether I was going to sell it or not, and what was the best time to sell it."