David Bowie Birthday Tributes Are Pouring In, Five Years After His Death
David Bowie may be gone, but he is definitely not forgotten. Bowie, one of the most prominent and talented musicians of the 20th century was born on this day in 1947. The musician and actor's career spanned decades, as he brought visionary ideas to the music world, and taught millions it's OK to be different through his colorful costumes and alter ego Ziggy Stardust. Throughout his career, his hit songs included "Rebel Rebel," "Heroes," "Space Oddity," "Let's Dance," and "Moonage Daydream."
He dropped his final album, Blackstar, on this day five years ago as well. He died two days later from liver cancer at 69 years old. Nevertheless, Bowie's legendary status lives on. His music also arrived on TikTok today (as per Consequence of Sound) and a biopic about Bowie starring Johnny Flynn (which was initially pushed back because of the pandemic) will hopefully premiere sometime this year.
On Friday, folks on Twitter praised his originality, his talent and status as a music icon on Twitter. "Truly someone I'll never forget," one Twitter user wrote. Another fan called Bowie "the most photogenic musician ever." Many shared threads of their favorite Bowie pictures.
Duran Duran covered Bowie's "Five Years," releasing the single on Friday ahead of the the Bowie Tribute Celebration, "Just for One Day."
SiriusXM host Eric Alper shared a collage of Bowie's looks. "I'm not saying the world has gone to hell since #DavidBowie passed away," he wrote, "but *wildly gestures at everything.*"
Baby Driver director Edgar Wright shared his playlist of favorite Bowie hits, noting he would be listening to them all day.
Comedian Ricky Gervais shared a clip from a cameo Bowie had on a 2006 episode of Extras. In it, Gervais tells Bowie in a crowded bar about a BBC sitcom he's on, which is doing poorly. Bowie listens to Gervais' woes, and then sings an impromptu "Little Fat Man With a Pug-Nosed Face" in the establishment, putting the comedian's insecurities on blast and humiliating him.
Comedian Eddie Izzard shared a video explaining why Bowie's album Life on Mars meant so much to them.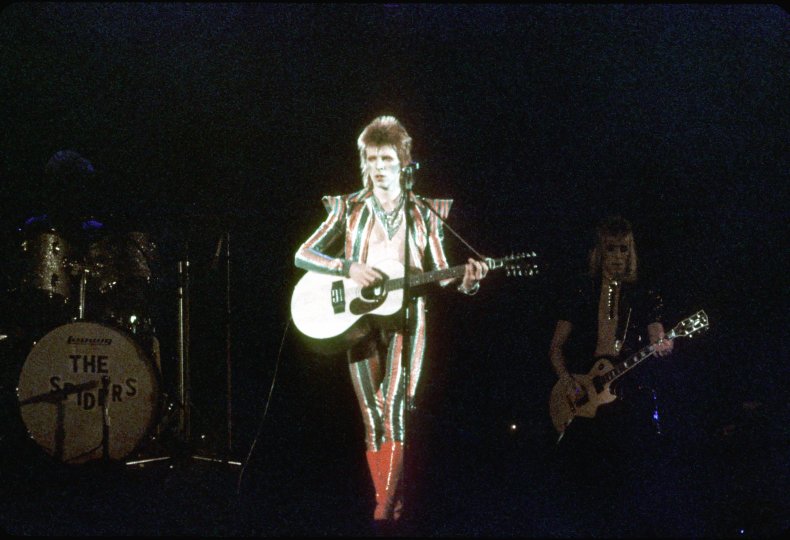 Days before Bowie's birthday, a 1983 clip from MTV resurfaced on Twitter, in which the rocker questioned video jockey Mark Goodman about why the station wasn't featuring Black musicians. The icon pointed out that Black artists weren't given prime-time slots, and were only featured from about 2:30 to 6 in the morning.
As per Snopes, Goodman denied that this was the case. "When you wind up watching—let's say you watch an hour or two or even three a day, people somehow come away with different ideas about what we are doing. We don't have any kind of day-parting for anything, let alone for Black artists, day-parted out of what would be 'prime time.' We don't have that."
"Because one sees a lot on—there's one Black station on television that I keep picking up. I'm not sure which station it's on. But there seem to be a lot of Black artists making very good videos that I'm surprised aren't used on MTV," Bowie continued, adding more pressure to MTV. Goodman concluded that it takes "a little bit at a time" for there to be more integration on MTV.
"I understand your point of view," Bowie remarks at the end of the clip, though he doesn't appear to be convinced.
Happy birthday, Ziggy Stardust.