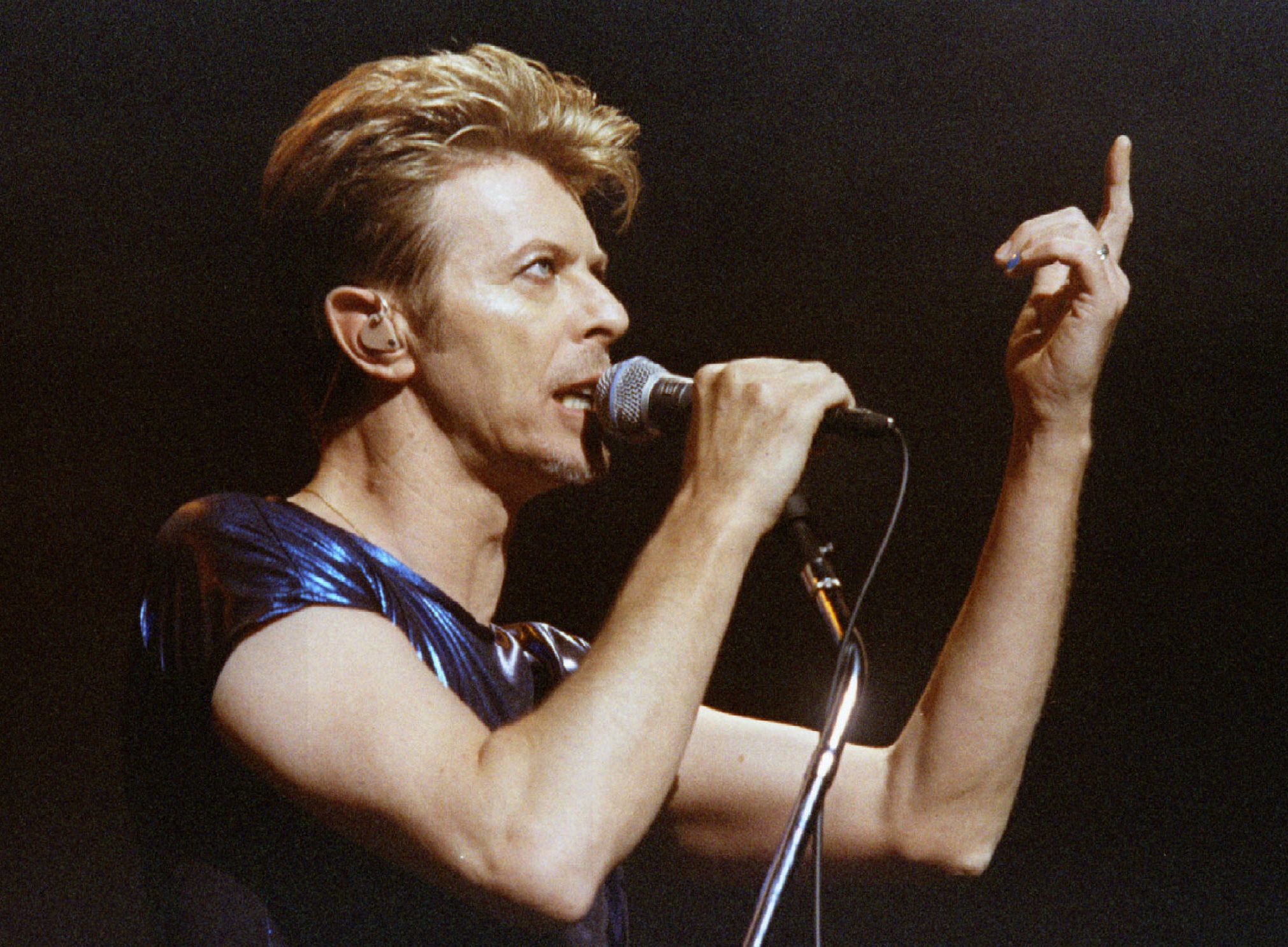 With his iconoclastic vision and chameleonic penchant for transformation, David Bowie left an imprint on dozens of musicians and collaborators.
One of them was Adrian Belew, the experimental guitarist known for his work with King Crimson and Frank Zappa.
"He was the one sort of star who always did the most creative things and yet was still very popular," says Belew, who played on Bowie's 1978 world tour as well as 1979's Lodger, the third and final entry in Bowie's fearless "Berlin Trilogy." "I loved him dearly. No one else will ever replace him."
Belew crossed paths with the Thin White Duke in 1978, when he was touring with Zappa's famously demanding band.
"There was a part in the show where Frank played an extended guitar solo, and some of his band members would leave the stage, myself included," Belew tells Newsweek. "As I was leaving, I looked over at the sound board and saw David Bowie and Iggy Pop standing there. And I walked over to David Bowie and shook his hand and said, 'Thank you for the music, I love what you do,' and he said, 'Great, how'd you like to be in my band?'"
The exchange prompted a fruitful collaboration. After touring with Bowie, Belew was recruited to play on Lodger, the first studio album he'd ever worked on. It was not a typical session: Belew recalls working in a Switzerland studio that he compares to a bunker. He and the rest of the musicians were on a separate floor from Bowie, who had access to a one-way camera—he and collaborator Brian Eno could see the musicians, who could not see them. Things got weirder from there.
"The first thing that Brian [Eno] and David said to me was 'We think we're calling this record Planned Accidents, and we want to get your accidental responses to the music,'" Belew says. So the pair had him put on headphones and play along with tracks he'd never heard before. When he asked what key it was in, they'd refuse to answer.
"I would try to figure out as it's going," Belew says. "I would get maybe two or three tries. But usually by the third try I would know something. That's not what they were listening for. Then they would take their tracks, and they would make a composite of their favorite moments of me trying to figure out how to play along with the song."
The unorthodox process resulted in warped pop songs like "DJ" and "Red Sails." "Those are all my initial responses to music I'd never heard before," Belew says. Though not as acclaimed as Low, Lodger has grown into a fan favorite, and Bowie later told the guitarist he wrote "Boys Keep Swinging" about his young, naïve spirit.
Belew moved on to work with Talking Heads and King Crimson, but he and Bowie joined forces once more in 1990, serving as musical director of the 1990 Sound+Vision world tour. "In that period I felt like I became a close friend with David," Belew says. "We were together all the time."
One memory stands out in the guitarist's mind: a visit to the Museo del Prado in Madrid during a day off from work.
"[Bowie] gave me basically a private tour and art lesson," Belew says. "As we walked among the paintings, he would say, 'This one is from the 17th century. The reason there's a lot of purple and gold in the painting is because the pope at the time demanded that.' He had a lot of interests and knew a lot about the things he was interested in.
"It was pretty unexplainable to be on tour with David Bowie," the guitarist adds. "He's such a superstar, and yet you have a personal relationship with him where you're eating with him, laughing and talking every day."
On Monday, tributes flowed in from dozens of Bowie's collaborators and friends in the music world.
Madonna tweeted that Bowie was the first concert she ever saw. Iggy Pop declared him "the light of my life." Producer Eno shared excerpts of a poignant email Bowie sent him in his final weeks.
Belew also remained in touch with Bowie via email ("He would answer me back within minutes—I take it he must have lived at his computer"), though not in recent months.
"I still dream about David, and I love him very much, and I wanted to continue our friendship and play some more music together," he says. "But someday I'll write a book of our experiences. There were that many."