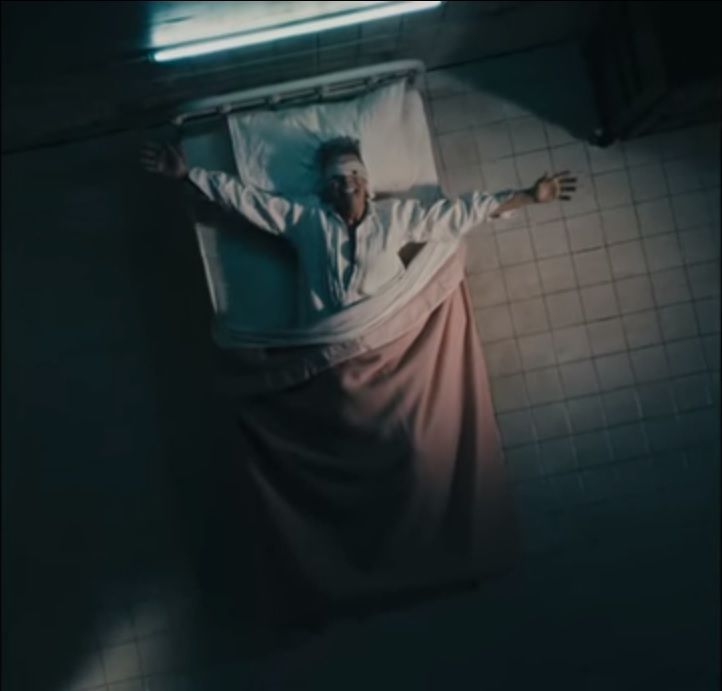 In the Gospel of John, a man named Lazarus dies and is subsequently resurrected by Jesus. But David Bowie's rendition of the Lazarus myth—immortalized in the video for the singer's second single ahead of his forthcoming album ★ (pronounced "blackstar")—is more terrifying that one could have ever imagined.
Released Thursday, the "Lazarus" video features a wild-haired Bowie—with buttons and a bandage placed over his eyes—squirming, shuddering and shaking in a hospital bed scene that seems suspended somewhere between a dream and a nightmare. It cuts to another Bowie, who springs from a wooden cabinet and struggles to write what must be a very important letter before he shimmies back inside.
The "Lazarus" video was directed by the Swedish music video director Johan Renck, who's worked with the likes of Robyn and Madonna. Renck also helmed Bowie's first video release ahead of Blackstar, the space-age enigma and saxophone-heavy short film "Blackstar."
In a statement, Renck said of the collaboration, "One could only dream about collaborating with a mind like that; let alone twice. Intuitive, playful, mysterious and profound.... I have no desire to do any more videos knowing the process never ever gets as formidable and fulfilling as this was. I've basically touched the sun."
The rock star's newest album, his 28th, drops Friday. In the meantime, feel inadequate about your meager accomplishments at any age by comparing them to Bowie's via SupBowie.com. And have a hunky-dory day.