David Bowie on Video: From Long-Haired Boy to a Comic Cameo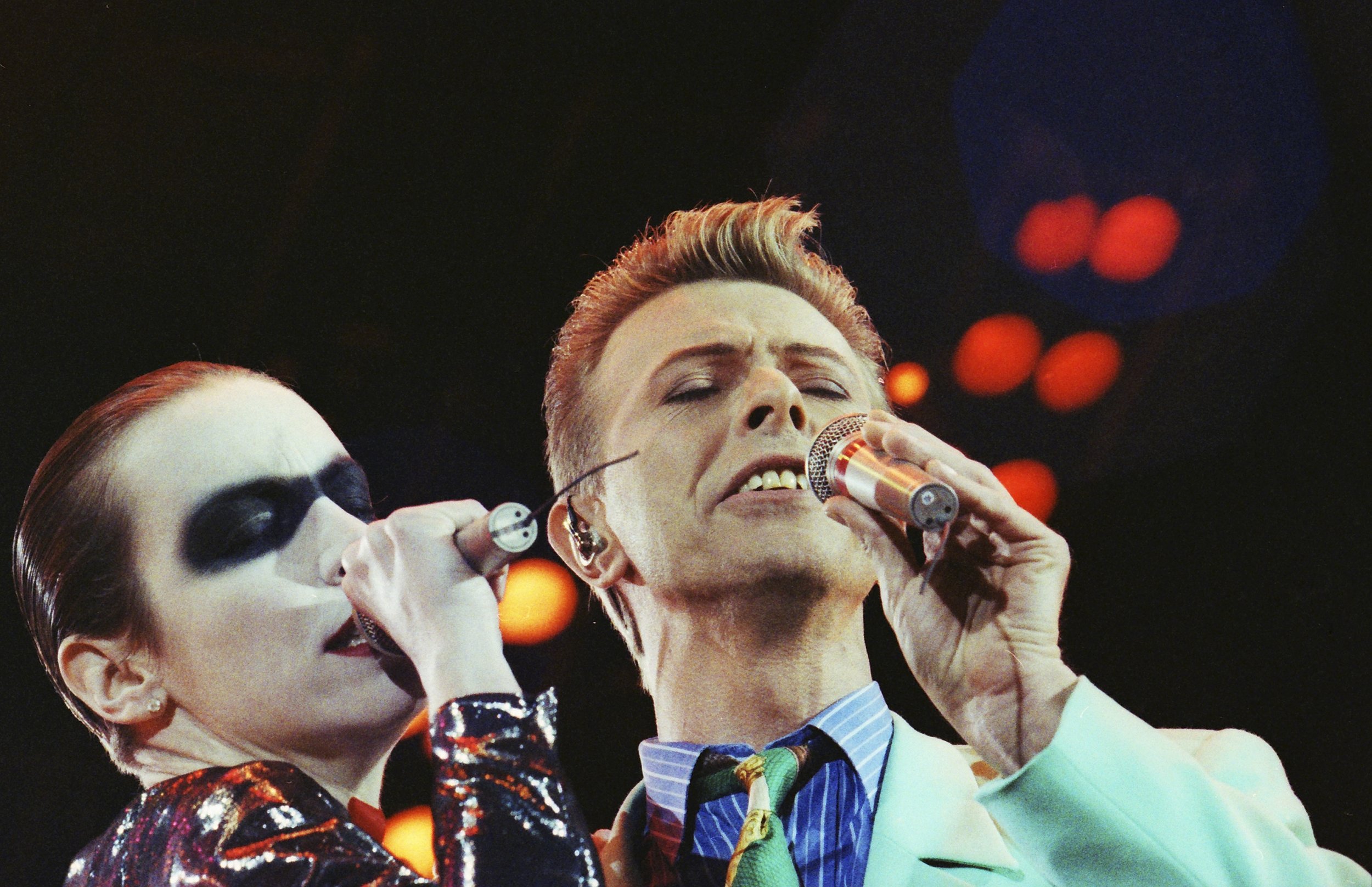 Every life is a work of art, but David Bowie painted a masterpiece. He seemed to understand, better and earlier than most of us mortals, that life is something more than simply to be lived. And that it is finite ("Time may change me / But I can't trace time"). He took pride in being extraordinary, an avatar of style and of rock 'n' roll. No one ever blended those two traits better.
Bowie, who died on January 10 at the age of 69, was also a chameleon. Hair color, sexual predilections, even his name and eye color were prone to metamorphosis (a fight with a schoolmate left one of his blue eyes permanently dilated and led many to believe, erroneously, that he was a heterochromiac).
As was his music. Bowie (born David Jones) was the real-life Hedwig Robinson (of Hedwig and the Angry Inch), his musical tastes tracing the history of rock 'n' roll. "Pin-Ups" is redolent of The Kinks, while "Ziggy Stardust" sounds as if it could be a Jethro Tull tune. "Rebel, Rebel" is distinctive '70-era Rolling Stones and "Heroes" could easily be a Pink Floyd song. It is fitting that the signature Bowie tune is "Changes."
What follows is cyberspace odyssey tracing Bowie's transformation from unknown to rock god to beloved—and droll—recluse.
Crusader
In the earliest video footage available, 17-year-old Davie Jones appears on the BBC's Tonight show as the spokesman for an unlikely repressed group in the early Beatles-era United Kingdom: the Society for the Prevention of Cruelty to Long-Haired Men.
Bowie is preternaturally composed while speaking to the show's skeptical host ("I think we're all fairly tolerant," he says) and one has to admire how he refrained from cracking a grin. This was obviously a tongue-in-cheek stunt to which the program's host was oblivious. One could already imagine Bowie penning the lyrics "And these children that you spit / on as they try to change their world / Are immune to your consultations.… " as he endures this interrogation.
Full Ziggy
In the early '70s, Mick Jagger and Robert Plant were rock gods, but Bowie was the one who actually looked like an extraterrestrial. And he clearly loved it. Loved the idea of the adolescents and misfits in his audience wondering if he really did know, firsthand, about life on Mars.
The four men from New York City's outer boroughs who would form Kiss shortly after the advent of Ziggy Stardust owe Bowie a debt that Gene Simmons certainly can afford to repay.
Performer
In 1974, a thin, nearly translucent (and probably cocaine-fueled) Bowie appeared on The Dick Cavett Show to perform the title track from his album Young Americans. A satirical song for cynical times in the States, it was also a breakthrough hit. That's Luther Vandross among the backup vocalists and David Sanborn on sax.
Here's another Bowie gem from this era, as he performs "Rebel, Rebel" ("Not sure if he's a boy or a girl") on the Dutch television program, ToPPoP and then graciously accepts a glass of Schelvispekel.
Generation Hopper
Long before Lady Gaga teamed up with Tony Bennett, Bowie, then 30, partnered with 74-year-old Bing Crosby to sing a Christmas tune. On September 11, 1977, and only after writers frantically retooled the arrangement at the last minute (the "Peace on Earth" part was not originally included and the Thin White Duke refused to sing "Little Drummer Boy"), Bowie and Bing performed the duet "Peace on Earth/Little Drummer Boy," that they taped for the upcoming Bing Crosby's Merrie Olde Christmas television special.
A month later, the venerated crooner was dead of a heart attack. The Christmas special still aired. For viewers who only knew Bowie as a glam-rock god, seeing him without makeup and chatting about fatherhood was like seeing Iggy Pop in khakis.
Stunt Man
Comedian Andy Kaufman pulled some truly avant-garde stunts in his appearances on Saturday Night Live in the late '70s. Bowie, in his first of three appearance on SNL, in 1979, was certainly Kaufman's equal.
Bowie performed three songs on this December 15 episode, hosted by Martin Sheen, each one resetting the bar for shock value. For the opener, "The Man Who Sold the World," he wears an immobile suit—backup singers Klaus Nomi and Joey Arias carry him to the microphone. For "TVC-15" he looks stylish in a knee-length skirt (few men have ever worn women's clothes more seductively). For the finale, "Boys Keep Swinging," Bowie creates a bizarre visual effect by wearing a green-screen suit as a puppet is superimposed upon him. That smirk reveals a rascal who is enjoying the onslaught of phone calls the NBC operators must be fielding.
Modern Love
We include this MTV-era video from the early '80s to remind you that at every age, Bowie had great hair. Someone referred to this as his "fashionable serial killer" look.
Mutual Man Crush
Their shaky dance moves notwithstanding, Bowie and Jagger were two of the world's biggest rock stars in 1985 when this video was filmed to help raise money in association with the Live Aid event. Both their careers survived this.
Under Pressure
Bowie co-wrote one of the more iconic rock songs of the past 40 years, "Under Pressure," during an all-night jam session with Queen in Switzerland. The tune was Queen's second No. 1 hit in the U.K., after 1975's "Bohemian Rhapsody."
The minor tragedy, for anyone who spends a significant amount of time on YouTube, is that Bowie and Queen's lead singer, Freddie Mercury, never performed the song live. In 1992, one year after Mercury's death due to complications from the HIV virus, a tribute concert was staged at Wembley Stadium in his honor. With Queen as his backing band and Annie Lennox taking Mercury's vocals, Bowie performed the song live for the first time.
Acoustic Hour
Shortly before his 50th birthday, Bowie performed his classic, "Heroes," at the Bridge School benefit in San Francisco. Stripped of any glam, sonically or stylistically, he demonstrates that he was a damn fine musician.
Extras
When Bowie turned 58, comedian Ricky Gervais sent him a birthday greeting and asked, "Isn't it time you got a proper job?" "I already have a proper job," Bowie replied. "David Bowie, rock god."
Bowie's 2006 cameo on Gervais's BBC comedy, Extras, was a hilarious surprise. And this behind-the-scenes interview, which many viewers did not understand was complete satire, only further demonstrated that the imp who founded the Society for the Prevention of Cruelty to Long-Haired Men had not lost his sense of humor. Who knew then that this would be his final interview?