Take a map of London. Draw a line north from the Royal Academy of Arts on Piccadilly, where visitors are lining up for a show of David Hockney self-portraits, up to the Wallace Collection, where the curators are preparing an exhibition of Tom Ellis's figurative paintings. On the way, your pencil will travel past Sotheby's, the august British auction house. It's busy there too, though perhaps for slightly less than purely artistic reasons. In two small rooms at Sotheby's rear, a group is standing in front of a splashy Damien Hirst painting. It's a psychedelic, circular piece, popping with oily, vibrant colors and named, with typical Hirstian understatement, Beautiful, Shattering, Slashing, Violent, Pinky, Hacking, Sphincter Painting (1995). These onlookers may be Hirst fans—or, then again, not, because this isn't just any Damien Hirst. This is a David Bowie Damien Hirst.
In early July, barely six months after Bowie's death from cancer, Sotheby's announced that it would be selling 400 works from his private collection later this year. Whether the auction covers the full extent of Bowie's collection, no one will say. Either way, the sale is expected to raise at least £10 million ($13 million). As an appetite whetter, Sotheby's has been showing a selection of the sale's highlights at its site on New Bond Street; in the fall, these will travel to Los Angeles, New York and Hong Kong. About 1,000 people a day have visited in London, and the show is likely to draw similar crowds elsewhere: Bowie's death has only increased public fascination with the fine details of his life.
It's a life that weaves through the collection. Though his fame was global, Bowie was a product of London, forged in its southern suburbs, tempered in its clubs and music venues. That lineage is clear in the art he collected; many of the paintings being auctioned are by postwar, London-centric British artists. They include Frank Auerbach, Auerbach's tutor David Bomberg and Harold Gilman. Though the highest-valued artwork is American—Air Power, by Jean-Michel Basquiat, is estimated to sell for from £2.5 million to £3.5 million—Bowie's link to the piece is still personal. In 1996, he played Basquiat's mentor Andy Warhol in the biopic Basquiat , directed by Julian Schnabel. Although Bowie was mostly out-acted by his wig, his excitement at being part of the New York art world—even just a version of it—was obvious. And the consideration put into his private collection suggests that buying art wasn't just a hobby, the sort of vanity project that tends to follow in the wake of immense wealth. "It's such an erudite and intellectual collection. There's a cohesiveness to it," says Tom Eddison, a contemporary art specialist at Sotheby's. "He's incredibly well-tuned into art and artists."
You could go further—for Bowie, art was a necessity. He always had a knack for spotting what was intriguing (and most marketable) about the avant-garde and weaving it into his narrative, once describing art as a "stable nourishment" in his life. "Art was," he told The New York Times, "seriously, the only thing I'd ever wanted to own."
Inspired as a young student
To understand the genesis of this love affair, you need to travel south and east from Sotheby's, across the Thames to where London swells upward into the hills of Kent. This is Bromley. From 1958 to 1963, Bowie was a pupil at Bromley Technical High School, where the head of art was Owen Frampton. According to the artist George Underwood, a childhood friend and classmate of Bowie's, Frampton's graphic design lessons were free-ranging and designed to catch the imagination. "Owen was very special," Underwood says. "He wasn't like a teacher; he was like a friend. He commanded a lot of respect. He said we all had potential and if you wanted to do something bad enough, you could do it."
Brian Eacersall worked alongside Frampton in the art department for 14 years and also taught Bowie. He says Frampton led by example: He would use break times to work on his side project of designing wallpaper and would hang finished pieces in the classroom—where his students "saw we were very invested in our subjects and you can get success from these things." Bowie never forgot this early role model, even at the height of his fame. "Every time Bowie came to London," Eacersall says, "Owen and his wife were invited to his show and to meet him backstage."
But this didn't necessarily mean Bowie was good at making art. According to Underwood, he was "rubbish at painting." Eacersall agrees, saying that the young Bowie's uninspired drawings in his classes presented a perplexing contrast to the artfulness of his career. "I look at the songs that he wrote—they were so imaginative, and the personas he used to take on were out of this world…. Where did all that come from?"
Bowie admitted he lacked the proficiency of Underwood, whom he later commissioned to design the artwork for his Space Oddity , Hunky Dory and Ziggy Stardust albums. (Underwood also threw the punch that damaged Bowie's left eye, leaving its pupil permanently dilated and giving him that odd, bicolored stare—so he's a man who can fairly claim his part in creating the Bowie mystique.) In 2014, Underwood asked Bowie to write the foreword to the program for an exhibition of Underwood's work. "I've always loved George's work. I think he may have unconsciously tipped me towards music," Bowie wrote. "Sitting alongside him in art school convinced me (among others) that I would never achieve his fluidity of lines, his sense of rightness in relation to his subject, whatever it was."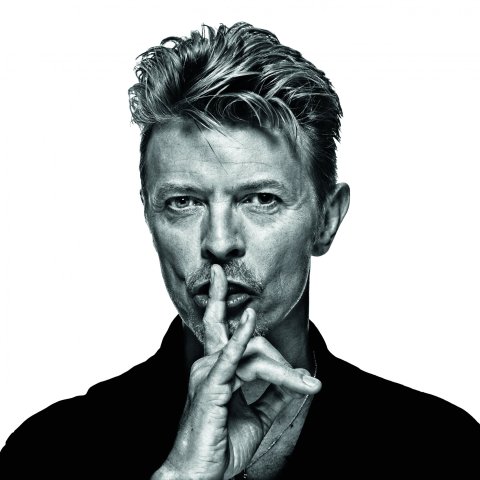 Burgeoning collection
Bowie's shortcomings as a painter didn't deter him from buying art. His collection began taking shape as his music career burgeoned, in the late 1960s and early 1970s. People who knew Bowie say he took great pride in his acquisitions. "He would tell you, 'I've bought that.' He was very proud of what he bought—but also a bit full of himself. But it was always tongue firmly in the cheek," Underwood says. The London gallerist Bernard Jacobson, who befriended Bowie in the early 1990s, says Bowie once cajoled him into selling him a portrait by Jacobson's favorite artist, the British painter William Tillyer, which hung on his bedroom wall. "I said, 'That's mine. I don't want to sell that.' He said, 'You're a shop. You've got to sell it. That's what you do.' We went on and on," Jacobson says. The painting eventually ended up in Bowie's collection.
Jacobson says the musician bought more pieces from his gallery than any other from 1992 to the early 2000s—he guesses the number could be as high as 100. "We ended up being great friends. He hung out in my gallery a lot. One day, he actually worked on the front desk for two hours selling pictures," Jacobson says.
Bowie's close friendship with Jacobson led to the singer becoming still more immersed in the art world. In 1994, he joined the board of Modern Painters, a then-quarterly art magazine founded by Jacobson in 1987, and his role soon expanded into writing for the publication. From 1994 to 1998, he interviewed artists including Hirst and Tracey Emin, even securing a scoop with the determinedly enigmatic and elusive Balthus. "He gave it a lot of time. He took it very seriously," says Jacobson, a former journalist. "I didn't cringe when I read the copy. I didn't think, Oh God, we can't use this. It came from a real passion for the subject."
Bowie later added another line to his artistic résumé: publisher. In 1997, Jacobson decided to move into art books—21 Publishing was formed by Jacobson, Bowie, Modern Painters editor Karen Wright and Timothy Sainsbury, of the supermarket family. "It was books that weren't going to get published by the more traditional publishers," says Jacobson. He adds with a laugh, "It lost an enormous amount of money. It was virtually charity."
Perhaps because of the depth of Bowie's love for his art, both Underwood and Jacobson are surprised that any of his collection is up for auction. "I'd like to think he said to [his wife] Iman and [his son] Duncan, 'If you don't like them, put them up for auction,'" Underwood says. "I'd like to hope that's what happened." The Bowie estate declined to comment. Jacobson adds, "I had heard rumors [about the sale] earlier this year, but I hoped they would change their minds. [This collection] was David's love affair, his passion."
Eddison of Sotheby's says Bowie had a history of loaning his work so others could enjoy his collection. "Every collector is essentially a custodian of that painting until it goes on its next journey and is loved by someone else," he says. "He would have wanted the art to be seen."
Bowie/Collector highlights continue at Sotheby's, London, until August 9, then tour to Los Angeles, September 20 to 21; New York, September 26 to 29; and Hong Kong, October 12 to 15. Full exhibition at Sotheby's, London, occurs November 1 to 10, with the sale November 11 to 12.