The Thin White Duke in Squarepants: David Bowie to Pen Songs for 'SpongeBob' Musical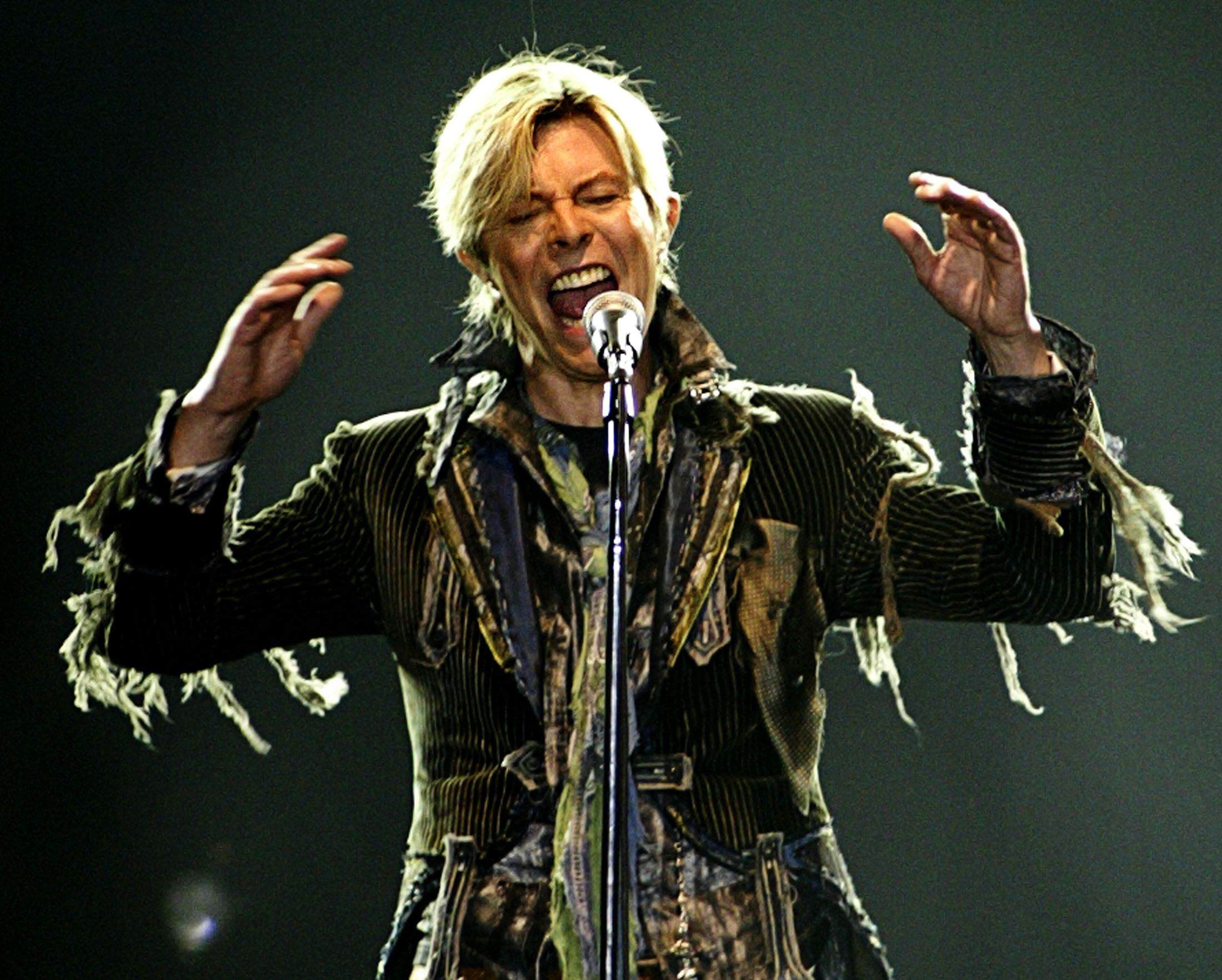 SpongeBob SquarePants and Ziggy Stardust have a lot more in common than you think. They're both superstars with murky sexuality, and now both will have original songs written about them by David Bowie.
In 1996, a marine biologist and cartoonist Stephen Hillenburg drew a new species of animated sea sponge that would soon subsume the planet. He called it SpongeBob SquarePants. Within a year of its TV debut in 1999, SpongeBob kicked Rugrats out of its top-ranked spot on Nickelodeon and became the network's highest-rated show of all time (it's remained the most-watched kid's cartoon for the past 13 consecutive years).
Soon, the cartoon sea sponge was starring in his own "Got Milk?" ads. In 2004, SpongeBob SquarePants the Movie grossed nearly $86 million at the domestic box office. Next came the gay rumors and attacks from conservative Christian groups. This only fueled SpongeBob's legacy.
By 2009, SpongeBob SquarePants was a retail property taking in about estimated $8 billion a year. There were SpongeBob toys, comic books, pillows, dolls that sold faster than Tickle Me Elmos, more movies, theme park rides, a Legend of the Last Spatula Game Boy Color title and a video game called Battle for Bikini Bottom for platforms like Xbox and PlayStation 2. McDonald's served SpongeBob Happy Meals, the Green Giant gave away free SpongeBob stickers with their frozen green bean packages, Pirate's Booty made SpongeBob SquarePants Pirate's Booty snacks, 7-Eleven served up limited-edition Under-the-Sea Pineapple Slurpees, Monopoly and Yahtzee released SpongeBob-themed board games, Toyota made a SpongeBob-edition Sienna minivan and a Burger King commercial featured a SpongeBob remix of Sir Mix-a-Lot's song "Baby Got Back" ("I like square butts and I cannot lie / Squid and Sea Star can't deny"). The SpongeBob SquarePants series plays in 185 countries and has been translated into more than 50 languages.
And now, just when you thought nothing else could possibly be squeezed out of SpongeBob, Nickelodeon has announced the world premiere of SpongeBob the Musical and tapped David Bowie, Steven Tyler and Joe Perry of Aerosmith—along with Jonathan Coulton, Dirty Projectors, The Flaming Lips, John Legend, Lady Antebellum, Cyndi Lauper, Panic! At the Disco, Plain White T's, They Might Be Giants and T.I.—to write original songs.
The musical will open on Tuesday, June 7, 2016, at Chicago's Oriental Theatre for a limited engagement, then continue to Broadway.
"We will present the world of Bikini Bottom and its characters in a whole new way that can only be achieved in the live medium of the theater," said the show's director Tina Landau in a statement. "We're bringing the show's fabled characters to life through actors—not prosthetics or costumes that hide them—and we're deploying some unconventional stagecraft that will prove that anything can happen in Bikini Bottom."
Casting will be announced soon. According to a statement released by the producers, it will be "a rousing tale of a simple sea sponge who faces the unfathomable." Barnacles!
If Bowie is hard up for lyrics, he can always adapt some of the gems from his songbook. Might we suggest:
"Ground Control to Major Sponge, Ground Control to Major Sponge, take your jellyfish and put your squarepants on.…"
Or perhaps, "Turn and face the Sponge. Sp-Sp-SpongeBob."
Or even, "SpongeBob played guitar, jamming good with Squid and Gary and the Patrick called Star.… He was the nazz, with Square-given pants. He took it all too far, but boy could he play guitar."