'David Byrne's American Utopia': A Brief History of David Byrne's Suits
David Byrne will forever be associated with one item of clothing. While Madonna has her cone bras and Michael Jackson is known for his bejeweled white gloves, the former Talking Heads frontman is known for his suits, from his geeky professor at a wedding chic of the "Once in a Lifetime" video to his most famous sartorial moments, the giant suit he dons towards the end of the Heads' seminal concert film, Stop Making Sense.
So, of course, in his new HBO special, David Byrne's American Utopia, airing on the channel on October 17 at 8 p.m. ET and then coming to HBO Max, the 68-year-old performer is clad in another natty suit. A grey one this time.
However, what makes his new special visually compelling is that all of his band and dancers are also in identical suits. This suits (pun intended) the theme of the show, with also sees all of his band "untethered" from wires and risers, making everyone equal within the hierarchy of the show.
While during Stop Making Sense, the boxy suit was meant to be awkward, emphasizing Byrne characteristic jerky dance moves and acting in contrast to his wiry body, the suits for American Utopia had to be more functional. With the show, a live recording of his Broadway show, there is a lot of dancing and moving around, which had to be facilitated in the suits.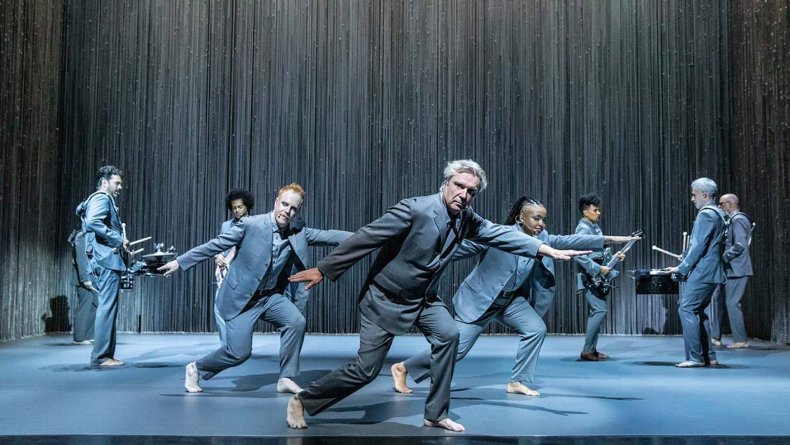 Speaking to the New York Times, Byrne said of these suits: "I thought plain but elegant suits would unify us and help reveal us as a tribe, a community."
This piece uses gives us a lot of insight into these suits. Designed by Kenzo and made by Brooklyn tailor Martin Greenfield, they used a three percent Lycra fabric to allow maximum movement for American Utopia's roving band of percussionists, dancers and guitar players. In fact, each suit was tailored to cater to the specific needs of each band member.
Compared to his most famous suit, these new ones are far more hi-tech, with infra-red transmitters within the shoulders that allow light to track them wherever they are on the stage. This piece also noted that the suits are grey, because it is easier to light than very light or dark colors.
Of course, this also calls back to the big suit, which was also grey. Speaking to Vestoj, Byrne has said of wearing the color on stage: "Back in the mid-Eighties I realized that if band members wore whatever they wanted the effects of the stage lighting would mean that who was seen and who was not on any given night became a crapshoot. If someone wore dark clothes they'd recede and if someone wore white they'd pop out.
"And if they wore something different the next night the opposite might happen...During the shows that were eventually filmed for Stop Making Sense I asked everyone to wear medium grey outfits, whatever they wanted style-wise (a questionable decision there) but always in medium grey. It worked, the evenness meant the effects of the various lighting cues and gags were always more consistent."
This can be seen in Stop Making Sense, where the majority of the band wear grey (though drummer Chris Frantz wears a turquoise polo shirt).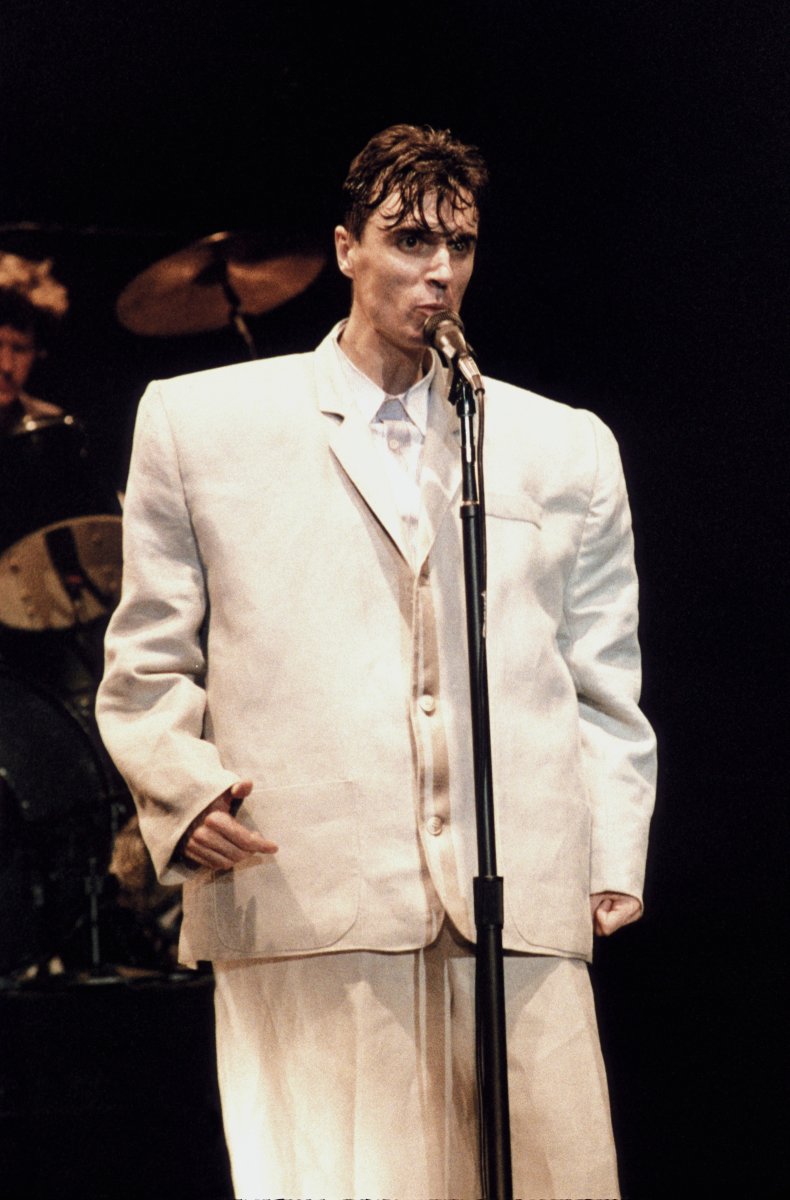 Byrne's giant suit was designed for the Talking Heads tour in 1983 by Gail Blacker, who called it at the time, "more of an architectural project than a clothing project." Inside of it was an armature of sorts that allowed the suit to hold its shape on Byrne's thin frame.
In a 2012 Entertainment Weekly interview, Byrne explained what was going on under the suit, which he said was inspired by Japanese theater costumes. He said: "The actual suit hangs, barely touches your body. It's got these giant webbed shoulder pads and a webbed girdle that you wear around your waist and pads inside that give you incredibly wide hips and no butt.
So when you're facing sideways you look normal and when you turn to face the front, you're incredibly wide. Most of the suit isn't even touching you; it's just hanging from this scaffolding."
This suit also featured on the poster and album cover for the Stop Making Sense LP, and as such became synonymous with Byrne. So synonymous, in fact, that The Late Show with Stephen Colbert could base a sketch around it over 30 years later.
In this skit, the singer is opening David Byrne's Giant Suit Emporium, of which he puns: "This must be the place to meet all your formal clothing needs"—the joke being that the emporium does not sell giant suits, but is itself giant. Oh, and that the deals are 'once in a lifetime'."
Though the big suit is what Byrne is known for, it is hardly the only notable suit be has worn on tour. For his solo Rei Momo tour, he and his bad all wore white ones, for example, while in 1997 he took to the stage in a pink fur suit.
Speaking of these white suits to Vestoj, Byrne explained: "With the large Latin band I toured with in the early Nineties we all wore white...
"Then, the wearing of white was a subtle connection to the wearing of white in the traditions of Candomblé and Santeria, the Afro-Brazilian and Afro-Cuban religions in which some band members were involved. It was also not uncommon for salsa bands to wear a uniform, so that all came painlessly... Everyone in Heaven wears white, don't they?"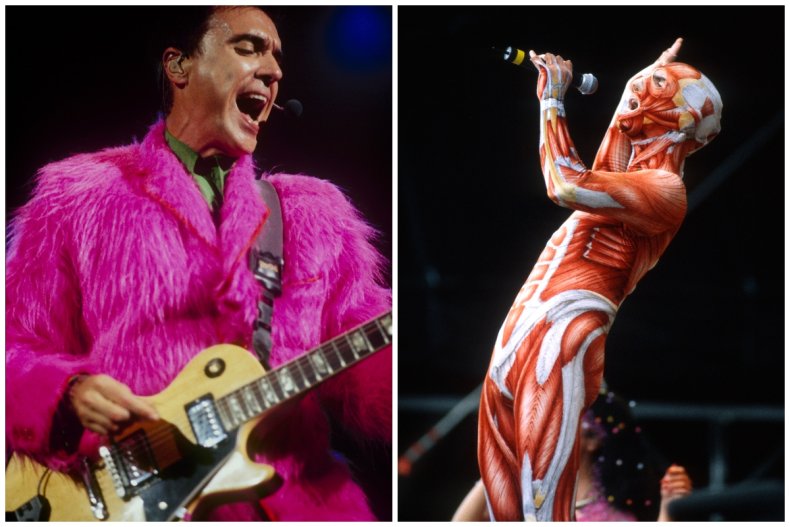 Although he has sometimes deviated into even more outre stage wear (such as an all-over bodysuit made to look like a human body stripped of skin which he also wore in 1997, he has returned to suits time and time again.
Explaining why in a Financial Review interview, Byrne said: "The sartorial expect­ations [of pop music], I thought, I need to avoid them, because those are inherited assumptions . . . I just thought, those assumptions have no relevance to me. I had an idea, this wishful idea, that I should look like every man. And in our society, one sort of everyman wears a suit."
David Byrne's American Utopia airs on HBO on Saturday, October 17.