European Council Summit: Five Things You Need To Know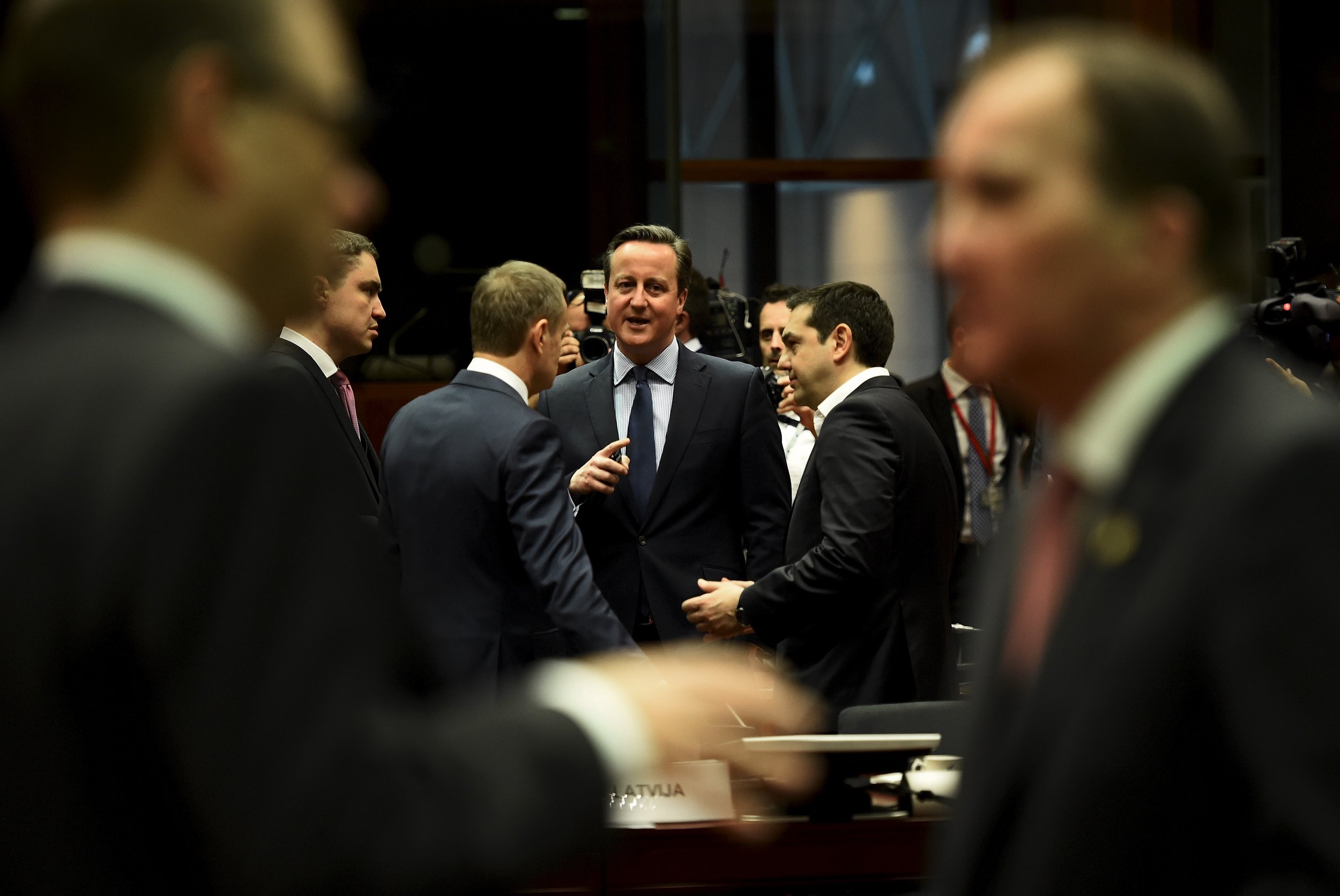 David Cameron is back at the European Council summit in Brussels, looking weary after only having left at about 5am. He and the 27 other EU leaders, plus assorted Eurocrats, are looking to hammer out a new deal for Britain in the EU, ahead of the country's membership referendum.
There's no agreement yet, with talks potentially dragging on until the afternoon. But in the meantime, here's five things you need to know.
Cameron is laying down the law. Or at least, according to the spin coming out of the private room. He has reportedly told EU leaders that the text of his draft deal cannot be weakened further, a message on which German Chancellor Angela Merkel is understood to have backed him. In public, his line is combative: he is "battling for Britain," he has said. Some element of this was always to be expected; it's crucial to Cameron's upcoming campaign for Britain to stay in Europe that he can show he has fought as hard as possible for the national interest. But there are signs this tension isn't totally stage managed. Downing Street officials thought they'd be back in Britain by mid-afternoon Friday, having settled the talks in the morning.
No means No. At least, that's what Belgium and France are reportedly demanding; the two countries are insisting on a clause in the deal that prevents Britain from returning to the negotiating table in the event of a vote for Britain to leave. It's understood that this was a surprise, and it will be spun by the anti-EU mob as just another example of the EU's allergy to reform. But in some ways, this benefits Cameron. Several prominent Leave campaigners including Dominic Cummings, director of the Vote Leave campaign, have previously argued in favour of a "second referendum" approach, whereby Britain could vote to Leave and then use that as a bargaining chip to get a better deal, followed by another vote. It's in Cameron's interest to portray this referendum as high-stakes and irreversible.
We do have friends. Not everyone in Europe hates Britain. Irish taoiseach Enda Kenny has joined Merkel in fighting to support Cameron. "To win a referendum is harder than winning an election... His party is divided. His cabinet is as well. He faces a hostile media. The electorate are not used to this kind of referendum. Let's give him the tools for this fight," Kenny said according to The Financial Times. Meanwhile, Belgian Prime Minister Charles Michel, a European federalist not normally enamoured of Britain, has reportedly been more friendly than usual after Cameron presented him with a set of Beatrix Potter books in French as a gift for Michel's baby daughter.
Fiddling benefits. As ever, a key sticking point in talks is the issue of benefits for EU migrants in Britain. In particular, leaders are wrangling over the length of time for which an "emergency brake" (or "safeguard mechanism" in dusty EU-speak) on new arrivals claiming in-work benefits can apply. David Cameron wants this to last for up to 13 years, something many countries, particularly Eastern European states think is far too much. The "Visegrad" countries, comprising Hungary, the Czech Republic, Poland and Slovakia, also have concerns around whether benefits changes will apply retrospectively to migrants already in the U.K., and whether other western states will be able to get similar deals for themselves. A Hungarian government source tells Newsweek concerns over benefits are not yet ironed out.
Outers Jamboree. The Brexit lobby are making much of the chaos in Cameron's talks, while continuing to push the line that whatever Cameron does get, it won't be enough. "Frankly, we really are scratching around at the edges here. There is no fundamental renegotiation on offer," Nigel Farage told BBC Radio's Today programme this morning. The line coming out of the Vote Leave campaign is: "Of course there are genuine rows at [the summit]... PM battling for inches, not miles," Meanwhile, Euroskeptics across Europe are watching with interest. "I say to the British, 'When you leave this European Union mad house, if you decide to leave it, keep the door open for us because we'll be using it soon'," Front National Vice President Florian Philippot said this morning, according to The Guardian .